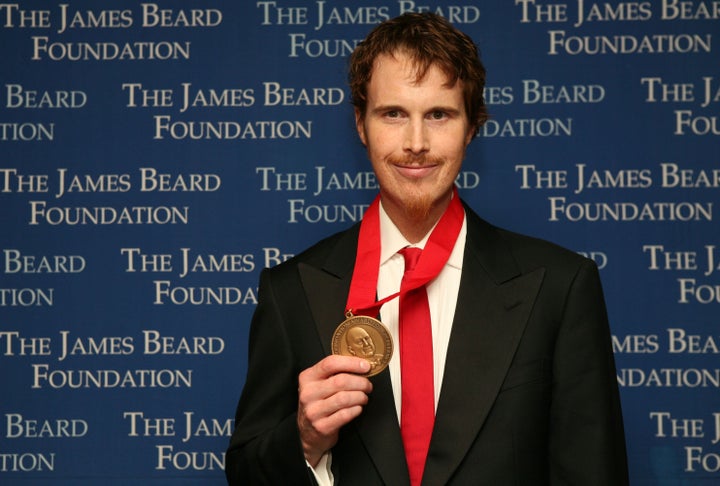 The 21st Annual James Beard Foundation's Awards Ceremony and Gala Reception took place last night at the fabled Avery Fisher Hall in Lincoln Center. It was a good night for New York and a good night for women in food. A New York girl, attending my first James Beard Awards, I couldn't have been happier about the winners. Here, a quick recap of the night's events:
So many chefs! So much polish!
While the white jackets of the many talented chefs that would be catering the evening dotted the green carpet's periphery, the likes of the rock star guest list which included Drew Nieporent, Andrew Zimmern, Bobby Flay, Daniel Boulud, Dan Barber, Michelle Bernstein, Emeril, Floyd Cardoz, and Michael White, all looking their black-tie best, dominated. Rounded out by Bravo and Food Network favorites Ted Allen, Andy Cohen, Anne Burrell, Bobby Flay, Jose Garces, and Duff Goldman, Marcus Samuelsson, a chef who cares about his style almost as much as his food, took the cake in a spanking white suit (word on the street: Valentino). His female counterparts, Gabrielle Hamilton in a lovely yellow dress and an uber-hot Gail Simmons in a dramatic one-shoulder black confection, were upstaged only by the evening's other two green carpet darlings: Mauve & Mortimer, the WhistlePigs Whiskey mascots. Yep, you heard right -- real-live bacon hogging up Lincoln Center on a Monday night.
As the Beard Awards geared up for the debut of a live online video stream of the show, the crowd took their seats. Susan Ungaro, President of the James Beard Foundation, opened the ceremony with a nod to this year's theme: The Ultimate Melting Pot. Underscoring the invaluable contribution immigrants have made to America's culinary heritage, highlight reels of community restaurants across the country would be presented by Coca-Cola throughout the evening. Shining a light on not only the marquee names, but also the quiet partners of the food world, Chef Vola's in Atlantic City, Crook's Corner in Chapel Hill, Noriega Restaurant in Bakersfield, Le Veau d'Or in New York City, and Watts Tea Shop in Milwaukee would be honored.
After her bit, Ungaro turned the mic over to three more familiar hosts: Tom Colicchio, Ming Tsai, and Traci Des Jardins who might be known to some as a contender on this season's Top Chef Masters. All previous James Beard Award winners, the trio took turns announcing presenters, listening to a trance-inducing women's voice read the names of the nominees, and then deferring to a soundtrack of odd Bollywood inspired music to accompany the winners to the stage.
The sponsors were a long, varied list from All-Clad to Acqua Panna to Groupon to Stella Artois, and ultimately, they celebrated a group of deserving chefs and establishments deeply rooted in New York City, and favoring the industry's women. Beating out Michael White of Marea, as well as Michael Anthony of Gramercy Tavern, April Bloomfield of The Spotted Pig, and Wylie Dufresne of wd-50, the first was Gabrielle Hamilton of Prune, a jewel in the East Village. Hamilton took the best New York City chef award, and topping off an already stellar year -- her memoir Blood, Bones & Butter: The Inadvertent Education of a Reluctant Chef is currently a bestseller -- she seemed stunned by the win, yet delivered an endearing acceptance.
Right on her heels, other female winners included Belinda Chang of New York's The Modern for outstanding wine service, Andrea Reusing of Lantern in Chapel Hill, North Carolina for best chef in the Southeast, Saipin Chutima of Lotus of Siam in Las Vegas for best chef Southwest and Angela Pinkerton of Eleven Madison Park in New York City for outstanding pastry chef.
In a twist, Saipin Chutima of Lotus of Siam wound up in the eighth-ever James Beard Award tie for best chef with the quite deserving, though less than gracious Tyson Cole of Uchi in Austin, Texas. Using a translator, a sweet and giddy Chutima said of winning, "I finally I feel like the bride and not the bridesmaid," while Cole pouted his displeasure in having "waited all night" to share the stage. Cue the blogs.
Presented by Groupon Chefs, the Best Chefs in America awards spanned ten parts of the country. For the Great Lakes region which includes Illinois, Indiana, Michigan, and Ohio, the surprise winner was Alex Young of University of Michigan favorite Zingerman's Roadhouse. In his acceptance speech, he playfully thanked the James Beard Foundation "for recognizing mac 'n cheese and fried chicken," to a wave of laughter and applause. I imagine back in Ann Arbor, they were singing the 'Hail to the Victors.'
The overall winner, Danny Meyer, claimed a total of three James Beard awards for his restaurants. The outstanding restaurant award went to Meyer's Eleven Madison Park, which won for best New York chef in 2010, Angela Pinkerton for pastry chef, and The Modern for outstanding wine service award under the direction of Belinda Chang.
New York's winning streak continued with the outstanding service award which went to Chef Thomas Keller's Per Se. Accepting a service rather than a chef's award, Keller seemed humbled, and was entirely deferential to his team. The best new restaurant was Jean-Georges Vongerichten's ABC Kitchen in the ABC Carpet and Home space. Drawing consistent praise over the past year, it beat out the Lower East Side's Torrisi Italian Specialties. Outstanding restaurant graphics went to design firm Love and War for Geoffrey Zakarian's The National Bar & Dining Rooms.
About halfway through the ceremony, the bubbly started to flow, and hungry folks began to make their way over to the main event of the night: the food. Feasting on small plates like smoked walu with fennel kimchi, octopus carpaccio, lemon meringue pie shots, pork bahn mi, white curried tripe, and corn sorbet with bottarga and uni, over in the press room Stanton Street's The Meatball Shop was delighting the media with meatballs and creamy polenta. There, winners strolled down Victory Lane (sponsored by Mercedes-Benz) for press interviews, a drink, and a bite on electric white couches surrounded plenty of journalist attention. Celebrities like Anne Burrell kept the troops occupied, for shortly after the ceremony hit the hour mark, a photo of a sleeping journo, mouth agape, turned up as a popular RT on Twitter.
Speaking of Twitter, the still-mysterious @RuthBourdain, the Tony Bourdain-Ruth Reichl hybrid, was wreaking snarky online havoc after winning a Broadcast award last week in the new humor category. Her opening Tweet, "Turns out the "melting pot" theme is about diversity, not fondue. The crowd is pretty diverse: white people of all shapes and sizes," alluded to Anthony Bourdain's recent criticism of the James Beard Foundation's commitment to diversity. S/he played it a bit more Reichl-tame with a later jab, "Lettuce Entertain You just won Outstanding Restaurateur. That's completely radicchio." Though Twitter was abuzz with @RuthBourdain retweets, s/he still remains elusive.
The first award of the night and the last award of the night went to esteemed chefs at vastly different places in their careers. First, the Rising Star Chef of the Year Award, awarded to a chef age 30 or younger went to Gabriel Rucker of Le Pigeon in Portland, Oregon while the Outstanding Chef Award went to José Andrés of Minibar in Washington, D.C. Andrés beat out San Francisco favorites Charles Phan and Gary Danko, Suzanne Goin (Los Angeles), and Paul Kahan (Chicago). Accepting with a moving speech in his trademark Spanish accent, he reminded the crowd that "food can change the life of people," and implored his fellow chefs to "use food in the right way."
To be expected, the after parties were packed, crowded, and primed for the long haul. The first stops were to nearby Bar Boulud and Per Se, festive with multi-colored balloons that grazed the ceiling. ABC Kitchen got into high gear as the Torrisi-Momofuku party opened their doors to a street full of (not-so-patiently) waiting guests, while pint-sized Prune and the cramped Jane Hotel maintained equally full houses. Fittingly, it was the frat party-like atmosphere at Eleven Madison Park, where dancing on tables celebrating Belinda Chang's booze, Angela Pinkerton's pastry, and Danny Meyer's dominance, proved the place to be.

Popular in the Community