As Hollywood hipsters prepared for the MTV Movie Awards this past weekend, several gifting suites around played host to nominees and attendees. Swag included plenty of cool, hip items to keep those trend-setting celebrities at the forefront of new styles, products and gadgets.
Kari Feinstein's MTV Movie Awards Style Lounge at the W Hotel in Hollywood:
Kick-Ass items for HER: necklaces, wrap bracelets, headbands from Ryder Smith including the gorgeous Cecilia necklace that's made of three separate pieces including a Swarovsky crystal on a gold chain, attached to deerskin and layered with a braided silver chain and other metals. Designer Jennifer Smith was also previewing her Ryders - a riding boot and embellished leg warmer rolled in to one that can be worn over boots, sneakers or sandals depending on the fabric - which will be launching this fall.
Kick-Ass items for HIM and HER: Guests had the opportunity to design their very own mobile phone cases right on the spot from Case Mate. The company also launched its "Creatures" collection for the iPhone 4 including the Waddler case that looks like a penguin with a raised flipper and an attached webbed feet key chain.
Other cool items: Designer dog beds from San Fransisco-based P.L.A.Y.; flirty and feminine dresses, tops and jackets from Australian clothing company Wish; universal Bluetooth from Motorola; jeans from Canadian based Silver Jeans and gift certificates for an in-home massage from Melt Los Angeles.
There were also bags and accessories from Beach by California Leash Company made from neoprene, i.e.: wetsuit materials; skincare products from Murad, Suki, Dr. Lewinn by Kenerase; and artistic chocolates by Chocolatines in such flavors as Pomegranate Balsamic Ruby, Blueberry Bombay Sapphire and Lemon Sage Topaz.
For the kids - or the kid in you: Silly Bandz featuring Pinkalicious, Justin Bieber, Rango and the Kardashians; Rad Ringz, two finger rings with switch out styles; and slap watches that take that 90s craze of slap bracelets to a whole new fashionable level.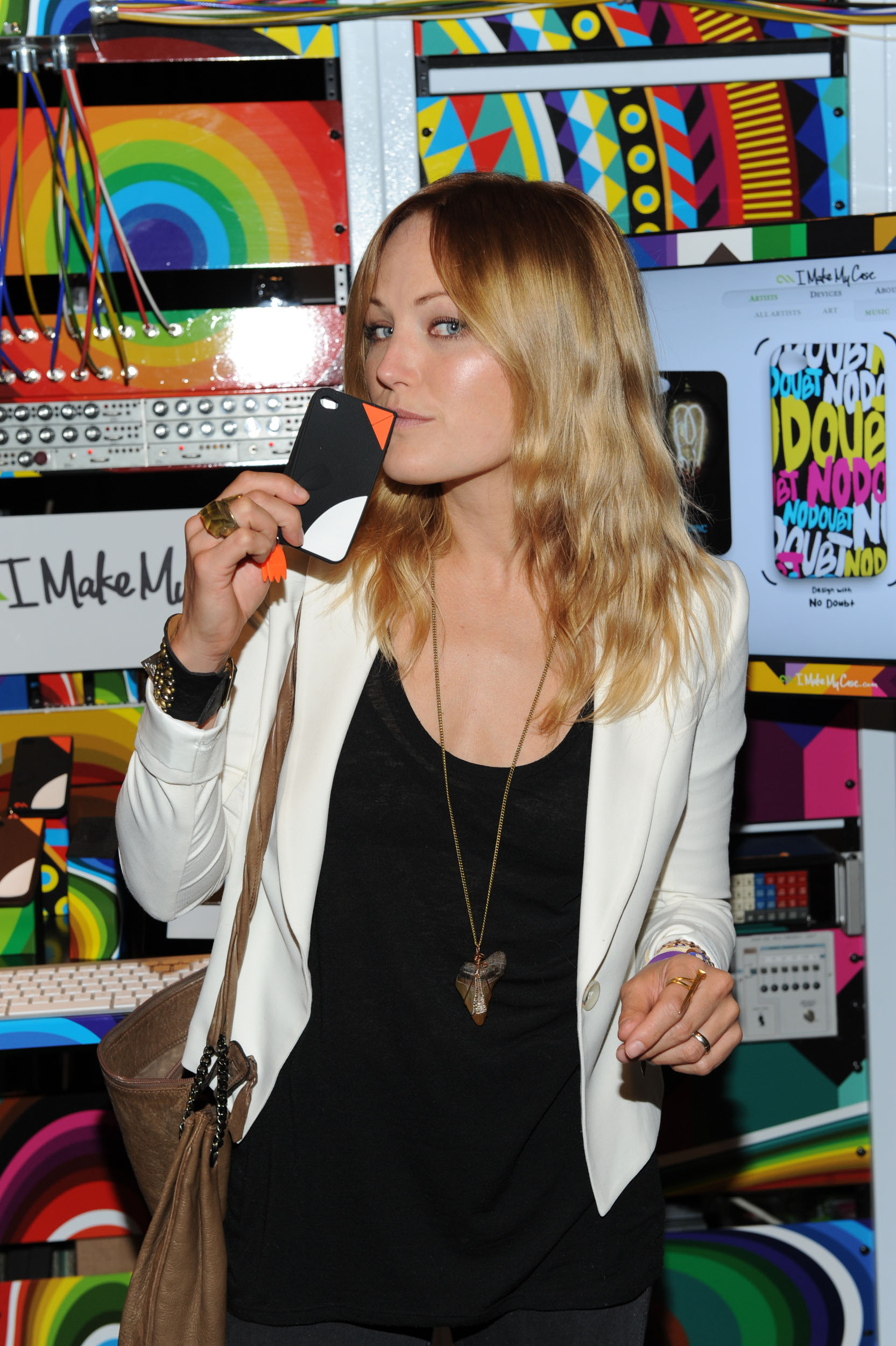 Malin Akerman with her Waddler iPhone 4 case from Case Mate at Kari Feinstein's Style Lounge
(photo credit: Michael Kovac)
GBK MTV Movie Awards Gifting Lounge at the SLS Hotel in Los Angeles:
Fun girly stuff for HER: make-up from Hard Candy; waterproof glitter tattoo kits from Glimmer Body Art; Bizu bracelets that can transform in to cute, posable animals; sterling silver and Swarovski crystal jewelry from Chelsea Taylor.
Fun stuff for HIM and HER: tattoo sleeves made from elastic fiber that are worn on the arm which convincingly give the impression you're completely tatted out; offbeat gadgets and accessories by You gNeek such as real folding knife earrings, working compass rings, lighter cufflinks and authentic working Russian nesting doll necklaces.
Clothes and footwear: Antimicrobial sandals from Sanku, stylish boots and heels from Luichiny, canvas shoes from Ed Hardy and Philip Simon, hooded shirts with pockets to hold CDs by clothing line Admit to Bitter.
For your pooch: Bark After Dark was handing out gift certificates for their services which includes 24-hour dog walking, dog-sitting and boarding. The company specializes in late night dog walking and last minute requests.
Other cool items: hair products and hot tools from Barcelona based Salerm Cosmetics, disposable tooth brushes from Colgate Wisp and money bands by Broccoli Wad.
Secret Room Event's 2011 MTV Movie Awards Red Carpet Style Lounge at the SLS Hotel in Los Angeles:
For the skin and body: Gift certificates for injectables at Dr. Garth Fisher's Biomed Spa along and CellCeuticals skin products; saline wipes for kids and adults stuffy noses by Boogie Wipes; women's vitamins by One a Day; Gabbita Noche swimwear; Rebootizer, a detoxifying drink to prevent the after-effects of food and drink over-indulgence; gift certificates to Universal Contour Wrap that guarantees you will lose at least 6 inches in two hours.
For the hair: EZ Curler, a curling iron with automatic spinning that wraps the hair so you don't have to; hair jewelry by Cailyn Bling that's attached with a flatiron and stays on for several weeks.
Guests also left with a special gift bag containing handbags by Romero & Juliet Couture; bathroom spray from Poo-Pourri; personal massager from We Vibe; aero-dynamic fitted socks by Experia; gift certificates for a Reiki healing session at L.A. Reiki; edible centerpieces made out of candy from SugarRush Creations.
Platinum Publicity's Red Cross Trend Lounge in Celebration of the MTV Movie Awards at the Luxe Hotel in Beverly Hills:
Kick Ass items: all natural food wash and wipes by Eat Cleaner; the Eco Extreme waterproof speaker case for your smart phone or ipod by Grace Digital Audio that is shockproof, floatable and comes with a storage compartment.
For the face and body: gift certificates for services at Make-Up Mandy, saline spray and Neti Pots from NeilMed; eye cream from DDF; Hair Crystalz that bond to the hair with a styling tool and last through several washes; a four step men's shaving kit from The Art of Shaving

Clothing and accessories: draped hemline tees by Ed Hardy, skinny jeans by Amethyst Jeans, feminine dresses, tops and skirts by Jack; Dulcenea Lingerie; handbags by Lisa Berck and vintage-inspired jewelry by Sorrelli.