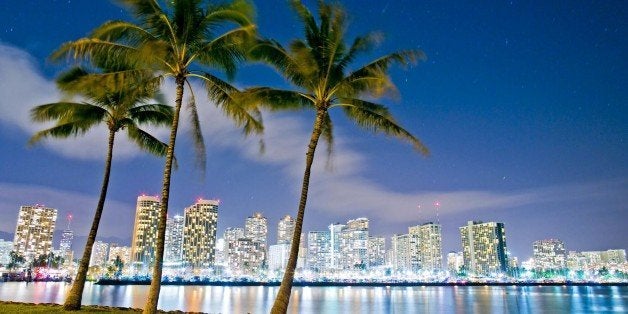 Memorial Day is upon us, and that means summer is finally in sight. What better way to usher in the warm weather than outside with friends and family on one of the most American of holidays? So whether you're looking to honor our nation's armed forces on historic battlefields, or simply ready to ditch the suit and hit the beach with a drink in hand, here are five destinations that will help you do it in style.

1. Hotel Madera - Washington, D.C.
The nation's capital is a natural choice for Memorial Day, and this stylish four-star hotel combines glamour and local history. Situated down the block from the historic elegance of Dupont Circle and just minutes from the White House, you'll find yourself within easy walking distance of the city's most important cultural landmarks. Take a bus or car across the Potomac to Arlington National Cemetery for a poignant tour of America's past from the Revolutionary War to the present.

2. The Royal Hawaiian, A Luxury Collection Resort - Honolulu, HI
Looking to be pampered? This family-friendly resort has got it all, boasting a luxurious spa, a private beach, and a range of supervised activities for the whole family. Or just enjoy the 24-hour room service in your oceanfront room. For some World War II history, head to Pearl Harbor and check out the nearby Pacific Aviation Museum, where you can see authentic American and Japanese fighter planes housed in a seaplane hangar that survived the 1941 attack.

3. Hudson Hotel - New York, NY
America's biggest city is home to a host of Memorial Day attractions, so why not take it all in from the sexy, industrial-chic Hudson Hotel in midtown Manhattan? Located minutes away from New York's world-class theater district, the Hudson's intimate bar, hidden-away patio, and rooftop views make it the perfect spot for people-watching and a post-show gossip over cocktails. During the day, head out to the Intrepid Sea, Air & Space Museum, located on board the famous (retired) aircraft carrier itself. As part of its storied Fleet Week celebrations, the Intrepid holds a free screening of Top Gun on the flight deck on Friday and a "Meet The Pilots" event on Saturday with former servicemen and astronauts that will have kids and adults buzzing.

4. The Loews Vanderbilt - Nashville, TN
One of the grand hotels of Nashville, the immaculately appointed Loews Vanderbilt ensures a genteel stay in the Music City. Immerse yourself in the city's vibrant performing scene, and when hunger strikes, feast like a local on hot chicken, the fried specialty at Hattie B's. In the spirit of Memorial Day, don't miss The Hermitage, the historic home and museum of President Andrew Jackson. If battlefields are your passion, venture out to Shiloh National Military Park and walk in the footsteps of the soldiers who fought one of the Civil War's pivotal battles.

5. La Concha Renaissance San Juan Resort - San Juan, Puerto Rico
Maybe you're craving exotic shores and Old World romance. We still have good news for you: You can get your fix without leaving U.S. soil on our island shores. Head to San Juan and relax on the beach at La Concha Renaissance or in one of several multi-level infinity pools. Flex your Spanish language skills along the cobblestone streets of the Old Town, and visit the 16th century fortresses built by the early colonists. Then kick back and relax at Perla, the hotel's signature floating seashell-shaped restaurant.