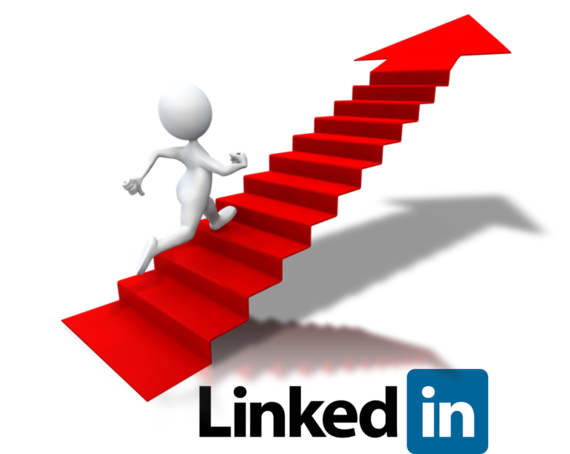 If you have spent considerable time on LinkedIn, then you have mastered basic navigation, noticed the tendencies of users, and arrived at a point where the site has some utility in your business. At this stage, you are no longer a beginner. LinkedIn is already an important part of your daily business regimen. You are ready to take on new assignments, new challenges. You want to ramp up your game but could use a little strategic direction.
I have never been comfortable with the term "intermediate" to separate the LinkedIn beginner from advanced user. Although it does lie between the two extremes, intermediate is too vague and pedestrian. Once someone crosses over and is no longer a novice, I prefer "next-level" because it describes a mindset, one that has growth at its core and cultivates continuous improvement. Therein, you are always reaching, striving, and achieving. You are receptive to new ideas that will deliver quantifiable results. Your desire to get to that next level reflects a commitment to excellence, yet your upward mobility has reached one of the following crossroads:
● You feel that there is so much more to LinkedIn, but you cannot visualize it.
● You have hit a wall and cannot move beyond your current strategic level.
● You are overwhelmed by what you see and want to make sense of the chaos.
Each of these next-level strategies is engineered to get you unstuck and on-track. As you execute them, you will intuit other strategies that you can immediately apply, unearth new business opportunities, and begin cementing powerful new relationships.
1) Consider Your LinkedIn Profile a Content Marketing Hub
You are undoubtedly learning that content marketing is all the rage today. Its potential benefits are well documented: greater name recognition, an enhanced positioning on Google, and the increased probability of meaningful engagements, to name a few. Let's assume that you have farmed your LinkedIn profile to the point where it accurately portrays you in business, articulates your unique brand promise, and frames you as the logical choice for the opportunity. (This is the ultimate next-level strategy. Your success on the site -- whether big or little -- revolves around the impact and reach of your LinkedIn profile.) The next steps are getting the right people there, engaging them on the page, and eliciting a call to action. Whether your goal is to draw eyes to an opt-in microsite, an event registration page, a digital order form, or your amazing blog of amazingness, all of the activity routes through your LinkedIn profile URL. Your job, albeit not an easy one, is to prepare and deliver the compelling, fully branded content.
2) Tend to Your LinkedIn Company Page, and Build a Company Following
If you are an entrepreneur, small business owner, or CEO (chief everything officer), then you are your company. If you are the marketing director, brand manager, or social media lead, then you are tasked with driving your company's value proposition in the marketplace. The LinkedIn Company Page, once an afterthought for most organizations, has emerged into a vibrant, impacting piece of Web marketing collateral. It can be expanded to include all of your products and services, compartmentalized to showcase those that truly define your enterprise, and leveraged as a broadcast communication platform. Your company's voice finds several valuable outlets on this page: Dedicated status updates can market content to interested parties, the LinkedIn profiles of key personnel can be elevated, a job board posts your company's current openings, and rich media applications offer a wider window into your company's culture. You can also run a targeted campaign to amass followers (those who will receive the company's updates on their home pages) and request written recommendations from those who have engaged the company for a particular service.
3) Step Up Your Activity in the LinkedIn Groups, and Build a LinkedIn Community Presence
Many LinkedIn users have suspended their participation in LinkedIn groups due to the overt self-promotion that they see occurring within them. Less tolerant group owners and more vigilant group management have neutralized a great deal of this activity. Insightful contributions in the LinkedIn group discussions do not define as hijacking a thread to your new blog post or your company's website, nor do they validate a claim of thought leadership. Leveraging LinkedIn groups also encompasses listening. A wealth of business information can be gleaned from watching others and sifting through the LinkedIn profiles of those group members who intrigue you. Reach out to them (cordially, of course), get their permission to connect on LinkedIn, and initiate an offline conversation. Involvement in LinkedIn groups can organically grow your professional network. Those who honor the community and are genuinely interested in its welfare will drive their LinkedIn footprint deep and wide. They will get noticed by and connect with the right people.
4) Perform an Internal Audit of Your LinkedIn Network
To be productive on LinkedIn, you must efficiently process a great deal of information. Attempting to manage the immense network you have assembled will put you under undue stress. Understanding the strength and variety of your professional relationships predicates judicious and (mutually) beneficial social networking. Undoubtedly, there are people who no longer justify inclusion in your LinkedIn network, regardless of whether you sent or accepted the connection request. Over time, people lose their professional relevance or, worse, fall out of favor with us. It happens. You may feel it is time to do a profile-by-profile review of your direct connections. Isolate those who you wish to maintain, message them privately (perhaps reintroducing yourself or reacquainting them with your service offerings), and schedule a discovery conversation. Pay special attention to those who have endorsed or recommended you. They did so for a reason. Remove unwanted connections, if warranted. (They receive no notification of this event.) Pruning your directory will keep important connections in front of you and establish new personal guidelines for growing your LinkedIn network.
5) Take What LinkedIn Gives You
LinkedIn is constantly shuffling the deck with its features and functions. You may become frustrated when you finally learn how to do something on the site and then it is either modified or discontinued. Several LinkedIn features that were deemed essential, ingrained by users throughout the years, have gone by the wayside. A few, including Polls and LinkedIn Answers, have been usurped by existing platforms; others, such as LinkedIn Signal (a way to search for and follow a specific member's updates) have yet to reemerge. In simple terms, this is LinkedIn's sandbox, and they own all the toys. Focus on those aspects that you can control. Whereas much is being written on how LinkedIn is changing, I write and speak on the responses to these changes. Continuous adaptation is necessary in the face of an ever-changing medium. Take it upon yourself to accept LinkedIn's innovations, as they will give impetus to future next-level strategies.

Parting Thoughts
Success on LinkedIn follows a natural progression. Irrespective of your current level of LinkedIn fluency, there is always room for improvement. Passing from novice to master requires incremental learning, time, and repeated application of knowledge. Each user experience should build on the one preceding it. Even if you have attained mastery of the site, there are always new ways to augment performance.
Related
Popular in the Community