OK, my friends. Here is the latest news for all of us who might want to earn $10 million: the New York Times announced that the Isabella Stewart Gardner Museum in Boston has extended its reward of $10 million for information leading to the return of 13 works of art that were stolen from the museum almost 30 years ago, in 1990.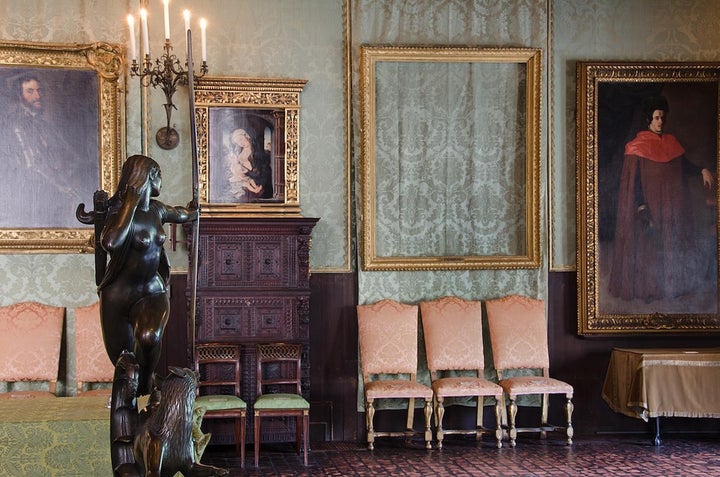 I was lucky enough to visit this museum a few months before the heist. Since then, visitors stare at empty frames where the priceless masterpieces by Rembrandt and Vermeer once hung, just to name a few stolen works. The mystery of this heist is that it's impossible to re-sell these famous paintings. So, are they still under someone's bed, or hidden on a yacht of a crazy billionaire?
The extremely rare Rembrandt painting with reference to a biblical story, Christ in the Storm on the Sea of Galilee, is the only seascape he ever painted, which makes the loss of this masterpiece particularly heartbreaking.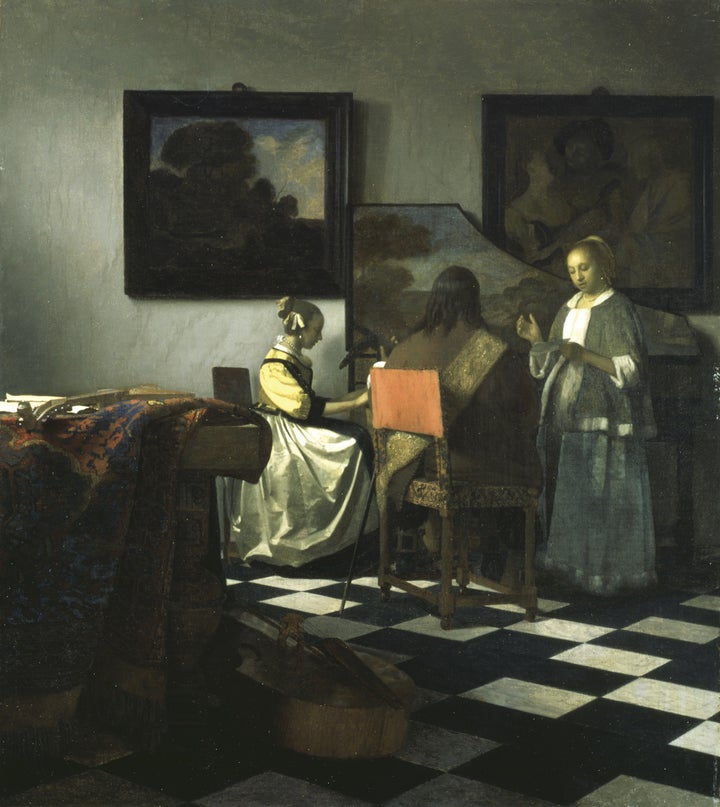 Another terribly missed artwork is the breathtakingly beautiful Vermeer painting The Concert, showing two women and a man enjoying singing and playing piano, with magical light caressing the figures. Considering the fact that only 34 paintings by Vermeer exist, to lose even one of them is a tragedy.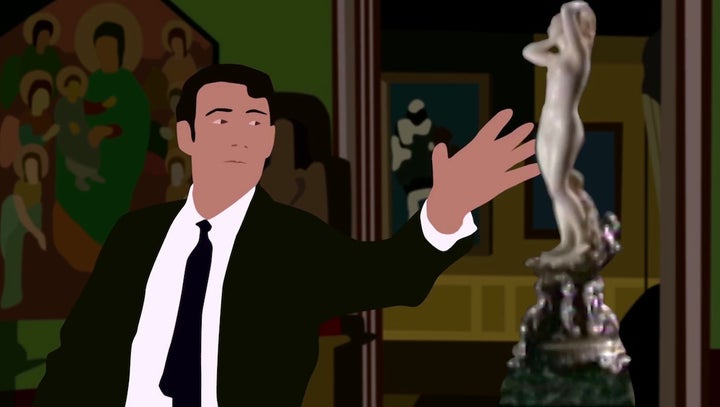 In a surprising and welcome coincidence, the new exhibition at Christopher Grimes Gallery by San Francisco-based artist Kota Ezawa, The Crime of Art (Hollywood Edition) illustrates major thefts of art in the last century.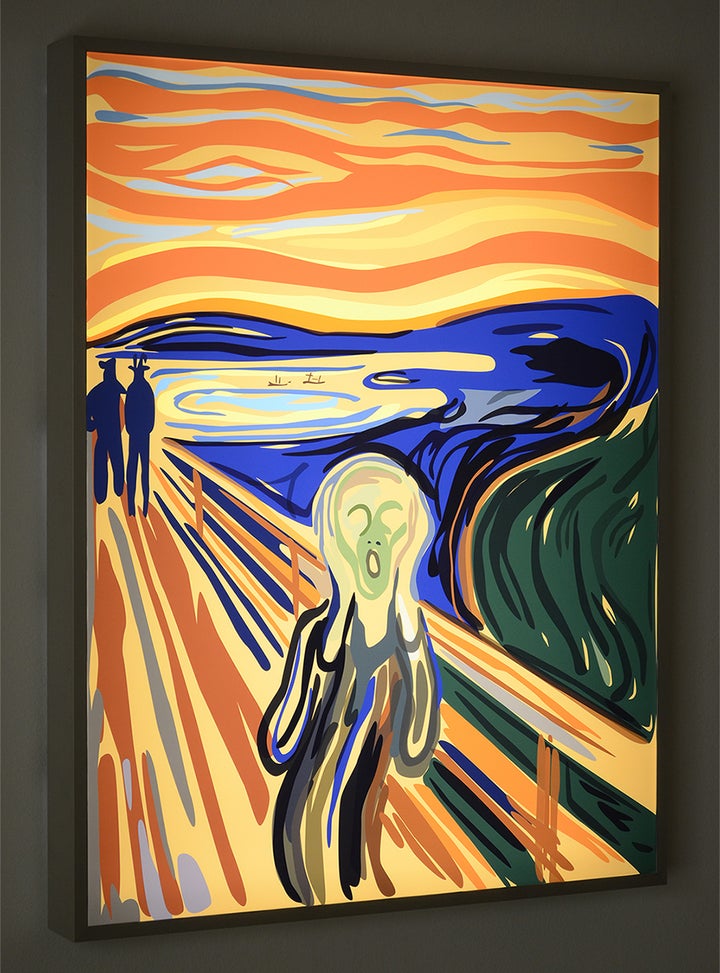 In the back gallery, there is a selection of lightboxes by Ezawa in his signature flat, color block animation style, recreating artworks like Edvard Munch's The Scream, another famous painting which was stolen not once, but twice – in 1994, and 2004. But, lucky for us, The Scream has found its way back to the museum.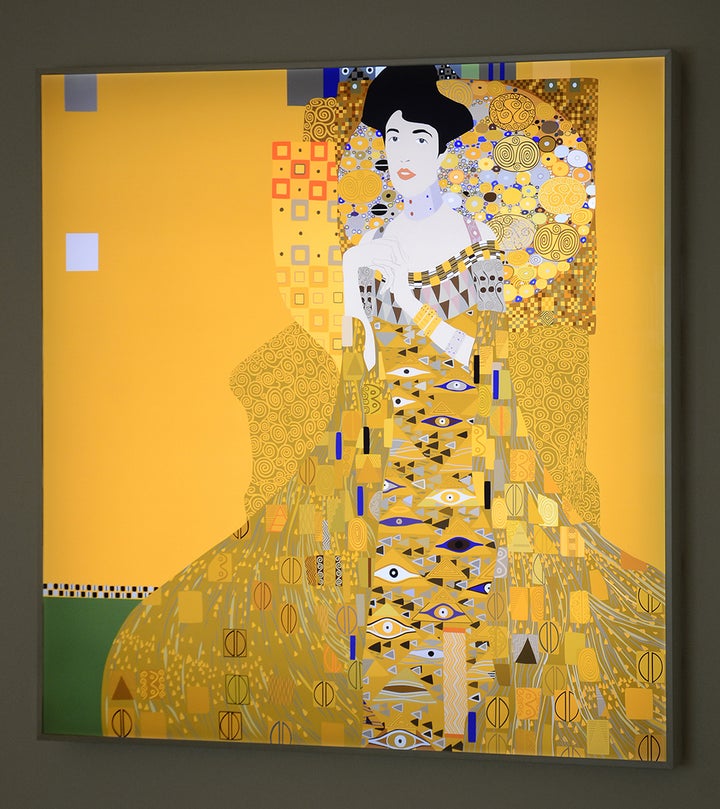 Another Ezawa lightbox work is of Gustav Klimt's Portrait of Adele Bloch-Bauer I, also known as Golden Adele, which was appropriated, or you might say stolen, by Nazis from the original owners. Ultimately, it was returned back to the Bloch-Baur family, almost 70 years later. Now, it resides at the Neue Galerie in New York.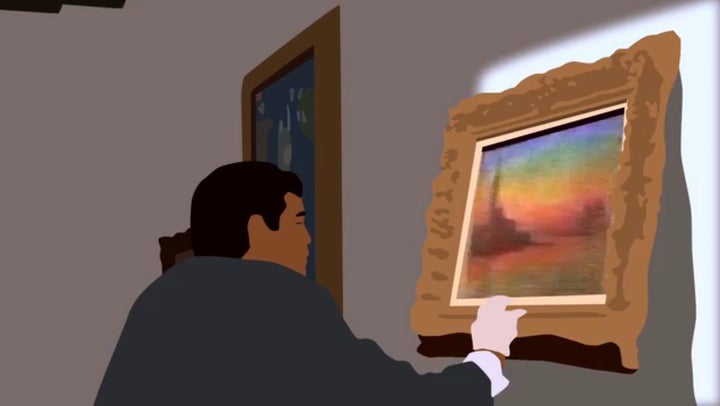 The biggest guilty pleasure of this exhibition is Ezawa's multi-channel animated short film The Crime of Art, which is projected onto three walls of the main gallery. In his distinctive style, Ezawa recreates scenes from famous Hollywood heist movies such as The Thomas Crown Affair (1999) and How to Steal a Million (1966).
All the above makes one fantasize about creating another Hollywood blockbuster about the theft of Mona Lisa in 1911 from Musée du Louvre by a museum employee who was an Italian patriot who passionately believed that Leonardo's painting should be returned to an Italian museum. Two years later, he was caught, when he attempted to sell the painting to Uffizi Gallery in Florence. As a result, for two happy weeks, Mona Lisa smiled at the Uffizi Gallery – after which, she was sent back to France.
Edward Goldman is an art critic and the host of Art Talk, a program on art and culture for NPR affiliate KCRW 89.9 FM. To listen to the complete show and hear Edward's charming Russian accent, click here.
To join Edward's Fine Art of Art Collecting Classes, please visit his website. You can read more about his classes in the New York Times here and in Artillery Magazine.
Popular in the Community