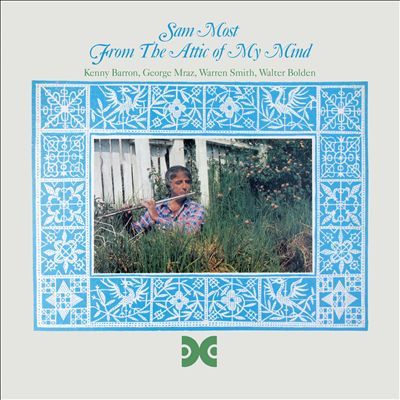 Sam Most was a first call studio musician on the jazz flute. The instrument was often seen as a secondary instrument for reed players in many jazz ensembles, but Most believed in the right hands it could stand by itself and become an important voice for the music. He is known as the father of bebop flute and credited with being the first innovator to hum or sing through his flute for added effect. This technique was taken up and expanded by people like Jeremy Steig and Rahsaan Roland Kirk and later Ian Anderson from the rock group Jethro Tull.
From 1952 through 2010 Most recorded over twenty albums. He was a purportedly a shy man who despite his sterling reputation amongst his peers was a musician who remained generally underappreciated by the listening public. He did receive Downbeat's 'Critics New Star Award" in 1954.
Most's career spanned over fifty years until his death in 2013.
I recently received an intriguing historical album, featuring the flautist that was originally recorded in 1978. The album is titled From the Attic of My Mind, and features George Mraz on bass, the superb Kenny Barron on piano, Walter Bolden on drums and Warren Smith on percussion.
This album includes eight original songs composed by Mr. Most and while none of these titles ever became jazz standards, they are fine vehicles to demonstrate the flautist's flawless technique and abundance of improvisational skills.
The swinging lead off song "What Is, Is" is a great representation of this musician's mastery of his instrument. His articulation, even in the most fluid of passages, is without peer. Mr. Most shows a depth of feelings that he can elicit from his instrument, like his airy treatment on "Breath of Love' and his tranquil work on "One Forgotten Yesterday."
Some superlative soulful piano by Kenny Barron and stalwart walking bass lines by George Mraz set the stage for Most to shine on "Blue Hue." The bossa rhythm of "Child of the Forest" has an earthy, infectious swing punctuated by Most's breathy work on flute. A little bit of funk invades the album on the jaunty "Keep Moving" which features his punchy style that so influenced a generation of flute players. The finale is "Out of Sight, In Mind" a slow burning Blues that features a solo by Barron at his bluest and an impressive bass feature by Mraz. Most is able to emote the authentic pathos from his flute that the Blues demands. Despite the inherent limitations of the flute, his facility gives him a range of sound and emotion that can almost mimic those produced by the human voice.
From the Attic of My Mind is a beautiful testament to the artistry of Sam Most, a man who will be missed and an artist who could make that silver stick sing from cool to funky, from tender to tawdry. Anyone who loves jazz flute will find this an essential addition to their collection.
Related
Popular in the Community