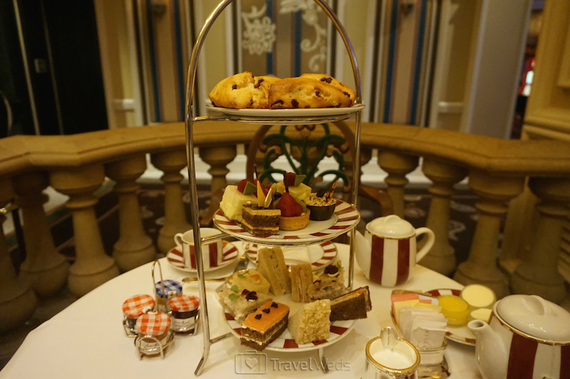 Sin City can get to be a little overwhelming at times with its never-ending gambling scenes and special soirees. Luckily, TravelWeds found just the perfect place to go to in order to wind down from everything that is over-the-top glitzy or touristy.
The Petrossian Bar, an upscale lounge featuring champagne, caviar, English tea service and piano music inside of the Bellagio Hotel and Casino, serves probably the best afternoon tea in all of Las Vegas. Afternoon Tea is a small meal eaten in the late afternoon before dinner, which generally includes finger sandwiches, small-bite pastries, scones with cream and jam, and a soothing cup of tea.
The Petrossian Bar is easily accessible and not hard to find. Upon entering the hotel and casino, just simply walk towards the center and you will easily come face to face with the popular bar.
Please Note: ID's will be checked before being seated.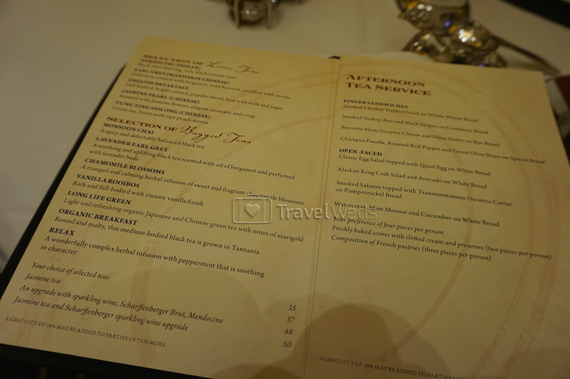 The setting of the Petrossian Bar is classy and elegant. Although it was inside of a busy casino, our table was set inside and away from all of the casino's hustle and bustle.
Afternoon Tea at the Petrossian Bar costs $35 per person. Services include a set menu of 4 finger sandwiches per person (your choice), assorted pastry & desserts (chef's choice), scones, and of course, your choice of either loose or bagged tea. Additionally for a little more, you may also choose to opt for Jasmine tea or to upgrade your services with a glass of champagne.
Our tea selection included:
Chamomile Blossoms - A tea that has "tranquil and calming herbal infusion of sweet and fragrant chamomile blossoms."
Tung Ting Oolong - A green tea that is "fruity with ripe peach aroma."
Our finger sandwich selection included:
Smoked Chicken Waldorf Salad on Whole-Wheat Bread
Smoked Turkey, Brie and Black Grapes on Cranberry Bread
Bayonne Ham, Gruyère Cheese and Dijon Butter on Rye Bread
Chickpea Panelle, Roasted Red Pepper and Green Olive Mayo on Spiced Bread
Alaskan King Crab Salad and Avocado on White Bread
Smoked Salmon topped with Transmontanous Oscietra Caviar on Pumpernickel Bread
Our favorite sandwich was the Smoked Salmon with Caviar. This finger sandwich is a must considering you get to sample the restaurant's delicious caviar.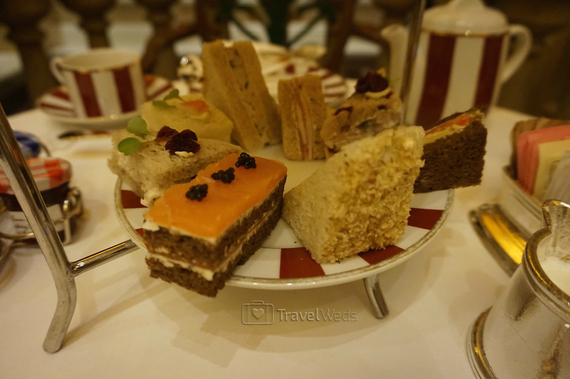 The service was great. Our server was very attentive and made sure to check up on us to see if our tea pots needed more water. If you have any questions or have a difficult time deciding on what to order, the server will give you his/her own personal recommendations in perfectly matching the right combinations of tea and finger sandwiches. The tea came out first (set to cool before drinking) and the tower of sandwiches, pastries and scones followed shortly thereafter (which meant our teas did not go cold and have to be refilled).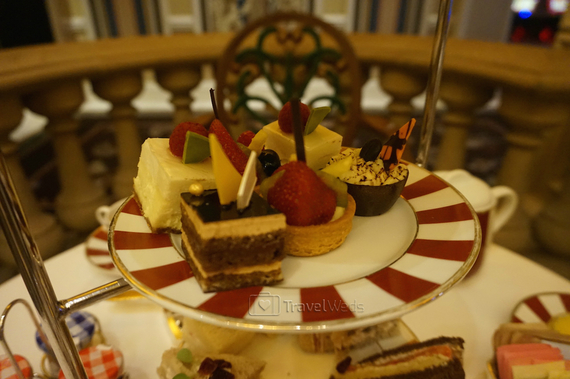 All in all, everything paired perfectly with our teas. The amount of food may not seem like a lot, but it was definitely more than enough for two people sitting down for a light afternoon meal. You also have the nice option of taking any untouched/unfinished food to go.
TravelWeds highly recommends all Las Vegas visitors to try the Afternoon Tea Service at the Petrossian Bar. With a convenient location, great service and amazing prices, you will most certainly experience a relaxing and unforgettable time.
If you enjoyed this article, check out others on TravelWeds!