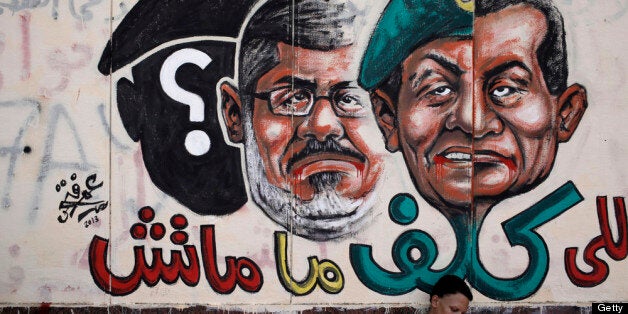 The Egyptian people's embrace of the brutal military in Egypt is as baffling as it is burdensome to the country's fledgling democracy.
To understand the extent to which Egypt's military dominates its society, look no further than its economy: the military owns all kinds of businesses and sells all sorts of products, controlling vast unknown amounts of Egypt's economy, estimated at upwards of 40 percent.
Most of the products -- including clothing, stationery, dishwashers, microscopes and even Chrysler Jeep-branded vehicles -- are sold by discount to its personnel. But a lot of it is also sold on the commercial market, including products like olive oil, chicken and soap.
The list doesn't end there. The military owns farmland and builds everything from highways, resorts and hotels to sewers, schools and bridges - a list that is as exhaustive as its economic domination is efficient, given that it pays its workforce below-average wages and conscripts make up a large majority of the workforce.
Unfortunately, Egypt's military and its biggest benefactor, the United States government, are also selling a big lie to the world: that they are promoting, rather than obstructing, democracy in Egypt. And by equivocating about what's actually going on in Egypt -- wanting to be seen as supporting neither the Muslim Brotherhood nor the liberal secularists -- America is ultimately enabling the military, facilitating corruption and inhibiting democracy in the Middle East's most populous country.
It has now been 16 days since Egypt's first democratically-elected (as well as dictatorial and arguably delusional) president Mohammed Morsi was kidnapped by the military. Since then, the military's appointed President has sworn in a new cabinet, giving members of the country's liberal parties key positions, and naming three Christians and three women to the cabinet, a first in Egypt's history.
That cabinet, which has more than 30 ministers, does not include a single member of Islamist parties. And like their millions of supporters, the Muslim Brotherhood has refused to accept the legitimacy of the cabinet while the president they elected remains MIA.
Foreign governments, like Turkey and Germany, have called Morsi's ongoing detention an illegitimate act. But the military continues to hold him without bringing any formal charges.
"I have received confirmation that he is well," EU Foreign Policy Chief Catherine Ashton said. "I believe he should be released."
Last Monday, in the bloodiest incident of state violence since the uprising began two and a half years ago, 53 supporters of the Muslim Brotherhood were killed at a sit-in near the Republican Guard's headquarters. "The majority of injured had gunshot wounds to the head," a local doctor told Al Jazeera (which, incidentally, has reportedly seen its television signals jammed in Egypt this week).
This, of course, is not new for Egypt's military. During the 15 months the military ruled between Mubarak's ouster and Morsi's election, more than 850 people were killed (80 of them losing their eyes), more than 1,000 were subjected to forced disappearances and 12,000 civilians faced military trials. Morsi's yearlong presidency only brought more of the same: more torture, more economic hardship, more polarization and more killings.
Although former Presidents Mubarak and Morsi both governed with a casual corruption and authoritarian rule, in today's Egypt -- as has been the case for decades -- the biggest culprit of corruption is the all-powerful, unaccountable and often tyrannical Supreme Council of Armed Forces (SCAF). If there is any chance for Egypt to emerge as a stable democratic state, this fundamental problem must be addressed.
Until then debates about whether the ouster of Morsi was a military coup or a manifestation of Egypt's ongoing people-powered revolution will unfortunately continue to dominate discussion and distract from the simple truth: it was both.
Of course that debate has one practical significance: the $1.3 billion in military aid the United States sends each year (and has sent since 1979) hangs in the balance. But where does America fit into all of this?
Despite calls from Senators Lindsey Graham and John McCain to cut military aid to Egypt, the Obama administration announced plans to deliver four F-16 fighter jets to Egypt in the coming weeks. But even if the Obama administration heeds the Republican Senators' call, there is already a growing coalition of gulf states -- namely Saudi Arabia -- that are ready to step up and take its place.
The Saudis -- incidentally the first foreign government to congratulate Egypt's new interim President Adly Mansour -- have made it clear they would compensate for any cuts in U.S. aid to Egypt. Eager to see an army-led government retake control from the Muslim Brotherhood, they have already approved a $5 billion aid package to Egypt comprising a $2 billion central bank deposit, $2 billion in energy products, and $1 billion in cash, according to Saudi's Finance Minister. A military addition is hardly far-fetched (they are already arming the Syrian opposition with military weapons to fight President Bashar Al Assad).
Meanwhile the United Arab Emirates has pledged $3 billion and Kuwait has offered a $4 billion aid package of their own on last Wednesday, bringing the total pledges by Gulf monarchies to a whopping $12 billion since Morsi's ouster. Two oil tankers carrying much-needed crude and diesel worth $200 million left Kuwait for Egypt on Sunday.
Sadly for revolution-happy Qatar, which has already funneled over $8 billion to Egypt since Mubarak's ouster, this time they might have made a bad investment. Unlike Qatar, Saudi and the U.A.E. have long been critical of the Muslim Brotherhood -- and in a matter of just a few days, they have pledged as much money as Qatar had sent to Egypt's Brotherhood-led government in a two-year period, including gas deals, to prop up the economy.
This puts the United States at something of a crossroads in Egypt. No longer the country's (or the military's) only economic savior, America can no longer expect to lead simply with its checkbook. And for as much as America cannot afford to terminate military aid for the sake of regional stability - namely Israel's security -- America equally claims to support democracy and freedom in the Arab world. Yet for decades it has trained and funded Egypt's brutal military, aiding and abetting the most obstructive and corrupt challenge to democracy (as well as dignity) in Egypt. Keeping the military strong and impervious to oversight undermines America's credibility and Egypt's democracy.
The U.S. can continue to portray itself as not taking sides in Egypt's political turmoil. American diplomats can continue to speak about Egypt's "second chance" at democracy, confirming that despite calls for inclusivity, America, like Saudi Arabia, was happy to turn the page on the Brotherhood.
But instead of wavering and teetering, America should recognize and leverage its influence with Egypt's military to begin pushing for more transparency and accountability, especially in regards to its brutality and dominance in Egypt's political roadmap and its economy. The U.S. government has called for "a transparent political process that is inclusive of all parties and groups," but continues to support the same organization that has refused to place a single member of any Islamist parties in any of the 30 key cabinet positions.
American colleagues of mine reporting on the ground in Egypt, like Matthew Cassel and Ben Wedeman, have suggested it simply isn't as safe for them in Tahrir Square as it used to be. Protests have grown increasingly nationalistic and anti-American, with members of the June 30 Tamarod (Rebellion) coalition that took to the streets in unprecedented numbers to oust Morsi now speaking out against the United States. Ironically, those same voices chanting against America are chanting in favor of Egypt's American-made military, seemingly ignorant to the extent to which the two are acting in concert with each other.
So long as soldiers and their military trucks and APCs continue to roam on Cairo's streets it is safe to assume that with an interim Cabinet absent of any Islamists, the military is still running the show in Egypt. And for as much as the military (with its heart-shaped flyovers) might claim that "the army, the people are one hand," many Egyptians are right to be skeptical.
In addition to the 53 killed last Monday morning, four Shiites were killed by a cheering Sunni Muslim mob while the police watched. The attack happened just one week after President Morsi appeared on stage with hardline clerics who denounced Shiites as "filthy" and called for Egyptians to go fight in Syria against Assad's regime and wage a holy war. Dozens have died in violence in the Sinai and nearly 100 people have been killed in clashes since the military's coup.
In his first remarks since announcing the ouster of President Mohammed Morsi on July 3, Egyptian Defense Minister Gen. Abdel-Fattah el-Sissi said the armed forces "acted at the urging of the people." It seems the military has not learned from the mistakes of the past. Its constitutional declaration has become the new law of the land. While it calls for a speedy transition to civilian government, the truth remains that an anonymous committee wrote it without input from the main opposition groups - including the National Salvation Front and Tamarod.
Once again, Egypt's constitution shields the military from civilian oversight and puts the military above all powers of the state. This is clearly not how any democracy should work (somewhere, Donald Rumsfeld is probably wishing he had come to power in Cairo).
On Saturday, Turkey, which condemned the military's overthrow of Morsi, amended an internal armed forces' regulation that the country's generals used as grounds for intervening in politics, ultimately strip military of its political influence.
"Our country has a tradition of coups," Turkish Defense Minister Ismet Yilmaz told parliament, speaking in favor of the amendment. "And the true victim of the coups has always been the people."
If one thing is true about the Egyptian people it is this: they are not victims. They are revolutionaries. And hopefully, Egypt's all-powerful military, which dictates more than it defends, might find itself in the crosshairs of the Egyptian people soon enough.
REAL LIFE. REAL NEWS. REAL VOICES.
Help us tell more of the stories that matter from voices that too often remain unheard.