The media landscape is being rocked by concurrent disruptions in platforms, formats, devices, and most of all a tectonic shift in consumer attention. For brands seeking to reach younger audiences, this is all leading to one conclusion: the need for branded content. But not just any type of content. We're past the days of blogging and writing clever status updates. Today, the requirement is digital video entertainment that breaks through the noise and connects with audiences on an emotional level. Is this a high bar? No doubt. Which is why every brand in 2017 needs a dedicated content studio.
What is driving the need for branded content studios?
Two primary trends are driving the need for branded video entertainment and, subsequently, a dedicated resource to produce it. First is the dramatic and accelerating decline of traditional TV. One need only to look at this chart to understand what is happening.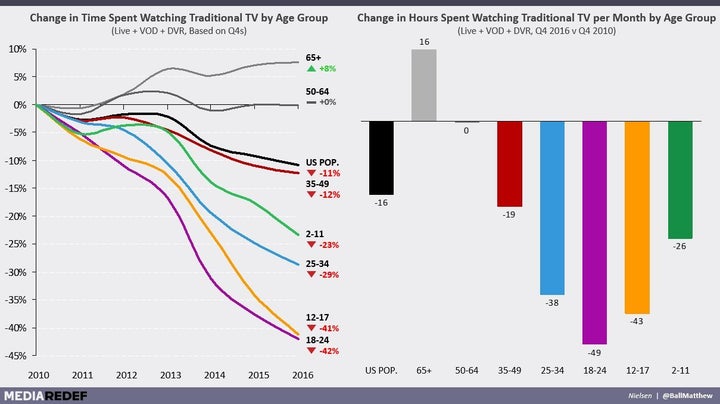 Television viewing by the key age groups is down 29% - 42% over the past six years. It is most pronounced among the vital 18-24 segment, which should set off alarms at any consumer brand. These are the consumers they have to reach in order to stay alive — to continue being a brand.
"For nearly a century, the American public increased its television consumption year, after year, after year. But the Great Dismantling is now underway. Just as cable feed dynamics meant that every additional minute watched made the next minute easier to acquire, each minute lost has and will continue to lubricate the next. For millions, the television has actually become the "second screen" experience – it's the mobile phone that most engrosses during the likes of The Voice, The Walking Dead, and Empire."
Young people no longer tolerate disruptive advertising. As such, they don't subscribe to cable plans. Instead, they use some combination of Netflix, iTunes, YouTube, Hulu, and other channels that offer purely or largely ad-free experiences. In many cases, there is simply nowhere for a brand to insert itself. What most folks in the traditional TV business don't realize (or aren't willing to admit) is that this trend is accelerating. In the next couple years it will be all-but impossible to reach young people through TV advertising.
So the answer is digital, yes? Not really.
The second trend driving this need is the rise of ad blocking. According to eMarketer, 25% of US internet users were blocking ads in 2016, and it's projected to rise by an additional 24% to more than 86 million people in 2017.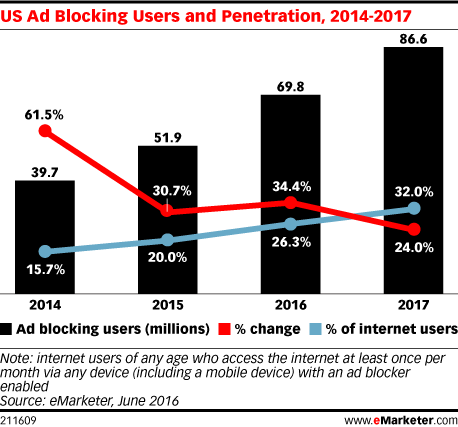 What's more, it's not limited to desktop computers. "As the use of mobile devices grows, so too will the use of mobile ad blockers. The number of people using smartphone ad blockers will jump 62.3% this year, while the number of PC-based ad blocking users will grow 30.1%."
So even if brands shift to digital and mobile, it's highly unlikely their message will reach its intended audience.
Related to this trend is the challenge brands have encountered with YouTube, where ads are being served with unsavory content from terrorists and hate groups. Which has led to a substantial boycott of Google advertising. Of course, if brands are producing and distributing their own content on YouTube, then it would seem to resolve this issue.
How should brands evaluate and choose a content studio?
Branded content studios can take many forms. The three main categories are pure-play models, agencies, and publishers.
The pure-play branded content studio is just that. It's dedicated to producing great brand content for its clients. As such, the pure-play studio has several key qualities. First, it takes the time to understand the brand: its customers, its message and voice, and the audience it seeks to reach. Next, it provides an end-to-end solution starting with research and strategy and extending to creative, production, distribution, intelligence, and measurement. Consequently, the pure-play studio is highly invested and accountable for every aspect of a branded content campaign. Finally, the content is distributed through the brand's own channels on Facebook, YouTube, Snapchat, Instagram, and others. This enables precise targeting of the right audience for each piece of content as well as the ability to build the brand's own audience for future campaigns.
Creative and media agencies are responding to client feedback. Brands know they need to think and operate more like publishers. Hence, their agencies are attempting to adapt and add content production as a core competency. The problem is that, while agencies understand the brand message and how to effectively communicate it, they don't understand audiences and the type of content they want to watch and share. This goes for external agencies as well as internal content studios, such as the one that produced the spectacular Pepsi Kendall Jenner fail. In so many ways, it lacked the ability to understand what the audience wanted, let alone what it would violently reject.
Networks like Turner and Viacom have seen the writing on the wall regarding television advertising and have responded with in-house studios to serve their advertisers in the digital realm. Magazine publishers like Conde Nast are doing the same thing to shore up revenue from the steep decline in print advertising. And new media publishers like BuzzFeed will work with advertisers to create branded content for their platform.
The advantage here is that brands can buy content in the same way they buy media i.e. with the same guarantees. The challenges, however, are many. First, the publisher isn't as concerned with the quality of the content because it can control distribution and easily deliver its guarantee. But this doesn't mean the content had any meaningful impact. Second, the publisher only has access to its audience. This may or may not be the right audience for the brand or the content. Next, while publishers understand their audiences and the type of content they want, they don't typically understand brands and the messages they want to communicate. More often than not, the brand is tacked-on to the content as opposed to being an authentic and integral part of the story. Finally, the publisher is not equipped to be a brand's "content studio of record," which is an essential aspect of this need.
Popular in the Community