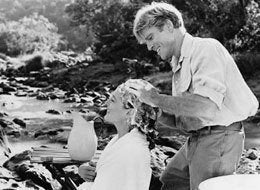 Today, as textured locks and full hair begin to eclipse the ironed and Japanese-straightened styles that were previously in vogue, weekly visits to salons are more common among women who were born since the Eisenhower administration. Women say it cuts down on bathroom time by eliminating daily blow-drying and is an excuse for more pampering when everything else has been polished and waxed.
Read the entire New York Times story here.
And, really, not washing your hair is so on-trend because blogger Verena von Pfetten just recently declared frizzy the new fabulous.
Check out a woman who has not washed her hair in 11 years.
Tell us in comments below: how often do you shampoo? And, please, be honest. We're not here to judge.