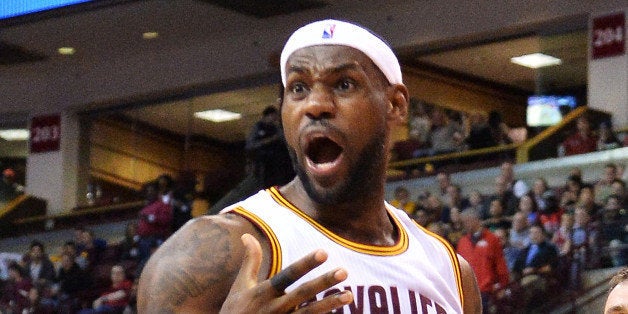 Why the Cavs Have a Long Way to Go
The NBA season just got underway. LeBron James and the Cleveland Cavaliers haven't gotten off to the best start. They lost to the Blazers the other night and Lebron James failed to score in the second half. However, it's early and James has reiterated to us time and time again that its a "process." Although its not a time to worry, the Cavs do have some polishing up to do. Here are five reasons why.
When the Miami Heat team was assembled back in 2011 Chris Bosh, LeBron James and Dwyane Wade all came with one attitude: winning. They knew that it would take each other taking a step back and putting their egos aside in order for the team to flourish.
The Cleveland Cavaliers haven't received that memo yet. A lot of isolation basketball is being played and against the Blazers, Dion Waiters and Kyrie Irving combined for just 6-28 shooting. LeBron seemed disengaged at times and frustrated. With the exception of Kevin Love and James both on Team USA in 2012, this team has never played together.
James, Wade and Bosh had a history with each other on Team USA prior to them joining forces down in South Beach. They also were older and more mature. It also helped that they had a tradition of winning within that organization.
As much as people want to make about David Blatt and his wining pedigree overseas, this is the NBA. It's a different style of play and needless to say -- these are the best players in the world. It's going to take him some time to adjust to the NBA system and more so the culture. Having to manage egos is a tough hand to be dealt. Especially when you have three of the top ten best players in the world on your squad.
He is also going to have to assert himself more on the bench. Too many times we see Tyrone Lue giving orders. It almost reminded you of Jason Kidd in his early days in Brooklyn when he wasn't drawing up his own plays on his clipboard. We saw how that whole debacle turned out.
LeBron James Has to Change Too
As aforementioned, there have been many times where Lebron James has looked frustrated and disengaged from the Cleveland Cavaliers offense and defense. Many times the defensive lapses have been a result of his lethargic play. Sometimes he even stands outside the huddle on the sideline -- assuming he is giving his teammates the "you figure it out" treatment.
He can't do that if he wants to contend for a title. LeBron does not thrive in isolating himself. He needs his teammates in order for his game to be effective. The words he spoke in his coming home letter about being a mentor to younger players is imperative to the overall team morale and success.
Kevin Love Must Get to the Lower Block
After converting nearly 70 percent of his shots near the rim last year per Basketball Reference -- Kevin Love has seemed to fall in LOVE with the 3-ball. What makes him such a threat is his ability to work in and out. He's able to bang down-low with the bigs as well as stretch the floor when need be. The LeBron drive-and-kicks will be there all year. Love should and will soon enough, understand that.
In last week's ESPN Friday showdown between the Cavs and the Bulls, Kyrie Irving was mic'd up. During that game you hear him jokingly ask Mike Miller if this is what a playoff game feels like. Though it was made out to be humorous, it does not promote a winning attitude. The losing days are over and should be behind Kyrie. This isn't the time to get comfortable in his role. The game against the Blazers should have been a wake up call for everyone. I think LeBron might be done making commercials for now.
REAL LIFE. REAL NEWS. REAL VOICES.
Help us tell more of the stories that matter from voices that too often remain unheard.