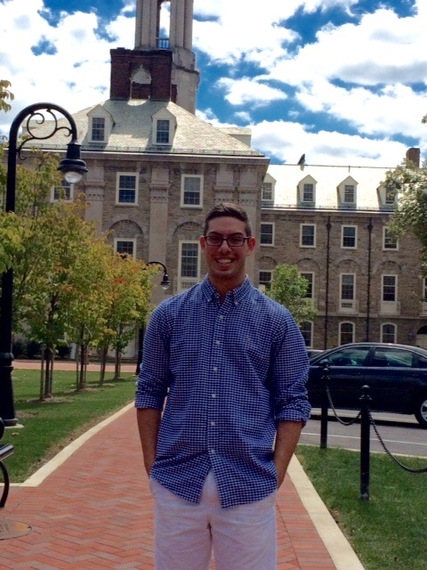 My son survived his first semester in college. Actually, he more than survived - he thrived, matured, mellowed and had the time of his life. He even studied some.
The night before we took him to school I was overwrought with angst and dealt with it the I deal with all my deep-seated anxiety: I organize, clean and focus on minutia. Although he was thoroughly packed and ready courtesy of not one, but two triple-A personality type parents, I couldn't control my frenzy. I ran around moving stuff in and out of the garage, adding more useless things (enough paper towels to destroy a forest, one more jug of laundry detergent, five additional boxes of antibacterial wipes, etc.) to the piles. Meanwhile, my husband and son sat at the kitchen counter eating ice cream and laughing. How could they be so calm? As I passed through in a rampage, I overheard my husband sharing the Top 10 college tips list he had written for my son. While the advice was tailored to my son's needs and personality, it has a universal message:
1. The difference between winners and losers is taking action.
2. Spend five percent of your time worrying about good luck or bad luck, and 95 percent of your time deciding what you are going to do about it. Just because you got lucky doesn't mean you were smart. Luck eventually runs out.
3. If something seems too good to be true it probably is. There are no shortcuts in life. Nothing beats hard work and determination. Everything comes at a price.
4. When things seem hopeless and you feel down, dig deep, crank it into a lower gear and get even more determined to succeed.
5. Success in life is a marathon, not a sprint. This is true for grades on short quizzes, as well as finals, overall GPA, standardized exams, secondary schooling and jobs. This is also true for marriage and raising kids. You need to prepare mentally for the long haul. There may be bumps along the road and effort doesn't guarantee success, so periodically assess and redirect, and keep training for that marathon.
6. Nothing in life is guaranteed.
7. Be a sponge for information.
8. Get to the point and keep it clear and simple.
9. Learn as much from your failures and those of others, as you do from your successes. Critically evaluate your successes and failures, and identify opportunities for improvement. In order for it to work, self-assessment requires you to be brutally honest with yourself.
10. Organization, prioritization, and perseverance are key.

And the bonus tip (which made me gag): Always wear a condom. Don't rely on others to protect you. Be proactive and responsible.

As parents we could probably compose a Top 100 list and still feel like we've left stuff out. This list is by no means comprehensive, but it's a starting point. My husband and I harp on happiness and positivity ad nauseam and our kids finally get it (most of the time). In this marathon called life, balance is key. My son shared that he gave this top 10 list serious thought and that it seemed to help him keep things in perspective. Hopefully it can help others as spring semester looms. Do you have other tips to add to the list?