 Anticipation is already high for Robin Williams' return to TV in CBS' "The Crazy Ones," a single-camera CBS comedy from "Ally McBeal" and "Boston Legal" creator David E. Kelley. The series has tapped Sarah Michelle Gellar to star as Williams' on-screen daughter, with whom he runs a high-profile ad agency that, in the pilot episode, attempts to lure in Kelly Clarkson to help on a McDonald's ad campaign that could make or break the company.
"Mad Men's" favorite mystery man James Wolk is also staying in the ad game for "The Crazy Ones," and admitted at the Television Critics Association Summer 2013 press tour that he was thrilled by all the speculation over his "Mad Men" character, Bob Benson, last season. "My favorite [theory] was immortally time traveling mad man," he laughed. "I only do ad agencies now, strictly marketing and ad agency [roles]."
Wolk admitted that he "was thirsting for" a comedy role, especially after "Mad Men" and short-lived stints on "Lone Star" and "Political Animals."
"I have done more television dramatic work and when this opportunity came about, I jumped out of my seat. My background is in theater ... that's a ton of improv, a ton of comedy. It feels like you're in a band and you're playing off each other and there's a rhythm to it," he said on the panel.
Naturally, Williams' comedic energy was both the focus of the panel and at the forefront of the pilot, and the actor admitted that there was some degree of pressure in the need to be funny at all times. "Sometimes, there's a pressure; other times, like in this room, good luck [you never know which jokes will land] ... the idea of being funny, I love it. It's great to have a steady gig after so long."
Gellar reiterated that she had actively pursued the role by "stalking" Williams and Kelley until they gave her the part, calling the role "a dream come true." She added, "To me, if you think of the top 10 comics of all time, Robin's on that list. One thing about 'Buffy' that was so wonderful ... it was funny, it was dramatic, it was scary ... Ultimately, [comedy] is really what I wanted to do." She pointed out that "if you cry on camera, people feel for you -- it's much harder to make people laugh," and she savored the challenge inherent in that.
The schedule is also a lot more manageable than her last role, playing twins on The CW's one-and-done "Ringer."
"I don't think I really thought that twin thing through. I didn't realize that there weren't actually two of me," she said with a joke. "That was not my smartest day ... [This] is such a joy. I've never had this much fun."
Executive producer/director Jason Winer pointed out that people forget Williams is a Juilliard-trained, Oscar-winning dramatic actor, and that the series isn't just relying on the comedian's shtick. "Improvisation is the icing, not the cake -- David and our staff write incredible scripts," he said.
Because of that, Kelley said, Williams "says my words perfectly and then he uses his. He's pretty much word perfect. He likes the box, he manages inside the box, and then we give him a few takes to break out of it. What you have in the end is the architecture of mainly the scripts, but you've got ad libs and the spontaneity."
Winer added, "This stuff has substance in terms of the father and the daughter relationship," as well as Williams' dynamic with the supporting characters. "I love the relationship between Robin's character and jimmy's character. There's a great bromance developing there."
"You have to establish a character that people buy into," Williams agreed. "They have to buy into my character and his relationships with everyone else. I like the idea of [the character] creating, but, at the same time, failing."
Kelley explained that the series was inspired by real-life ad executive John Montgomery, who pitched him the idea for a show set in an advertising agency many years ago. "It struck me as ripe for a television series ... I couldn't get it out of my mind [so I] went back and took a stab at writing it. It was about this iconic, crazy advertising genius and his relationship with his daughter." Kelley admitted that he had no expectation of Williams actually accepting their offer, but, "We made a phone call, Robin responded to the material and suddenly the whole project took flight ... We connected over who the character was, not just with his comedic sensibilities, but his personal flaws and professional insecurities."
Wolk and Gellar were effusive in their praise of Williams and his generosity on set, with Gellar noting, "It can be intimidating when you work with a comedian on that level -- he really wants it to work for everyone [and for] everyone to have their moment."
"Acting is a mutual sport. Working with each other is what makes it interesting," Williams noted. "Acting with these people is a joy for me. They bring such energy and love to it."
"Robin is incredibly gracious on set ... and all his stuff like, 'Don't step on my line, kid,' 'Don't cut me off' -- that's just part of the love,' Wolk joked.
While product placement is an inevitable part of network television now, Winer admitted that McDonald's plays such a major role in the pilot because the company is the largest client of Montgomery's ad agency, so Kelley was inspired by Montgomery's stories when writing the pilot. Still, Winer said, "No money has changed hands -- McDonald's did not have final approval on the script," and he was insistent that if they used the company so prominently, they should be "allowed to be irreverent about the brand."
"But if you look under your chair, there's a Happy Meal there right now," Williams quipped.
Ultimately, Winer said, using existing and recognizable brands was a way to make the world of the ad agency feel more authentic, because making up names of products ruined the reality of the show's world.
Overall, Winer said, the show "aspires to be a great workplace comedy ... It's a show about a father and a daughter that are reconnecting. Part of the ambition is to be really funny as well as surprisingly emotional and touching."
"The Crazy Ones" premieres Thursday, September 26 at 9 p.m. ET on CBS.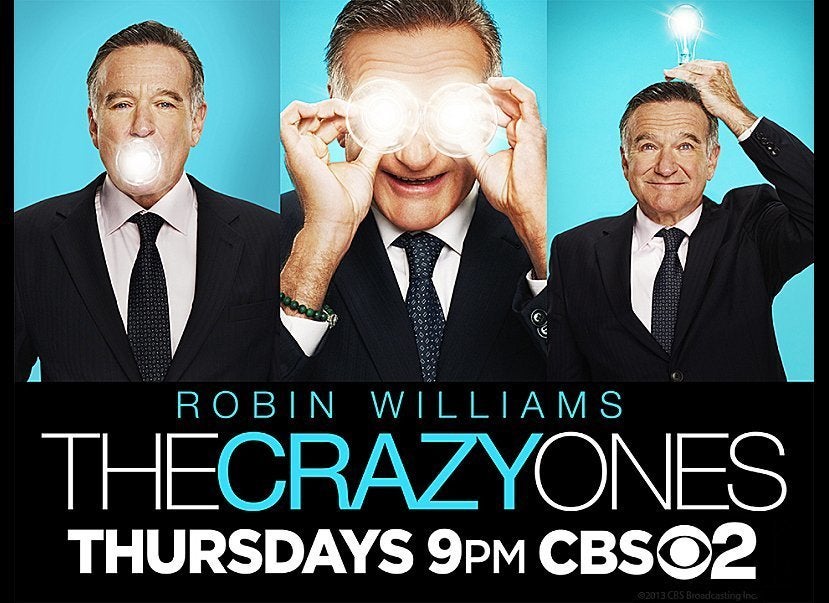 CBS New Shows 2013-2014
Related
Popular in the Community