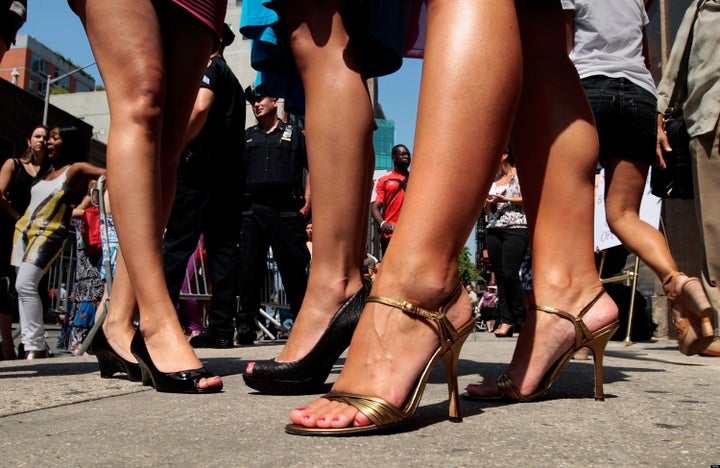 Who will notice? Arianna Huffington will.
It really is a girl's worst nightmare to be caught wearing the identical satin designer sling-backs in the same week, but who would have thought anyone would notice if one is not an actress or in the fashion industry?
Last week I had the honor of attending the Sustainable Industries Economic Forum held in Santa Monica. As the guest of Paul Hawken, the keynote speaker, I was lucky enough to be seated next to Ms. Huffington at the speaker's table. We exchanged a few words, but mostly we listened to the extraordinary ideas emerging from the forum. Mr. Hawken's speech about the different types of energy available in our ecosystem, and the ways in which to harness it, was especially captivating and inspiring. He challenged the business owners and innovators in the room to not just view our planet's changes as a crisis, but instead as a business opportunity.
He wrapped all of his information up in Emersonian theory, reminding us that we are all an integral part of nature's ecosystem. He somehow left an audience of business owners feeling like newly inspired modern-day, eco-mystics, in only a way that Paul Hawken could! I laughed, I cried. I wanted to hug my neighbor at the table -- but my neighbor was Arianna Huffington, and after the speech was over, it was her turn to speak.
Ms. Huffington, always dressed impeccably, began by quoting Mr. Hawken's 2009 commencement address to the University of Portland. "Forget that this task of planet-saving is not possible in the time required. Don't be put off by people who know what is not possible. Do what needs to be done, and check to see if it was impossible only after you are done."
I don't have to tell you how brilliant, witty, direct and just plain hilarious Ms. Huffington is. She went on to moderate a Q&A session for the forum and was able to turn the scientific and high concept into the approachable and user-friendly. She is made for these forums, and I have to take a moment to say that I can't imagine what this world would be without a woman such as Arianna Huffington. She makes it a better place.
Please take a moment to look into the Sustainable Industries Economic Forum. Brian Back and Christina Weber do an incredible job of compiling a panel of experts who address practical questions and show us how sustainable businesses can be conducted in our time. This panel included Andy Cohen, Executive Director of Gensler Architecture, Shelly Billik of Warner Brothers, Carmen Rad of CR&A Custom, Inc., and John Babcock of Rustic Canyon Partners -- all leaders in this industry and bright lights in the community.
After reading this so far, you would think it my desire to discuss the environment, when really what I want to address an issue of greater importance -- shoes. To this event, I wore my black satin Prada sling back platforms. I must say that these shoes are truly a work of modern architecture in the service of fashion. They make me taller, my legs look longer and, somehow, they give even a girl like me a classic Audrey Hepburn finish. These shoes are my prized possession, and I did not come by them easily.
As a yoga instructor, I don't have the budget that allows for many swipes at designer shoes, and yet somehow my fate has it that they are my heart's desire. Let's leave it for a moment that yoga doesn't require any shoes at all, and move on to point out that yoga acknowledges divinity in all things, and that I just happen to acknowledge the divinity in shoes. There is pretty good money in sun salutes these days, but not good enough for me to pay the full price tag for a pair of Prada platforms. So, in looking for creative solutions, I frequent stores like Nordstrom Rack, Loehmann's, and Filene's Basement. Century 21 is literally and figuratively my center of gravity for any trip to Manhattan. Here, with a little ingenuity and a lot of "elbowing," a girl can occasionally find one lone pair of designer shoes that happen to be in her size under a pile of junk for 70% off. This process is not for everyone, not for the faint of heart, but to me it is like a treasure hunt. I call it "the thrill of the hunt," and it is in this manner that I came by my only pair of dressy black designer shoes.
As fate would have it, this yoga teacher was invited to two dressy occasions (requiring fabulous shoes) in one week and, since they are my only pair, I had no choice but to wear them to the Golden Globes only three days later. "Who will notice?" I said to myself, expecting not to run into any of the same people. Even if I did, I thought, who would be looking at my shoes? With no other options, I slid into my added 5 inches and prepared to teeter my way through the evening.
Wearing 'the shoes' at the Golden Globes behind my friend, actress Perrey Reeves from "Entourage."
It was at the HBO party that I spotted the statuesque Arianna Huffington and, being so inspired by her words just days earlier, I ventured across the room (not an easy task at these events in 5 inch platforms) to pay my respects and say a hello from Paul. I re-introduced myself and told her that we had met days earlier at the Forum. As one would expect, she graciously replied that yes, she loved the speeches that day and yes, what a wonderful morning it had been and yes, she remembered meeting me because she recognized me by my shoes. "Weren't you wearing those shoes the other day? I remember seeing them." And so it went, in that lovely, Greek accent... a girl's worst fashion nightmare. What Ms. Huffington didn't say, was that yes, they are from a few seasons back and yes, I am wearing the same shoes to the Golden Globes that I just wore to a business casual forum!
True style never demeans or criticizes. Instead, Ms. Huffington continued to say that, actually, she loved the shoes and seamlessly went on to comment on the inspiring surroundings. In authentic Huffington style, she stayed focused and on point -- and asked if I could get Paul to write for the Post!
As a yoga instructor, I figure I get a fashion pass. I am making do with what I have in a world that is not entirely my own. Wearing my "vintage" shoes in creative ways is my way of recycling. I am at peace knowing that I am fashion's answer to sustainable business. But if any of you have ever put on a pair of last season's shoes more than once in a week and wondered "who will ever notice?" the answer is... Arianna Huffington will.
REAL LIFE. REAL NEWS. REAL VOICES.
Help us tell more of the stories that matter from voices that too often remain unheard.