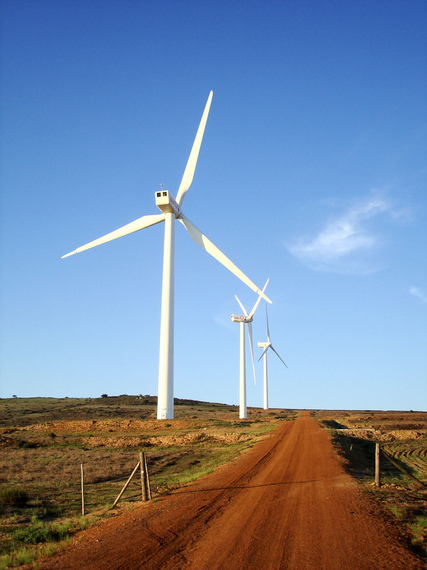 Wind Turbines in South Africa - via warrenski (Flickr)
The provision of clean electricity is crucial to Africa's continued economic growth and prosperity. Currently, though, there is a gap between the necessary electric utility infrastructure and the scale of our ambitions as a continent.
As a continent we will need to spend at least 6%of our GDP in energy over the next 10 years if we want to sustain our economic growth. How do we bridge the gap ahead of us?
Nepad has the mandate to drive and accelerate the execution of pivotal energy projects for the continent. The African Power Vision (APV), aligned with the Africa 2063 Agenda, is a long-term plan to increase access to affordable energy using a diversity of resources. APV aims to achieve an 80% residential electrification rate by 2040 and 90% for industry and business. The 'how' relies on a combination of off-grid solutions and a focus on cleaner sources in line with global standards. This plan depends on the critical role of technical skills development and our ability to provide a continental framework. Regional integration will, indeed, help us scale up energy delivery efficiently. Nepad also contributes to the implementation of the Africa Renewable Energy Initiative and to the Sustainable Energy for ALL (SE4ALL) launched in 2011. We build bridges between national project owners and developers/financers, working towards bankability and financial close.
The key to unlocking Africa's potential lies in identifying opportunities that can utilise national and regional energy resources in a way that is beneficial to the continent. With the abundance of solar and wind resources, Africa could become a trailblazer for renewable energy. Sub-Saharan Africa alone has the potential to provide more than 170 gigawatts of additional power through 3,200 low-carbon energy projects working with a combination of biofuels production, heat-and-power and mass transportation. The solution does not always lie outside of Africa. But the ability to attract sufficient funds to secure the success of viable energy projects will be key to our leapfrog.
This is why on the 16th of December, under the aegis of ECA and Nepad, international experts, ambassadors, high officials and entrepreneurs gathered at the Dakar Financing Summit (DFS) for the launch of the "16 infrastructure projects for African integration" guidebook. Three strategic areas were considered for transboundary projects: energy, infrastructure and connectivity. The book aims to guide investors' decisions by answering their questions about the projects regarding their economic viability, strategic impact, technical specifications, coordination, international support, risks & mitigation, expected benefits or progress reports. It also presents African governments with recommendations to help them access the funds needed for their application.
We are pleased to announce that amongst the 16 DFS projects, three projects are at an advanced stage of financial close: two hydropower projects in East and West Africa (Ruzizi III and Sambangalou Dam respectively) and the Nigeria-Algeria Gas Pipeline project. The outcome of DFS represents an important milestone in Nepad's endeavour to power Africa.
Popular in the Community