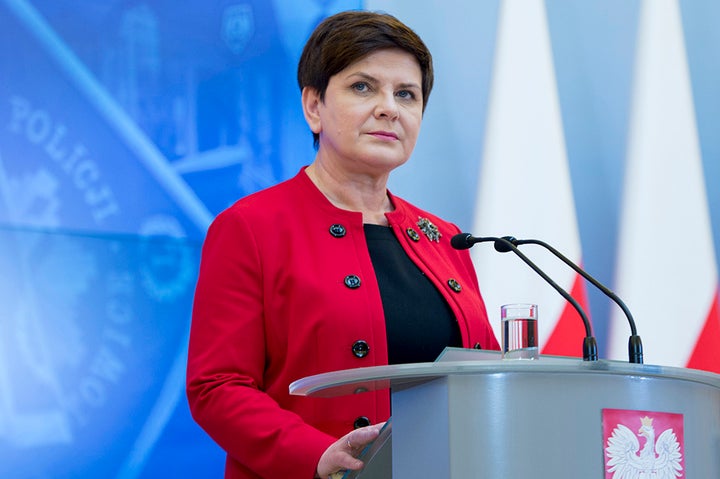 Not all geopolitical developments have to be earthquakes. Some are gradual, seemingly benign, and buried beneath other headlines. One such case: the erosion of liberal democracy in Central Europe. In Poland and Hungary, democratic institutions, the rule of law, and certain human rights conventions are being deliberately weakened. The situation is precarious and the outlook is bleak, not just for these two countries, but the entire European project. In fact, Poland and Hungary's unapologetic and open defiance to the European Union and its values is more damaging to peace and stability in Europe than the United Kingdom's pending withdrawal from the European Union and US President Donald Trump's NATO-skepticism.
In 2014 Hungarian Prime Minister Victor Orban infamously called for "a new state built on illiberal and national foundations within the European Union." Orban and his party, Fidesz, have weakened the independence of Hungary's courts and media. Hungary has also erected fences along its border with Serbia as a part of a hostile migration policy. Additionally, Orban has targeted the Central European University, in another effort to crackdown on dissent, and, like Poland, drew Article 7 threats. If there was any doubt about the similarities between Hungary and Poland, Orban recently asserted his "solidarity" with the country after the Law and Justice party's recent quarrel with Brussels. Orban clearly sees Poland as a fellow illiberal democracy defying the European Union.
What is happening in Central Europe is starkly different than other threats to European stability.
The bloc may be losing one of its largest economies and military powers, but Brexit has in many ways brought the European Union closer together. Support for the European Union is actually up, disproving the theory that Brexit would ignite a domino effect. The negotiations will be long and difficult, but they will eventually conclude, allowing the European Union to move forward. US President Donald Trump has openly voiced harsh criticisms regarding NATO and been inconsistent in his support for Article 5—the alliance's collective defense provision. His rhetoric is deeply concerning to a Europe that still relies on America's security guarantee, but his presidency has also sparked an intense debate within the European Union about further defense integration—another example of the European Union coming together when faced with a challenge.
At the present moment there does not appear to be a clear answer to the crises in Poland and Hungary. Brussels has been impotent in the matter and their threats thus far have been largely ignored. Any effective sanctions would require unanimity in the European Council, and Poland and Hungary's illiberal entente could block any such effort. The nature of the crisis presents a different kind of challenge for Brussels—one about values and cohesion.
The European Union is not just a collection of democracies; it is a collection of liberal democracies. Article 2 of the Lisbon Treaty clearly states, "The Union is founded on the values of respect for human dignity, freedom, democracy, equality, the rule of law and respect for human rights." Poland and Hungary are still mostly democratic, for now, but are abandoning their liberal values. As a result, the two countries have joined the growing list of illiberal democracies, which includes Russia and Turkey, and that is an existential, internal crisis for the European Union.
When Poland and Hungary joined the European Union in 2004, Europe's future looked bright. Both countries made enormous strides after the dissolution of the Soviet bloc, yet today the future does not look so promising. Two countries that once chipped away at the Iron Curtain are now building up illiberal walls to separate themselves from their European partners. By openly challenging the European Union's founding principles, Poland and Hungary are disrupting the bloc's internal cohesion. Together, these two illiberal members may create serious obstacles to European policymaking. And, unlike Brexit and the Trump presidency, the erosion of liberal democracy in Central Europe strikes at the very heart of the European project. It is not an emerging crisis or a hypothetical challenge; it is an existing and governing threat—one without a clear remedy.
Corey Cooper is a Europe Fellow at Young Professionals in Foreign Policy (YPFP). He is also a Research Associate in US Foreign Policy at the Council on Foreign Relations. Corey earned his BA in International Studies from American University. The views and opinions expressed in this piece are the author's own.
Popular in the Community