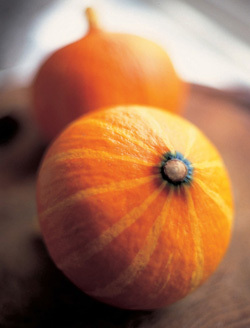 Unlike summer squashes, pumpkins and winter squashes are allowed to reach full maturity, with viable seeds and hard rinds for retaining moisture in storage. The flesh is dense and sweet compared with the tender, insubstantial flesh of immature zucchini and summer squashes.
Pumpkins are pretty, but winter squashes like butternut taste better. Pumpkins have a larger seed cavity and relatively less flesh than winter squashes and their flesh is blander and less dense. Large pumpkins are spongy and meant only for jack o' lanterns.
Only the smaller pumpkins, such as Small Sugar and Jack be Little, are good to eat, but even they are not what is in the tinned pumpkin Americans use for Thanksgiving pies. That is the denser and sweeter flesh of the neck pumpkin, a kind of butternut. Nevertheless a pie pumpkin has a delicate, distinct flavor, unlike the other winter squashes, and it is nice roasted.
Winter squashes can be divided unscientifically into three camps. One sort has a round, bark-like stem like Buttercup, the other a thinner, sharper fluted stem, like a pumpkin. In general, the buttercup types have drier, smoother, sweeter flesh. They include the scrumptious onion squash or Japanese pumpkin (Red Kuri), large hubbards (Blue Ballet and Golden Hubbard), and Sweet Mama, another buttercup type.
Fluted-stem squashes include the heart-shaped, green or golden Acorn and Delicata, an oblong, green and white striped variety. Both have less flavor and pale, sometimes stringy, flesh. The butternut is a third type. It has a fluted stem too, but the orange flesh is sweet, rich, and dense. Cobnut was bred for the British climate.
Pink Jumbo Banana is a wonderful pink squash with tasty, creamy flesh. Vegetable spaghetti has a yellow rind. When boiled, it breaks up into pale yellow filaments -- novel texture, but bland.
Pumpkins are best roasted or in soup. Winter squash is delicious roasted, baked, grilled, or puréed. The meaty winter squashes can be substituted for each other in almost any recipe, but the flavor, and to some degree texture, will differ. Like all bright vegetables, winter squash is packed with vitamin A, second only to carrots.
Pumpkins: September to November. Winter squashes: late August, then from storage until February or March.
Firm, heavy squashes with unbroken skin. Butternut should be an even pinkish tan without a background tinge of green. Stems dry and firmly attached.
Pumpkins keep a month or so at 50-60 degrees F, winter squashes for several months. Never refrigerate.
MAKING THE MOST OF A SURPLUS
They store well, so it scarcely matters, but purée is convenient and freezes well.
Recipes

PINK JUMBO BANANA & WHITE BEAN SOUP
This mild, delicious winter squash looks like a giant, creamy pink banana. The recipe works with any flavorful winter squash, such as butternut or onion squash, but the taste will be different. The soup is half-puréed, so it is creamy-chunky. Custom-made stock intensifies the flavor.
6 lbs Pink Jumbo Banana, with seeds
3 tbsp olive oil + a little extra
1/2 oz. dried shiitake, porcini or cèpes, or 2 cups fresh mushrooms
2 shallots, finely chopped
2 16 oz. cans cannellini beans
3/4 tsp salt
pepper
soft goat's cheese and toast (optional)
For the stock
1 yellow onion
2 large sprigs each rosemary and sage
3 cloves garlic
1 bay leaf
First make the stock. Quarter but do not peel the onion. Smash but do not peel the garlic. Reserve 1 tablespoon of each of the rosemary and sage, finely chopped. Chop the remaining herbs roughly, with their stems. Heat the garlic, onion, bay, and herbs in the olive oil, poking with a wooden spoon until they are soft and aromatic, about 20 minutes.
Add 4 cups water and simmer, uncovered, until the stock is flavorful, at least 25 minutes. It can be made 1 day ahead, but don't strain it until you want to use it.
While the stock simmers, set the oven to 420 degrees F. Cut the squash into large chunks, and coat the cut sides with olive oil. Bake it cut-side down on a baking sheet until it is soft, at least 1 hour. You can do this one day ahead. Scoop out the seeds, peel, purée two-thirds, and dice the rest.
Soak the dried mushrooms in 1 1/2 cup water for at least 20 minutes. Drain, and squeeze out the moisture.
Sauté the mushrooms, shallots, and reserved chopped herbs with the olive oil in a large saucepan. When they are soft add the cannellini beans and their juice. Season, and simmer until the liquid is thick and creamy, mashing a few beans. Remove the pan from the heat.
In a large pot, heat the beans and the squash, the whole bean mixture, the mushrooms and most of the stock. Add the diced squash last so that it stays intact. Thin with more stock, and season.
If you like, add a spoonful of cream or olive oil, and serve with toast spread with soft goat cheese.
5 lbs butternut squash
2 yellow onions
4 large cloves garlic
4 tbsp olive oil
1 bay leaf
4-5 sprigs dried summer savory or thyme, or 1 heaped tbsp, crumbled
½ tsp salt
1½ cups Arborio or other short-grain rice
Parmigiano Reggiano for grating
Set the oven to 350 degrees F.
Quarter the squashes and scoop out their seeds. Brush the flesh with olive oil, salt it lightly and roast until soft, about 45 minutes. Scoop out the flesh and purée it.
Make the stock with the peels and any trimmings. Quarter but do not peel 1 of the onions and smash but do not peel 2 of the cloves of garlic. Put them with 2 tablespoons of the oil, the bay leaf, herbs, the squash pulp and seeds in a large pan. When they begin to smell aromatic, add 8 cups of water and half of the salt. Boil, then simmer until it has reduced to about 6 cups, about 30 minutes. Strain.
While the squash and the stock cook, finely chop the remaining onion and the garlic.
When you are ready to cook the rice, have the stock simmering, and sauté the garlic and onions in the remaining olive oil until they are soft.
Add the puréed squash and stir well. Put in the rice and stir to coat.
Reduce the heat and add the hot stock in small amounts as it's absorbed, constantly scraping the bottom, 20-25 minutes. When the rice is tender but not mushy and the sauce is creamy, you can stir in grated cheese, a bit of butter, olive oil, or cream. Season to taste.
BAKED ONION SQUASH WITH HAZELNUTS
1 medium onion squash
about 24 hazelnuts, crushed
4 scant tsp butter
4 scant tsp Demerara sugar
Set the oven to 350 degrees F. Quarter the squash and scoop out the seeds; save them for stock. Bake the squash until it is soft, about 30 minutes depending on thickness.
When the squash is almost done, warm the nuts, butter, and sugar in a saucepan. When the butter has melted, spread the mixture evenly over the squash and bake for another 10 minutes.
This easy recipe is served as a thick mound of mash or diluted for soup.
6 lbs butternut squash
2 tbsp olive oil
2 cloves garlic, smashed but not peeled
1 bay leaf
1 large sprig rosemary, roughly chopped
3-4 cups water
1/2 tsp salt
freshly grated nutmeg
Set the oven to 350 degrees F. Split the butternut lengthways and scoop out the seeds and pulp. Cut in large chunks, oil lightly, and bake until soft, which takes about 1 hour. Or cut the squash in half, pierce it a few times with a fork, and bake it cut side down.
Heat 1 tablespoon of the oil in a large saucepan. Add the garlic, a few chunks of the squash, the bay leaf, rosemary, and squash seeds. When it begins to smell aromatic, add the water and salt and simmer uncovered for about 25 minutes, until reduced by about half for a purée, but less for soup. Strain the stock.
Scoop the butternut out of its skin and, while it is still warm, any syrup out of the pan. Purée it with the stock and the remaining olive oil. Add nutmeg and season to taste.
Top the purée with whole sage leaves fried quickly in olive oil (or butter ). It's also good with bread dipped in rosemary oil (chop rosemary finely and cover with olive oil for a day or more, strain).
ROASTED ONION SQUASH WITH SAGE
2 lbs onion squash (2 cups trimmed)
2 tbsp sage, finely chopped, no stems
4 tbsp olive oil
Set the oven to 450 degrees F. Chop the squash into quarters, peel it, and scoop out the seeds (save them for stock). Chop into quarters again and slice it into crescent shapes, about 1/2 inch x 1 inch thick.
Mix the squash, sage, and oil in a shallow baking tin with your hands. Salt it well (squash is all starch), mix again, and bake for 10 minutes at 450 degrees F, until it browns. Then reduce the heat to 400 degrees F and cook for another 10 minutes or until soft.