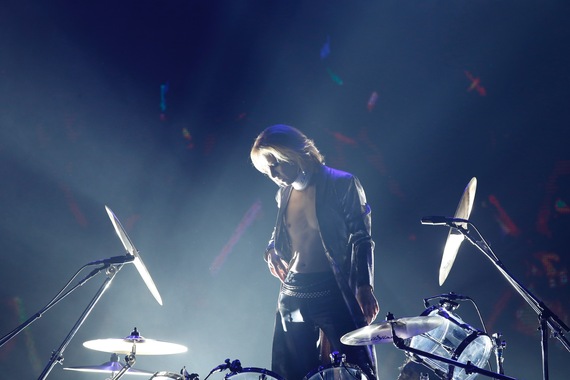 X Japan frontman Yoshiki playing to a crowd of tens of thousands during the first ever Visual Japan Summit (image courtesy of the festival)
From the moment legendary and pioneering Japanese rock act X Japan announced the first-ever Visual Japan Summit, the party was always going to be a massive success. It didn't matter if just the one band reunited to play their nightly sets or if they invited over a dozen other Japanese bands of varying genres to come and rock throughout the three days--which is exactly what they did--the fans would have turned up and turned it out. Thankfully, everything about this three day event was just as over the top as one might expect, and hope, and while every band that took to the stage was different from the last and put on a great show, at the end of the day, it was really all about X.
What made the first (but hopefully not the last) Visual Japan Summit so special wasn't just the music, though that was certainly part of it (seeing as this was a music festival), but the community that showed up. X Japan are known for creating a genre of music often referred to as "visual key," though those that aren't familiar can think of rock music that incorporates lots of theatricality, showmanship, and sometimes even costumes. When I headed to the festival, I expected every band to fit into the same mold and to have the same sound, but I couldn't have been more wrong. In fact, not even X Japan, the headliner of all three nights, sounded the same at the end of its set as it did in the beginning.
While X Japan never made an enormous impact in the U.S., they are heroes in their home country, and to this day, they attract intense media attention and their merchandise and music still sells like crazy. In fact, though they don't sound too much like KISS, that's a fair comparison in terms of the level of success that X Japan has reached, and as it turns out, the two groups are friends. Gene Simmons even made an appearance to help close out the first night, joining charismatic frontman Yoshiki on stage for classics like "Rock And Roll All Nite."
Many festivals have been able to pull off blending genres and featuring acts of every different style, but those are often held in parks or on large fields, while Visual Japan Summit took place entirely in one very large room. Now, when I say large, I mean large, as over 100,000 people walked in and out of those doors throughout the weekend, but since this was held in an enclosed space, one might assume that if a hard rock act is going to play, that's what everyone there wants to hear, correct? Interestingly, no, as the people in the crowds seemed to have different tastes, but it wasn't just the music that brought them there.
Instead of sound or style, there is something that held all of these bands together, despite the fact that many of them didn't sound anything alike. While one lead singer screamed the lyrics, another played definitively Japanese rock dressed entirely in cosplay outfits, another sang syrupy sweet pop ballads, while still another didn't play anything at all, as their schtick is not just lipsyncing, but pretending to strum guitars and pluck basses. It's even difficult to understand how X Japan's fan base enjoys their entire output, as in the beginning of their career it was all about punk rock, but by the end the songs can truly only be described as pop ballads at their sappiest. All of this variety ensured that not a minute of the full event was boring, and despite the fact that I've been to dozens of festivals all around the word, I have truly never experienced anything quite like these bands, or in some cases, "bands."
The crowd at this event about an hour outside of Tokyo was also nothing like the rowdy, drunk, sometimes high American festival-goer, and for that, I am thankful. Everything about the party was tame, clean, and well-organized. There were no disgusting bathrooms, literally not a piece of trash in sight, and forget the long lines for booze, though that was mostly because it didn't seem like anybody was drinking. That's both a positive and a negative, but it certainly helps the event stand out even further.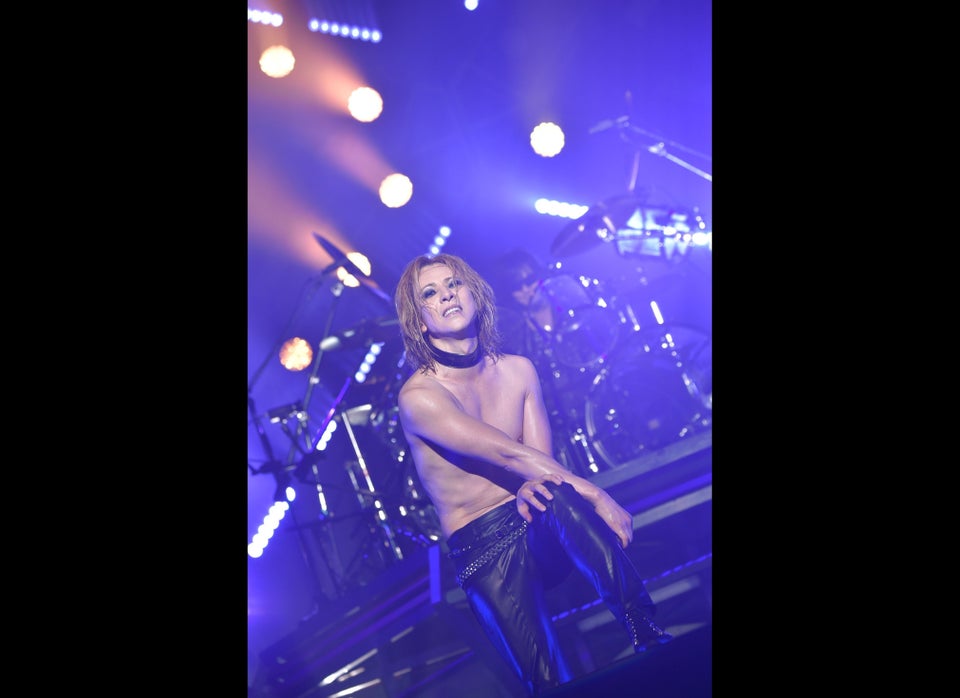 Visual Japan Summit 2016
The attendees all seemed to know their roles in the show, and from a spectator's view, it seemed almost as if there had been an orientation before anyone was allowed in the doors. Everybody knew when in certain songs to move their hands one way or shout a single word or phrase, whereas in other cultures, it's not odd to see someone screaming every line of every song at the top of their lungs, or for many diehard partygoers to jump and dance throughout the set. That was not the case here, and it seems as though most, if not all, of those in the building had been to their fair share of X Japan shows before, and they knew what they were doing without having to be told.
I attended all three nights of Visual Japan Summit, and yet I'm still having a hard time putting my finger on exactly what made the event so special, and I can't say what made the acts so cohesive, despite the fact that they certainly didn't sound like they had anything in common. Maybe that's what made the weekend-long parade of wonders so fascinating: it's mysterious allure and inarticulate connectivity. I couldn't understand what the performers were saying, I wasn't in on the dance moves, and I was crying for a beer, but when it was all said and done, I didn't want to leave, as it felt like there was more to discover and more fun to be had. I can only guess that those who purchased tickets felt the same way, even though this is a world they are far more familiar with.
Popular in the Community