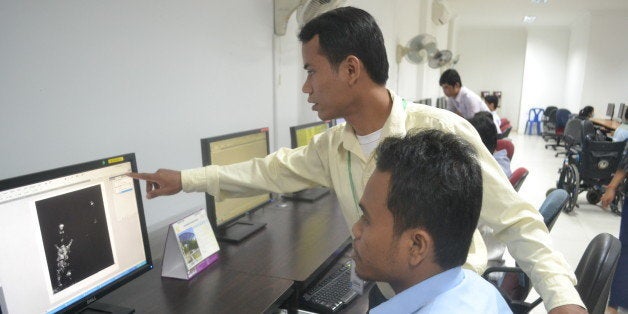 In the New York Times last year, Thomas Friedman wrote a compelling column about the workforce of the future. As he spoke to education experts and executives, he found that they frequently downplayed the traditional importance of academic knowledge. He spoke to one executive who summed this up well: "We can teach new hires the content, and we will have to because it continues to change, but we can't teach them how to think -- to ask the right questions -- and to take initiative."
In other words, the next-generation workforce will need to possess a wide range of skills to stay competitive and succeed in the digital age. In tomorrow's global marketplace, workers will need to prioritize problem-solving, critical thinking, communication and working in teams.
We see how essential these skills are every day in our business delivering digital content, data and research solutions from offices in the United States, Southeast Asia and East Africa.
When much of my parents' generation held jobs in well-defined industries, key skills included knowing a trade, working hard and following direction. Although these skills are still relevant to a large degree, the rapidly changing nature of our knowledge economy is emphasizing different abilities that will be critical for next generation's workforce.
To hold and keep a job in the 21st century economy, workers will have to be innovative, solve problems creatively, work in teams, communicate clearly in various media and deal appropriately with the ever-changing nature of information flow. We are seeing the impact and importance of these new trends in our work across Asia, Africa and the United States. As our young employees become aware of the skills required to succeed in the digital age, they are seizing every opportunity to acquire the necessary marketable skills. Below is one example of such young worker who has seized the opportunity and now possesses valuable job skills:
Chansambo Kim is a young staff member at my international organization, Digital Divide Data (DDD), who utilizes his training and work experience daily to listen to client needs and supply the best solutions.
As a social enterprise, DDD trains young adults to fill complex roles within and outside the organization. Chansambo, a project coordinator at DDD in Phnom Penh, Cambodia, exemplifies how DDD's training prepares our youth for greater responsibilities as member of a professional global workforce. Like many of our staff members, Chansambo started working as a data management operator after completing pre-employment training. He performed well and was later trained for eBook conversion, a more technically demanding service. When the eBook project was finished, he was transferred to work preparing print-on-demand (POD) files, a service that used skills he learned from eBook conversion. He was promoted again to project coordinator for his consistent performance and great problem-solving abilities.
Chansambo is able to ask the right questions of our customers and carefully analyzes the information to better understand how to apply the next course of action.
As project coordinator, Chansambo finds value in all the skills he acquired as an operator. He uses his knowledge from eBook and POD projects to check the quality of work delivered by his team plus his computer skills to manage and evaluate his team's performance to ensure that they deliver quality work for clients.
Chansambo loves to talk with customers. More importantly, Chansambo takes charge of client communications and task delegation. He likes the communication and problem-solving aspects of his new role because he learns new things every day.
"Sometimes, the client will respond to our concerns quickly but at times we have to follow up," he says. "Sometimes, they also do not understand the inputs we need, so we have to explain further. I've learn how to deal with each client appropriately." Chansambo also enjoys creating reports and planning because these tasks challenge him to think of ways to meet tight deadlines and produce high-quality output that exceeds client expectations.
Chansambo enjoys working with his team, often ensuring that his team is able to deliver quality work to clients.
Chansambo is just one of the many youth workers whom DDD empowers with digital work and life skills, helping them to develop professional careers and become leaders in their communities - and in their own right. With work experience, higher education and marketable skills, they are able to secure professional employment and long-term increases in their income.
Cisco product and cash grants have helped Digital Divide Data replicate their Impact Sourcing model across Asia, Africa and Latin America. DDD provides employment and higher education opportunities to young women and men in emerging economies. For more information about Cisco's focus on economic empowerment, please visit: http://csr.cisco.com/pages/economic-empowerment
This piece is part of Cisco's series on the workforce of the future. As the worldwide leader in networking, Cisco is committed to helping people develop the technology and career skills they will need to succeed in tomorrow's workforce. Learn more at csr.cisco.com/techtalent