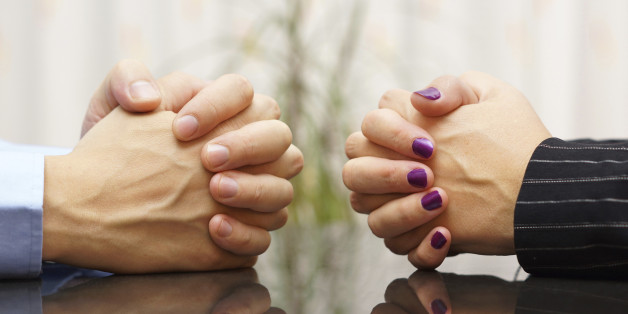 The cocktail party truism that half of all marriages end in divorce is probably a myth. The actual divorce rate is both difficult to calculate and in all likelihood lower. But the future may not be as rosy as most people contemplating a marriage or already in a happy marriage assume, especially when things are now going great for them. Indeed, you don't have to be an ingrained pessimist to worry that your marriage may end in divorce, maybe not in a year, maybe not in ten years, but just maybe, someday. We know, we know, even thinking about the possibility of divorce during your engagement and wedding planning, or during happy times in your marriage, is not just unromantic; to many, it is downright perverse.
Whether or not one chooses to acknowledge the sad reality that some marriages will not make it until "death do us part," the possibility, regrettably, is there. Thinking about such an upsetting event is far from pleasant, but we cannot tell you how many times clients have walked through our doors and said that they wished they had had the benefit of our advice years ago so that they could have been better prepared for what was to come.
This is not to say that anyone should allow thoughts of the possibility of divorce at some point in the future to become pervasive or to affect your current happiness with your fiancé or spouse. That said, it is possible -- and wise -- to be happy in your marriage but at the same time be attuned to the sad reality that not all marriages make it.
With this in mind, below are ten tips for spouses who, while not actually contemplating a divorce, want to be as fortified as possible if ever that unfortunate day arrives. Because our recommendations differ in many respects for what are referred to as the "monied" and "non-monied" spouses, we have divided this article into a set of five tips for each. Particular points in divorce law vary widely from state to state, so you must look to the divorce laws of your own state when taking action or planning to do so. But we think the following may help you to avoid ending up on the wrong end of things if you find yourself in a divorce proceeding.
Tips for the non-monied spouse
• Keep yourself up to date on the state of your spouse's assets and income.
You should have a working knowledge of the details of your spouse's holdings and their current status. Is a business successful or failing? Are investments performing well or are they stagnant? What is your spouse's actual income? What liquid savings exist? Much information can be gleaned from a tax return. Accordingly, it is a good idea to review carefully joint or separately filed returns (or have an independent accountant do it for you). That way, you will know what is happening with income and assets held by your spouse. If, one day, you have to ask a court to distribute your spouses' assets, you will have some idea of where to start, and may avoid some of the high costs of the legal discovery process.
• Be involved in decisions about, and have a working knowledge of, the family finances.
You and your spouse are partners in every sense of the word. You should be privy to information regarding assets, debts and income. Regardless of what you actually know or don't know about your family's finances, you will be jointly responsible with your spouse for any misrepresentations on a joint tax return, so you need to carefully review the tax return and know what you are signing. Similarly, debts incurred during the marriage are often marital debts (regardless of whether such debt is incurred by you or your spouse), so you should know the magnitude of any significant debt, the terms of any loans, and how the loan proceeds are being used. Review documents your spouse asks you to sign. If your spouse asks you to sign a document transferring your home or other assets from joint names to your spouse's name alone or to trusts for "estate planning" or asset protection purposes, ask questions and consider meeting with an attorney who practices in the area of family law independently to discuss why you are being asked to do this and the ramifications of what you are doing.
• Be aware of your household expenses.
You should be informed of family expenses so that you and your spouse can be assured that you are living within your means and that your expenses do not exceed your income. Disputes about money and spending are often a primary reason that marriages do not work out, particularly if one spouse is spending money in excess of what the couple can afford. Being knowledgeable about household expenses will not only hopefully avoid that disconnect, but will also be important if you and your spouse separate and you need to seek spousal support or child support. Many states require both parties to submit a sworn statement of net worth setting forth assets, liabilities, income and expenses. Having a solid understanding of your expenses and the children's expenses will be a crucial first step in laying the groundwork for your support demand.
• Maintain your business and professional network.
Even if you are not working now, keep up your professional and business contacts. Stay in touch with former colleagues. Consider attending industry events from time to time or working part-time. Keep apprised of what is going on in your field, so that, should you have to return to work, you are not just parachuting into what has become terra incognita.
• If your significant other or spouse asks you to sign a prenuptial or postnuptial agreement, hire your own lawyer to review the document on your behalf.
It is also critical that you read the agreement carefully, ask your lawyer questions about its terms, and know the implications of the agreement. Ask yourself if you can live with the terms of the agreement before signing it, because one day you may have to. In fact, assume in deciding whether to sign it or not that one day you could be ordered to live by its terms. Do not fall into the mindset that the terms of the document do not matter because you and your fiancé or spouse are in love and will never divorce because the reality is that, unpleasant as it may be, divorce is a possibility.
Tips for the monied spouse
• If you are not yet married but are contemplating marriage, consider asking your intended to sign a prenuptial agreement.
If you own a business or an interest in a business, are entering the marriage with substantial assets, or expect to inherit or receive gifts of significant assets from your family during the marriage, you should meet with an attorney who practices in the area of family law. You should obtain advice on how the law in the state where you intend to live treats separate property and if that property can be protected by a prenuptial agreement. In many states, the appreciation in value during the marriage of a premarital business interest is considered to be marital property, and, in some states, all property is considered to be in the "marital pot" and the concept of separate property is not recognized at all. It is not at all unusual if a business interest has substantial value for there to be dueling expert valuations. We have seen very large differences in those valuations, some in the seven-figure range and some in the eight-figure range.
In many states, appreciation in value of separate property assets, including premarital or inherited assets, may be deemed marital property, particularly if either party was actively involved in managing or increasing the value of such assets. Whether you decide to ask your intended for a prenuptial agreement or not, you should be informed about the law and understand how it may affect your business, your premarital assets, and your future inherited assets.
• If you ask your significant other to sign a prenuptial agreement, discuss with your attorney what your goals are and tailor the terms of your agreement to meet those goals.
If you are considering proposing a prenuptial agreement, you should take the time to discuss the possible terms of the agreement with your attorney, since there are many different approaches to such an agreement. It will not go over well with your fiancé if you present him or her with an agreement which you have not carefully read or do not fully understand. You should understand that what you see as a reasonable agreement could (and often will) be seen as draconian by your fiancé. Be thoughtful about provisions that may be "common" or "standard" but which you may not want or may not need in order to achieve your goals. For instance, if this is a first marriage and you do not have children from a prior relationship, you may direct your attorney not to include a provision which requires your future spouse to waive her elective share (her entitlement under the law to a percentage of your estate upon your death) if this provision is not important to you.
In constructing the terms of your agreement with your attorney, you need to weigh the importance of protecting your assets against the impact that doing so will have on your relationship and marriage. For example, while many people want to ensure that their premarital assets and the appreciation in value of those assets remain theirs upon divorce, you may be willing to agree that your home with your future spouse is marital property (perhaps subject to a credit for the separate assets you spend to buy it or for renovations) so that your spouse does not feel like a guest in his or her home. The terms you ask your fiancé to agree to may have long-lasting effects on your relationship and marriage, so try to be as generous as you can afford to be.
• Keep records of your assets on the date of marriage and understand the ramifications of commingling separate property assets with marital property.
Most people do not live their lives preparing for a possible divorce. Nor should they. That said, in a divorce proceeding, many states will recognize premarital separate property if the owner of that property can prove what he or she owned on the date of the marriage and can demonstrate with documents (perhaps with an annual statement for each such account for each year of the marriage) that he or she has not commingled his or her premarital separate property with marital income or assets. If you invest your premarital savings in a home or another asset, you may be entitled to a separate property credit for such investment if you can document it. Because banks normally retain records for approximately seven years, be sure to keep copies of statements and checks documenting your separate property. Be able to trace how your premarital separate assets were utilized during the marriage. Also, be aware that if you commingle your separate property assets with marital assets, such assets may be deemed marital property and you may not be entitled to a credit for your separate property.
• Understand the consequences of putting separate assets in joint names.
In many states, the law provides that premarital or otherwise separate property assets become marital property if such assets are put in the spouses' joint names. You and your spouse may decide that you want to put everything, or just certain assets, in joint names, regardless of either party's separate property contributions to such assets. You should be aware, however, that in doing so you may be waiving a claim for a separate property credit and thereby making a gift to your spouse of the separate property that you contributed to such assets.
• Discuss finances with your spouse and agree on a budget.
If you are the sole or primary breadwinner for your family, understand that your family's expenditures during the marriage (including your spouse's spending on himself or herself and the children) may be considered in determining child support and spousal support. It is important not to establish a lifestyle beyond what you can afford to prevent your being required to pay support for your spouse and children which is consistent with your marital lifestyle but beyond your financial means.
Whether you are married, engaged or have not yet met that special someone with whom you want to spend your life, we hope that we have given you some food for thought. Please do not hold it against us that we have asked you to think about a subject that--to many--is highly distressing. Some of you will undoubtedly choose to forget you ever read this article. But, some of you, even if you are very happy now in your marriage or engagement, may choose to act on our recommendations and prepare yourself as best as you can for a "perfect storm" that may come your way in the future.
While we all like to think we will live "happily ever after", that we will not become a statistic and that our relationships or marriages are different, almost all of our clients thought the same thing when they got married. Yet they find themselves months, years or decades later meeting with a divorce lawyer and dealing with the sad ending of a once-beautiful relationship. Some careful planning can help make that process less difficult and costly.
Stephen P. McSweeney and Tara Jones Willecke are both partners in the Matrimonial Group at the law firm of Blank Rome LLP, which has been previously voted the Family Law Firm of the Year by U.S. News and World Report. Mr. McSweeney practices in New York and Ms. Willecke practices in New York and New Jersey.
Calling all HuffPost superfans!
Sign up for membership to become a founding member and help shape HuffPost's next chapter