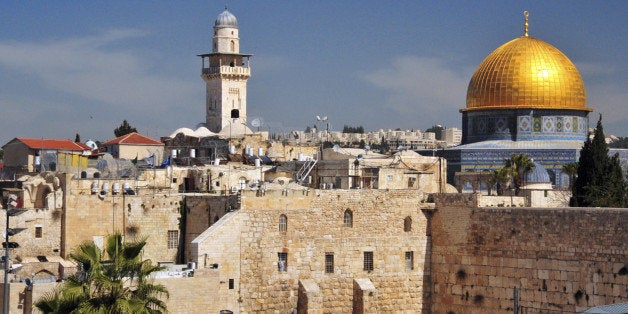 It's impossible to report from the 31st Jerusalem Film Festival without acknowledging the political tension: just before the opening ceremony this past Thursday evening, the sound of a siren alerted everyone to take shelter because another rocket aimed at Jerusalem had been fired by militants from Gaza.
Israelis seem to take in stride the need to move quickly and quietly to sheltered areas, and then return to normal life minutes later. When another siren was heard on Saturday evening, those of us about to attend screenings at the Jerusalem Cinematheque calmly moved indoors and downstairs, and then resumed our cinematic treasure hunt as the threat seemed to subside.

The JFF programming is vibrantly eclectic, with over 200 movies from 50 countries. While many are Israeli, others span varied genres, nations, themes and styles. I've experienced the thrill of discovery with two of the selections screened thus far. One is Calvary, John Michael McDonagh's Irish drama about contemporary doubt, faith, fate and forgiveness.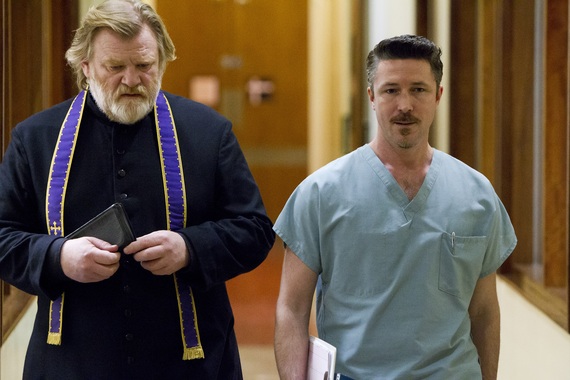 Brendan Gleeson (left) and Aidan Gillen (right) in Calvary

As a very modern priest, Brendan Gleeson gives a soulful performance of restraint, irony and weary wisdom. Instead of fleeing the threat of an appointment with a murderer, he stands his ground, accepting a possible martyrdom. (Fox Searchlight will release Calvary in the U.S. on August 1.)
Things People Do is another gem centered on a virtuous man in moral turmoil. The American independent drama is the first feature of Saar Klein, a film editor who has earned Oscar nominations for his work on Terrence Malick's Thin Red Line as well as Cameron Crowe's Almost Famous.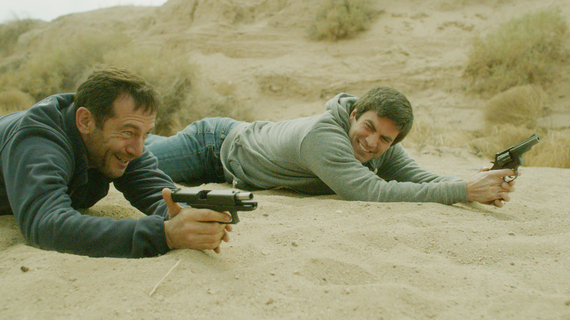 Photo by Kerry Tasker: Jason Isaacs (left) and Wes Bentley (right) in Things People Do

The riveting tale follows a quintessentially decent family man in New Mexico: unable to tell his wife that he lost his job as an insurance claims investigator, Bill (Wes Bentley) accidentally falls into robbery, and then runs with it after the US economic crisis of 2008.
With poetic imagery and sound design, Klein's cinematic storytelling invokes Krzysztof Kieslowski as well as Patricia Highsmith, especially because he deepens the story by adding Bill's new friendship with Frank (Jason Isaacs in a performance worthy of award consideration for Best Supporting Actor). This alcoholic detective remarks with irony and lucidity, "There ain't no sin. There ain't no virtue. There's just things people do."

Perhaps because the JFF was presenting a kind of homage to Roger Ebert, I felt that the late film critic would have loved Things People Do. Along with a screening of Life Itself -- Steve James' moving documentary that does not shy away from the most challenging aspects of Ebert's physical disintegration -- Variety film critic (and JFF Jury member) Scott Foundas reminisced publicly about one of the most articulate and influential cinephiles of our time.

For many years, Ebert and I co-hosted American TV coverage of Cannes Film Festival Closing Night ceremonies. Among the colorful characters we encountered each year were Menachem Golan and Yoram Globus. They are the subject of Hilla Medalia's delightful new documentary, The Go-Go Boys, which screened at the JFF in their presence.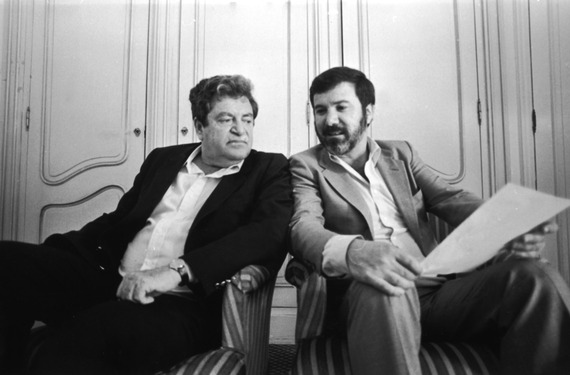 Photo: Menachem Golan (left) and Yoram Globus (right)
Old-school incarnations of chutzpah, the Israeli duo created Cannon Films, an indie company to rival the majors. Like Roger Corman, Golan and younger cousin Globus evolved from shameless shlockmeisters, to daring dealmakers, to prestige presenters. After commercial success with low-budget movies, they worked with Cassavetes (Love Streams), Polanski (Pirates), Altman (Fool for Love), Konchalovsky (Runaway Train), and Schroeder (Barfly). They ultimately owned over 1000 screens in Europe until they bit off more than they could chew.

Director Hilla Medalia is clearly talented, versatile and prolific. Two years ago, she was at the JFF as the producer of the superb documentary Numbered (about the tattoos of Holocaust survivors); in the interim, she directed Dancing in Jaffa as well as Web Junkie.
The latter opens August 6 at New York's Film Forum. Web Junkie -- which Medalia co-directed with Shosh Shlam -- is about internet addiction and treatment in China. What they call "electronic heroin" has led this country to build more than 400 rehabilitation camps, mainly for teenage boys.
Dancing in Jaffa is an inspirational documentary about the renowned Pierre Dulaine teaching ballroom dancing to children. It's hard enough to get kids to want to dance. But Jewish and Palestinian Israelis forming couples with "the enemy"?
The first part chronicles the tensions, including obtaining the parents' permission to send their children to dancing lessons. By the end, however, the ballroom competition sequence is inspirational, including the unforgettable image of an Arab woman in a black burka holding up a camera.
When Dancing in Jaffa was previewed at Manhattan's Jewish Community Center in late 2013, Dulaine attended and crystallized the significance of his ballroom dancing enterprise -- and perhaps of movies like many being shown at the Jerusalem Film Festival: "If you change the children, you change the future."
______________
Annette Insdorf, Director of Undergraduate Film Studies at Columbia University, is the author of PHILIP KAUFMAN.
Calling all HuffPost superfans!
Sign up for membership to become a founding member and help shape HuffPost's next chapter