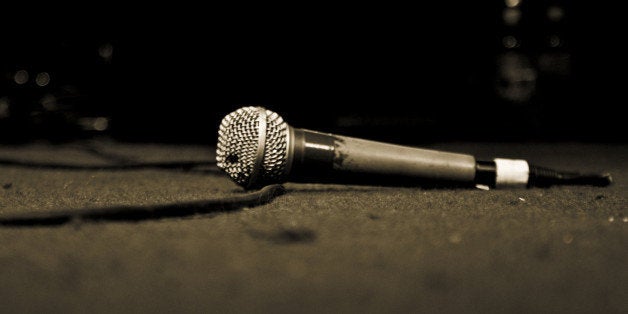 I'm boggled that I have to write this. I've patiently waited for days for someone in the news media to correct all the mis-interpretation, but...alas, nope. It just keeps getting repeated, incorrectly.
No, I'm not referring to some controversy in the Democratic primaries. Nor is it charges among Republican candidates. This doesn't concern any politics out of the Oval Office either. No, it takes us back to Saturday night when the annual White House Correspondents Dinner was held.
This is about President Obama's final joke.
I got a call on Sunday night from a friend who's very astute politically. But he didn't get the joke or reference in the president's last comment, "Obama out," after which the president kissed two fingers to his lips and then dropped his microphone. My friend that he was reading a lot of online commentary about it -- from major news sources, like all the networks, and CNN and others -- and all the explanations left him cold. Most tended to reference a tradition of comics or rock stars. One gave a long history of "mic droppings." If that was the joke, he said, he thought it was pretty awkward.
As it happens, he was right to feel cold by all the explanations. They all missed the joke.
No, I said, that wasn't the joke. The president is a huge basketball fan. That's well-known. Only 15 days ago, Kobe Bryant of the Los Angeles Lakers retired. It was a huge deal all season, and the last game in particular got massive attention. And it got even more national attention when Bryant scored a remarkable 60 points and hit the last-second, game-winning basket. Afterwards, there was a gala celebration in front of the fans, and Kobe Bryant (whose nickname is "the Black Mamba") went to center court, made a speech to the roaring crowd -- and ended it by saying, "Mamba out," then kissing two fingers to his lips, and putting the microphone on the floor. THAT'S the joke that basketball fan President Obama was doing a satire of. They both even set up the line almost exactly the same -- "I just have two more words to say" and "What can I say?"
As I told my friend, I didn't see how almost every news reporter missed it. The game, the retirement, the speech, the final moment made huge news, and it was only two weeks ago. This wasn't something reporters had to delve deep into the archives of their memories to years past. It was April 15. The dinner was April 30. And besides, if reporters didn't get the joke, you'd think they turn to someone and, like good journalists...ask, "What was that joke alluding to??" I can see some news outlets missing it -- but most? Or close to all??? (I'm sure that some got it, but my friend was pretty extensive in his searching.) Just bizarre.
My explanation appeased him, and he was glad that that was the joke, because he thought it was pretty good. And he was relieved that it wasn't what the news outlets were saying.
Then, he called me back about 10 minutes later. "It turns out we both were sort of wrong," he said. He explained that he was just talking to a well-positioned reporter friend for a big city newspaper, who told him definitively that the joke was an allusion to a Saturday Night Live sketch from several years ago in which Obama was debating Mitt Romney. The sketch-Obama felt he made the definitive arguing point, and so dropped the microphone and walked off the stage..
NOOOO, I said. Your friend is wrong. Wrong. I am right. That is not the joke. The joke is exactly what I told you, I repeated -- two weeks ago, when Kobe Bryant retired, he said after his final game, "Mamba out," kissed two fingers to his lips, and put down his mic. And President Obama, a very big basketball fan ended his final WHCD speech by saying, "Obama out," kissed two fingers to his lips, and dropped his mic. That's the joke. The two are almost exactly the same -- they even both lead into the joke almost exactly the same, and what the president did is different from the end of the SNL sketch, which didn't have him kissing his fingers, let alone him saying "Obama out." They even both -- Mamba and Obama -- almost sound exactly the same!
And for anyone who doubts it, just to refresh your memory, here then is an edit from a basketball fan who understands. It's the very end of Kobe Bryant's retirement speech from two weeks earlier that the basketball-fan president was satirizing. And it's immediately followed by the president's final line which so much of the public saw on Saturday night.
Popular in the Community