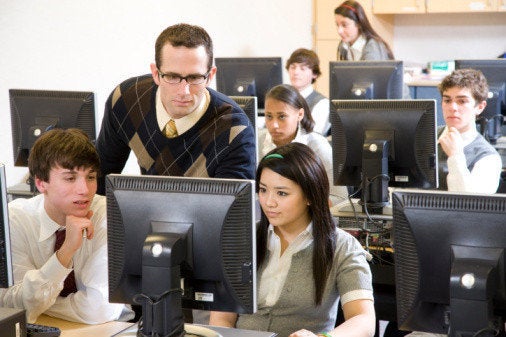 Wealthy donors who once viewed the Los Angeles Unified School District (LAUSD) as a bureaucratic "black hole" now have a new way to give to the city's public school system.
In an letter sent out yesterday, education philanthropist Megan Chernin announced the formation of the Los Angeles Fund for Public Education, a non-profit organization independent of the LAUSD. Set to launch in October of this year, the organization aims to raise $200 million over five years to invest in transformative programs and scale them district-wide. The released statement was signed by Chernin, as well as Mayor Antonio Villaraigosa and LAUSD Superintendent Dr. John Deasy.
The Los Angeles Times reports that in addition to Chernin, Hollywood philanthropists Casey Wasserman (the late studio mogul Lew Wasserman's grandson), Jamie Alter Lynton (the wife of Sony Pictures CEO Michael Lynton), and artist Nancy Marks will make up the LA Fund's board. Chernin is also married to Hollywood producer and former News Corp. president Peter Chernin.
The formation of this foundation has been a hallmark of Deasy's agenda for the LAUSD since before he began as superintendent. In February of this year, Deasy laid out plans for the Los Angeles Fund for Public Education in a speech to the RAND Institute in Santa Monica. Closely modeled on a similar program in New York, Deasy promised that "the interest on investments in the fund will be used for various educational projects of the donors' choice and donors will receive an annual report card on the social return of their investment," according to the Associated Press.
Despite the fact that the LAUSD has come across an unexpected $55 million budget surplus from the last school year, thousands of laid-off teachers remain without jobs, reports Neon Tommy. The school district recently announced more plans to layoff half of all library aides by the end of this semester, reports KPCC. Public schools across California could face another $2.5 billion budget cut next spring, according to the Daily News.
Calling all HuffPost superfans!
Sign up for membership to become a founding member and help shape HuffPost's next chapter