When I read that Molly Smith, artistic director of Arena Stage, was going to produce The Music Man, I picked a date and bought advance tickets. I was not disappointed. The show opened in D.C. at the end of May, and Arena must have guessed it would be popular because it's playing through July 22, a nice long run in the company's main theater, the Fichandler.
The Music Man has been a staple of American musical theater since its Broadway debut in 1957, starring Robert Preston as a smooth-talking con man, Harold Hill, and Barbara Cook as Marian Paroo, the skeptical librarian who sets out to unmask his motives. Set in River City, Iowa, in 1912, the book by Meredith Willson and Franklin Lacey is a salute to Americana, and Willson's music and lyrics are some of the finest ever written for the theater--from his rousing salute to Sousa, "Seventy-six Trombones," to the haunting ballads "Goodnight, My Someone" and "Till There Was You." (The latter's evergreen popularity was ensured when it was recorded by Paul McCartney on "Meet the Beatles," the group's first American album in the 1960s.)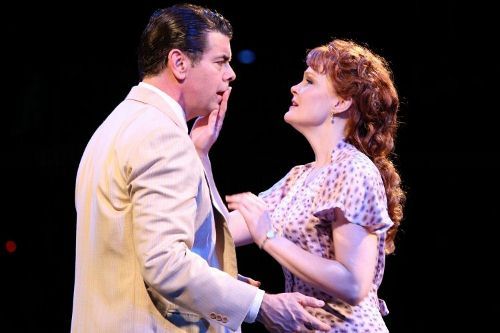 Burke Moses as Harold Hill and Kate Baldwin as Marian the Librarian.Photo by Joan Marcus..
I'm happy to report that Smith's production, updated to the 1930s and pairing two superb Broadway talents, Burke Moses and Kate Baldwin, reinvents the show on a more intimate scale, throwing the conflicts into sharp relief without compromising on charm or musical vitality. Burke Moses has a big, meaty baritone--he played Gaston in the original Beauty and the Beast--and he gives Harold more vulnerability than other actors I've seen in this role. Kate Baldwin, in the tradition of golden age Broadway divas like Barbara Cook and Julie Andrews, has a gleaming silvery voice (she starred in the recent revival of Finian's Rainbow) and displays flinty conviction as Marian, which makes her changing attitude toward Harold quite touching. (I first spotted Baldwin's gifts in 2003 when she played Martha Jefferson in Ford Theatre's 1776, so it was rewarding to see her as a leading lady.)
I was also captivated by Donna Migliaccio as Marian's mother, Mrs. Paroo, and Will Burton as the town "bad boy," Tommy Djilas--he's a skilled dancer. The ever-reliable John Lescault adds humor as Mayor Shinn, wittily supported by Barbara Tirrell as Eulalie Shinn. Ian Berlin is an adorable Winthrop, the boy afflicted with a lisp and afraid to speak until he's befriended by Harold Hill. Nahal Joshi brings comic relief as Marcellus, and my hat's off to the ensemble.
One small quibble: the sound system seems to project the voices from a disembodied source above the stage. In a theater this small, it's hard to believe such well-trained singers need this level of over-amplification. But I loved Smith's vision of the show, so if you happen to be in D.C. this summer, don't miss Arena's Music Man. It's uplifting and fun, and the romance at its heart has never seemed more enchanting.
Related
Popular in the Community