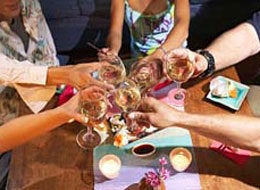 I was at a dinner party in a lovely home in an upscale Toronto neighborhood. Around the table, twelve successful professionals were gathered, including two university professors, a psychiatrist, doctor, management consultant, publisher, concert pianist, and several business executives.
Over a delicious salad of arugula and red pears, followed by a rustic cassoulet, we chatted amiably about the changing seasons, the theater, and our plans for the holidays. Then, as the main course was being cleared away, one of the guests turned to me and casually asked, "So, Julia, what are you doing these days?"
Without pausing to think, I replied, "Well, I've just re-invented myself."
Suddenly, there was dead silence. Everyone leaned in, and began asking questions all at once. "Really, what have you done?" "What's involved?" "How did you decide what to do?" "Is it working?"
I blushed deeply. I'd never spoken about this to anyone. And now I would have to explain in front of these accomplished people just what was going on.
I made much of it up on the spot. Back then, my ideas were only half formed, and I was deeply engaged in the process of transforming myself. But the words just flowed. It was clear that they were already inside of me, and all I needed was an opportunity to express them.
I spoke about my sense that our generation had an unfinished revolution stirring within us. That the idealism of our youth wasn't gone, but had simply disappeared from view while we started families and developed careers. And now it was rising again to the surface, filling us with visions of new possibilities. That while some of our peers were talking about early retirement, many more of us were interested in starting fresh in a way that reflected our deepest values. That in the next phase of our lives, we longed to make the world a better place. We wanted to find ways to leverage our expertise to take on some of the world's toughest problems. And that I was shifting my practice from writing speeches for corporate leaders to helping baby boomers like me make the transition to the second part of our working lives.
The dishes eventually made it to the kitchen, and dessert and coffee were served. But well past midnight, the conversation continued. And the more I revealed about my ideas and dreams, the more others opened up about their own. It reminded me of school, when groups of us would talk late at night, wondering and worrying about the world, and dreaming about how we might transform it.
As my middle-aged friends and I parted company that night, I realized that this was something profoundly different: we weren't just talking about changing the world now.
We were in a position to actually do it.
This was my first encounter with a group of what I came to call the New Radicals. That night, I knew for certain that it wasn't just some wild idea of mine, or a longing only I felt. In fact, our camaraderie gave me the confidence to jump feet first into my new life, and to write a book about the New Radical pioneers, We Are The New Radicals: A Manifesto for Reinventing Yourself and Saving the World.
Related