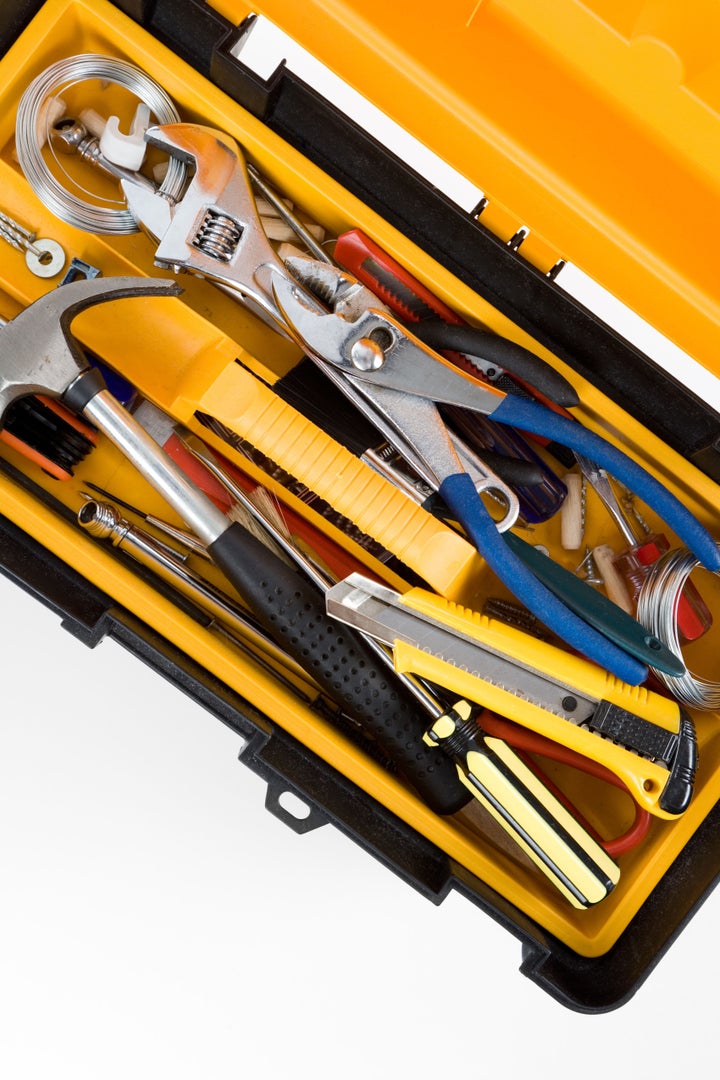 Emma marched into her office, sat herself down and said to anyone willing to listen, "Divorce is so ironic: I feel awful, anxious, and angry, but everyone tells me I have to do my best decision-making and negotiating, now. How on earth am I supposed to do that?"
Emma's right. Divorce wreaks havoc on everyone, makes life messy and can leave people feeling overwhelmed and broken. Wouldn't it be great if we could fix that? If there was a "Divorce Toolkit" to hammer away at the process, tighten things up and build a happier post-divorce life? How we'd love it, just once, to see someone walk into our offices feeling perfectly ready for what is in store and possessing all of the skills needed to sail through the process and beyond, right from the start.
We'd love to provide such a toolkit to our clients. We'd use it to fix up their lives, renovate and even completely refurbish their situations, and then help them build better, happier lives. "How wonderful it would be to reach in to my bag and pull out the perfect tools I need to work on my divorce and construct a great life for myself and the kids." Emma's wish just might come true.
The Perfect Divorce Toolkit would surely include:
Skilled divorce professionals. A properly built divorce means working very closely with a divorce attorney and, hopefully, a divorce coach who can listen to concerns, hopes, and wishes and provide guidance toward creating an agreement that works well and takes into account the whole family's needs. Divorcing families may also benefit from using a financial professional who can help to explain the financial picture and create options.
A strong support system. It's important to cultivate at least two kinds of relationships as soon as possible: close relationships with family and friends and relationships with brand-new people. "Pushing the envelope" beyond the world you and your spouse inhabited will enable a search and rescue mission to find yourself a new community. Relationships are just the "tools" needed to weather any storm.
Negotiation skills to identify and ask for what you need and to get it. While years of a "not so great marriage" can dull the senses, the ability to be diplomatic, negotiate, and communicate well are needed more than ever during the divorce process and beyond.
Skills to meet new people and develop friendships. Find new connections by joining a support group, getting involved in a charity, trying new activities (rock climbing, quilting, cycling, running -- each of these has a club to join), taking a class or joining a religious organization. Many find themselves in unknown territory since married life may have provided an easy social circle of neighbors and friends. Now that you're alone or thinking about being alone, decisions about whom to trust can be challenging.
A psychological support system. To be smarter about personal choices and develop greater relationship confidence, working with skilled professionals including a divorce coach or a licensed psychotherapist helps.
A "how to" on co-parenting. You're going to need it!
A "how to" on dating after divorce... ditto!
Time away from it all. Often, this is the last thing planned as many adapt a "once it's over, I'll go away" philosophy, but it is most important. Taking time off to rest and renew, expand horizons and try out new activities and experiences can replenish and fortify you for the tasks at hand.
Lots of chocolate. It couldn't hurt, right? And then the exercise program to justify it all...
Divorce is a life transition and a process. You can choose your own divorce, one that fits you and your family based on the tools you use. You can build your own "team" to help you through the divorce process -- skillful divorce professionals, good friends, and a strong community -- and you can sharpen old skills and learn new ones (for meeting people and making friends, for negotiating, for making good choices). Remember to build in opportunities for replenishing yourself with some time away, seriously good chocolate, and exercise. Pack up your divorce toolkit and get working!
Support HuffPost
A No-B.S. Guide To Life
Related
Popular in the Community