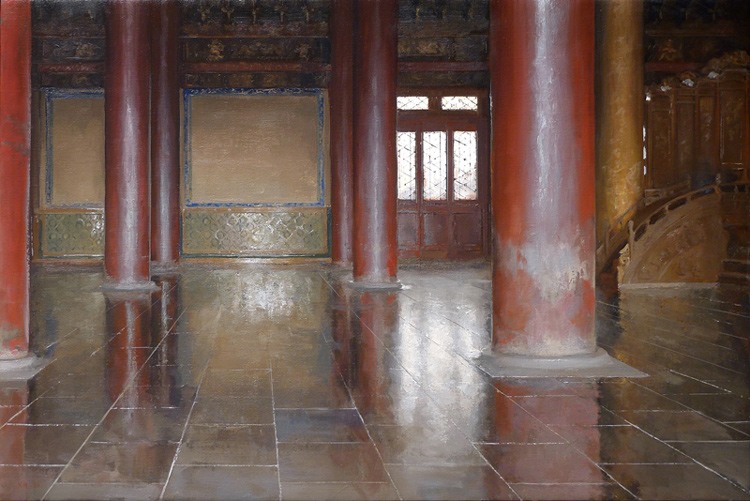 Kenny Harris: China | Harris' interest in the intrinsic qualities that make a place unique is the impetus for his work, and has inspired his travels throughout the world including extensive treks through South America, Europe, Cuba and Istanbul. His paintings expertly capture the mood of their environments through his portrayals of city and landscape, architecture and light, while his rich and impasto laden palette reflects a deep love of the Dutch and Italian Masters. Both the technique and subject matter have become Harris' signature, and have been perfected in the near decade since he first began to record his travels on canvas. This newest series of work is no exception, and is his most ambitious to date.
In the summer of 2011, Harris embarked on a seven-week excursion through China, Hong Kong, and Taiwan. In awe of the ancient culture and historic sites, it was the coalescing of that history with today's contemporary world that fascinated him most. Painted alleyways, temples, vistas and courtyards portray the country's aged grandeur in our modern times.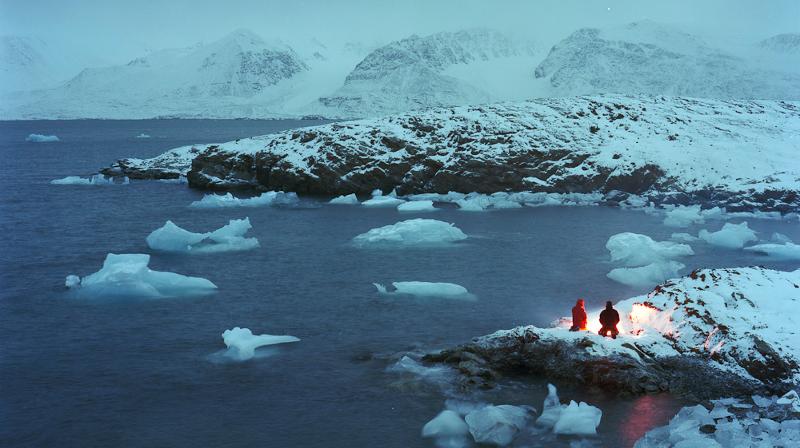 Kevin Cooley: Take Refuge | Featuring large-scale photographs and videos evoking human struggles in the harsh and unforgiving, yet sublime, natural world, this body of work was created in disparate locations including the Arctic territory of Spitsbergen and the American West as well in more ordinary places such as New York City and Los Angeles. Referencing the Romantic Movement in art and literature, the work attests to both the fear and longing nature inspires.
Cooley is a visual artist working in photography, video, and public installation. His work examines the interaction between the natural environment and the one that we fabricate. He makes use of unusual or overlooked moments in everyday life as meditation on our evolving relationship with technology, nature, and ultimately with each other.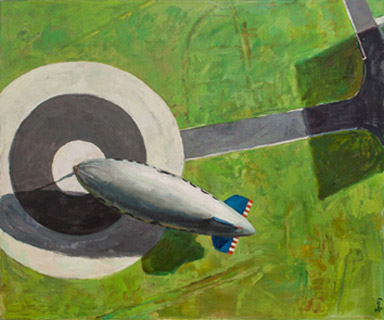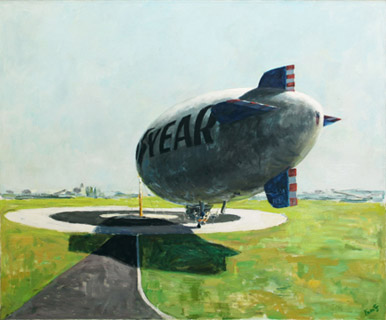 Roger Kuntz: Signs of L.A. | Believing that post-war abstract expressionism had run its course and that the time was ripe for the reappearance of structure in art that communicated to the viewer, Kuntz embarked on several painting series, culminating in the nationally acclaimed Freeway Series.
These geometric paintings, dating from 1959 to 1962, centered on urban structures such as concrete canyons, underpasses, ramps, pedestrian spirals, tunnels and signs carved in deep shadow and light; they embodied Kuntz's search for the union of formal abstraction and mundane reality. This stylistic shift away from gestural abstraction was in sync with the times and Kuntz was included in the first national survey of Pop Art organized by Artforum magazine in 1963.
In 1962, Life magazine published a special issue on the state of California; it focused on five artists: Stanton MacDonald Wright, John McLaughlin, Robert Irwin, Billy Al Bengston and Roger Kuntz.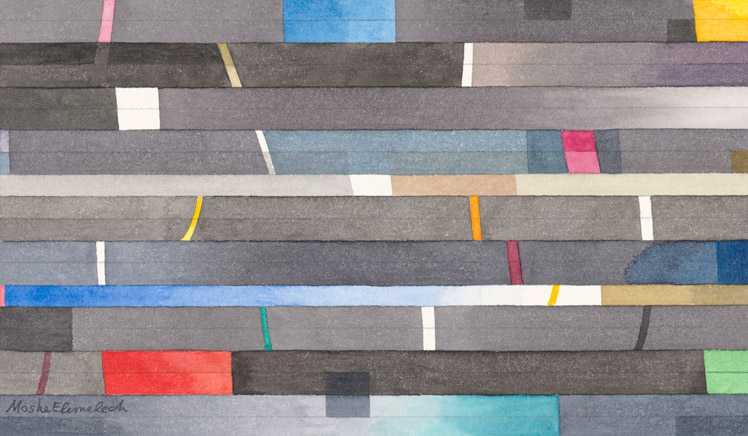 Moshé Elimelech: Geometric Geographics | As is any traditional pictorial work rendered with pigment on an absorptive surface, the watercolors are all unique, handmade, and immutable. For every purely geometric composition rendered in watercolor, there is one in which stylized elements of landscape and/or cityscape appear, describing a charmed world of nuanced atmosphere with simplified objects and topographies.
Elimelech transcends the professional design world into that of a fine artist. He applies his innate talent to creating powerful visual elements of the 21st century resulting in simple forms of traditional material. Although seemingly simple colored cells at first glance these works mask a hidden dialogue of rhythm, vibration and logic.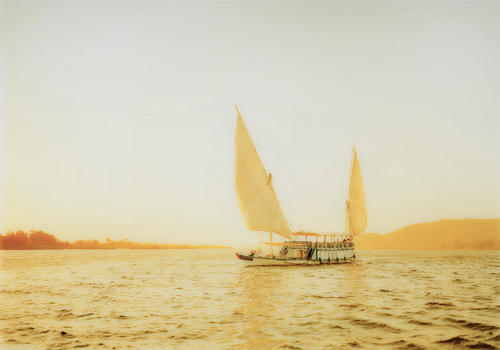 Elger Esser: Voyage en Egypte | For his latest body of work, Esser traveled along the Nile from Luxor to Aswan with an 8 x 10 land camera, photographing the banks of the river, traditional feluccas, dahabiyas, and fisherman. Taken from a great distance with the artist's signature precision and formal grace, the photographs of Voyage en Egypte are calm, grandiose landscapes in addition to being provocative meditations on light, space and color. Large expanses of water and sky in dissipating pastel hues form the cornerstone of these compositions, while the land and civilization itself provide sharp but remote horizon lines which are dwarfed by the natural elements.
Like 19th century landscape paintings, which are strongly echoed in these works, Esser's latest photographs capture an element of the sublime in nature. The mystery and beauty of the river, which has been the lifeline of Egypt since the Stone Age, is elevated in these images, and like his previous work, they strategically blur the line between pure documentary photography and painterly concerns. This exhibition marks the debut of Voyage en Egypte in the United States and is the first in-depth presentation of Esser's work in Los Angeles.
For the most comprehensive calendar of art events throughout Los Angeles go to Artweek.LA.
Popular in the Community