I love postcards. I don't collect them, but I always seem to have a few stuck to the fridge and the file cabinet. When I was about 11, I got a chain letter that promised me thousands of postcards from all over the world. (This was in the early 70s, before every chain letter carried a threat of doom at the end if you didn't play.) I was so excited! Then my mom told me chain letters were illegal. I was shocked, but that just added to the thrill. I defiantly sent a San Diego postcard to the first person on the list—a total stranger! I added my address to the bottom of the list and mailed my five letters. A few weeks later I got a postcard from Battle Creek, Michigan (not exactly the exotic locale I'd had in mind). I waited for more, but none ever came.
So today I was thrilled to discover HOOT, a new literary "magazine" that is right up my alley. Each "issue" is a postcard. With one poem. And art. It's a brand-new monthly magazine whose first issue was published in October of 2011.
Amanda and Dorian, HOOT's editors, have really hit on something. They know (intuitively, I'm guessing, because they don't seem like the market research type) that we're having to sacrifice touch for tech as our world is gradually being dematerialized (in a tech context, that's when things go virtual, like music on iTunes) and that we're experiencing a sense of loss because of it. (Don't you miss liner notes? I do.) They know that the pace of life keeps picking up and that we all have limited bandwidth (they assure us that each issue will contain less text than two tweets). They know that people who might enjoy a poem every now and then might not go so far as to subscribe to a poetry magazine or buy a book (Amanda's inspiration came, in part, from "the pile of unread New Yorkers next to her couch). Whatever is behind it, their timing and their concept are flawless, and their "magazine" is delightful.
When you subscribe to HOOT (only $14/year), you get one postcard per month. As HOOT suggests, you can display your poetry postcard, slip it into the purse or briefcase of someone you love, or leave it lying around somewhere to be discovered (they're fans of "guerilla lit"). You can also order postcards of past issues, or use HOOT's online form to have the current issue mailed to someone. They'll even write your message on the back. With a pen.
The first issue of HOOT (above), being a collage, made me think of Matthew Rose, a Paris-based collage artist whose work I love. And I thought this would be the perfect occasion to talk about his extraordinary postcard-inspired art project, A Book About Death. For ABAD, Rose invited artists all over the world to contribute 500 copies of a work on the subject of death, in the form of postcards. Each postcard then became a single page of an unbound book about death in which the contributing artists approached the subject in many different ways.
The installation consisted of the boxes sent by artists containing their 500 postcards. They were displayed on the floor of the gallery — like tombstones — which lent an interactive and performative element to the exhibit that evoked the rituals and gestures of mourning. The postcards inside the boxes were free for the taking. This was the first time a gallery ever allowed visitors to attend an exhibit and leave with the entire intact show for free. There were only 500 limited edition "books." LACMA and MoMA each have a copy.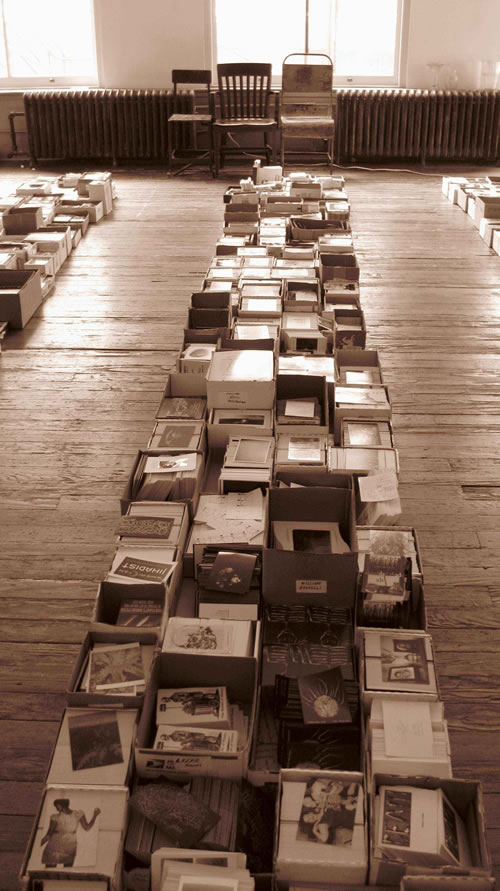 I guess in an era when the way we communicate has become so very virtual (e-mail, social media), and our attention spans are ever shorter, it's the perfect time for the postcard to experience a revival and, even beyond that, to enjoy an elevated status. It probably all began with the social phenomenon of PostSecret, which encouraged "regular" people to use postcards as miniature canvases to express themselves. More recently, apps like Postagram, Photogram and others that let you order and mail postcards of your photos directly from your smartphone or the Web have been a huge success.
The postcard is no longer the sole domain of tourists and collectors of ephemera. In this life, it's a real-world incarnation of our new ways of being on the web (sharing pieces of yourself and the beauty you come across with others). It's a nod to the slow living of the past. And it's art.
Related
Popular in the Community