Set in the Dust Bowl during the depression, The Rainmaker tackles timeless themes of love, passion, faith and magic. The play premiered on Broadway in 1954 and was then made into a feature film in 1956 starring Katharine Hepburn, as Lizzie, and Burt Lancaster, as Starbuck.
Henry Jaglom and the Rainbow Theater Company, in association with Edgemar Center for the Arts bring us this stellar version of the timeless play. The story revolves around Lizzie. She is an unmarried woman, with no prospects. In the 1930s to be in your 30s and an unmarried woman was a crime against society. Lizzie is constantly told by her brother Noah, that she is "plain" and that no one will ever want her. Meanwhile, her father, brother Jimmy and even Noah make many laughable attempts to marry her off. They do this all the while worrying about the fact that the horrendous drought is killing their cattle and destroying what little they have left financially.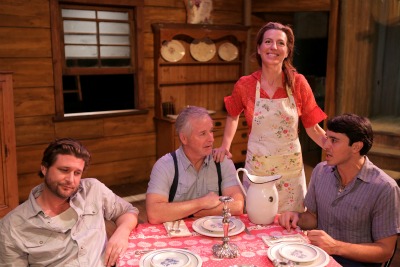 David Garver, Steve Howard, Tanna Frederick and Benjamin Chamberlin
Enter Starbuck. A con man who knows an opportunity when he sees one. He bursts onto the scene, full of charisma and gusto, and tells the family that for $100 he can bring the rain. (That was a lot of money in 1937). Desperate, Lizzie's father hands over the money and we watch the characters, and maybe even the weather, change.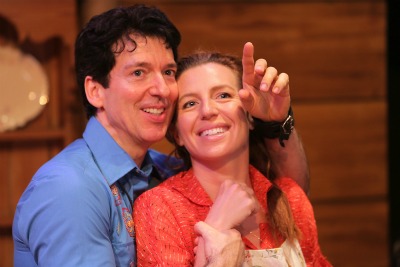 Robert Standley and Tanna Frederick
Tanna Frederick plays Lizzie. She is both funny and touching at times. Her range is so huge, she can go from laughing to crying in a heartbeat. We feel deeply for Lizzie and want her to find that man. Robert Standley's Starbuck is a breath of fresh air. He brings color and life to the stage.
David Garver disappears entirely into the negative, worried brother Noah. Having seen David in other roles, this is a departure and brilliantly done. Steve Howard plays the peace-keeping father with aplomb. Scott Roberts as Deputy File is lovely and sweet. Ralph Guzzo plays Sheriff Thomas and brings a nice light-hearted edge to the character. The scene stealer though, and a young actor to watch for, is Benjamin Chamberlin as youngest brother, Jimmy. Benjamin is fantastic, funny and touching as Jimmy and we root for both him and Lizzie throughout the play.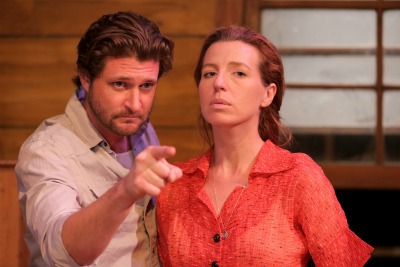 David Garver and Tanna Frederick
Excellent set design by Christopher Stone and lighting by Juliet Klanchar make full use of the static set. The costumes by Kelly Fluker are perfect. It felt like it was really hot and dusty on that set. Original music by Noah Calvin set the stage and the feeling of the piece.
Kudos to director Jack Heller for this seamless ensemble work.
The play is produced by Alexandra Guarnieri and is now playing at The Edgemar Center Theater in Santa Monica. Go see it!
Related
Popular in the Community