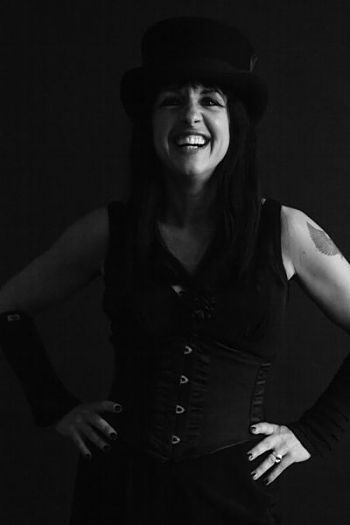 "No, no, no ... do me from the front first! Not the back! Please! Turn me over!" bellows Lorraine Leckie as strains of the midday sun spurt through the windows of her adopted second home, the Sidewalk Café, centrally situated in the still somewhat funky East Village. However, dear readers, Ms. Leckie speaks not of her carnal proclivities - she is simply instructing this male writer to flip over her new album - Rebel Devil Devil Rebel (2014) - to reveal the sinister cover image created by her celebrity husband, actor, artist, antique dealer, TV star Billy Leroy.
Garbed black-on-black-on black, punctuated with darkish accessories, Ms. Leckie cuts a svelte, enchanting, Lord Byronic gypsy figure as delivery trucks rattle and hum up and down Avenue A. Our androgynous waitress is fixated on the singer-songwriter who is among the Sidewalk's most enduring and popular performers. In an age wherein the sensual demeanor in pop culture is given to crass displays of flesh, pretend passion, mock exploitation, and trite voyeurism - Ms. Leckie is a natural seductress. Consequently we receive first class service whenever and wherever we dine together.
Rebel Devil Devil Rebel captures Ms. Leckie's long-awaited return to the studio in totality with her almighty Demons ensemble: guitarist Hugh Pool (Mulebone), bassist Charles DeChants, and drummer Paul Triff - along with recurrent guests Pavel Cingl on violin, and Leckie's favored femme fatale foil Liza Zwier rendering backing vocals. Journalists tend to compare Lorraine Leckie and Her Demons to her fellow Canadian Neil Young's Crazy Horse. However the Demons, with all due respect to Lorraine's musical mentors, are far more accomplished: Pool's brilliant improvisations emanate from his deep knowledge of traditional blues, Americana, and Jimi Hendrix; bassist DeChants' harmonic extensions exude rhythm and blues; and Triff is downright masterful when working in-the-pocket or creating rhythmic avenues for his able bandmates to traverse.
Following Lorraine's acoustic solo guitar/piano Martini Eyes (2010) release and her highly acclaimed collaboration with legendary New York City socialite storyteller-author Anthony Haden-Guest entitled Rudely Interrupted (2012) which also featured Her Demons- this Rebel Devil is in the sonic details. The fuzzed-out title track draws inspiration from her sorties in New Orleans. Lorraine's invocation of Dr. John in the libretto is, to my surprise, not in reference to Rock 'n Roll Hall of Famer Mac Rebennack. "All the characters in the song are real... but the 'Dr. John' in the song is not the one everyone thinks it is.... I'm singing about the High Priest of the Voodoo Museum on Rue Dumaine. "He's a shaman...a wonderful guy...with snakes throughout his apartment. And he keeps a Komodo Dragon that he walks at three in the morning! He won't let me see it - he says it will eat me! It will kill me instantly! I visit him every-time I'm down there on tour. He took a liking to my dog Eloise - though at first I thought he wanted to feed her to the Dragon..."
Lorraine's longtime producer, and original bassist, George Jackson insisted on cutting the tracks live in the studio sans overdubs - hence the album's thunderous resonance. "When I did my first album with the Demons (Four Cold Angels / 2008) I knew nothing about recording...I was bullied by everybody...I had no experience...no power...I couldn't play the guitar very well...I couldn't even plug in my instrument. I was unable to lead the band - they led me. They propped me up. I didn't 'own' it so I had to go out on my own with Martini Eyes. And then of course, Anthony came along and we worked together. Now I'm ready to lead this band - my guitar playing is much better, I have my own pedal board. Playing with this band is very intimidating, I'm not a tough woman like Patti Smith...I am a lady who lunches! But I've learned how to be in control of this."
Every track of Rebel Devil emerges as a revelation upon repeated listening- however two cuts which must be cited are "Watch Your Step," and an older composition - Come A Dancin'. I chose 'Watch Your Step' to be the first track because it encompasses the feeling of the entire album - the openness...the energy." The song, inspired by the plight of a family member, is literally a "warning" emphasizes Lorraine. "You gotta take care of yourself after bad times or you're never going to make it through." Director Kevin Meegan cut a video of the track which features a spellbinding performance by a promising ingénue - actress Celina Leroy - Ms. Leckie's step-daughter. Lorraine revels in the fact that the young, alluring Celina so ably captured the essence of the song's central character. So much so that she plans continue with more cinematic forays related to Rebel Devil - with more beautiful women.

"Come A Dancin' commences as a brisk acoustic waltz until Mr. Triff introduces the Demons with Zwier and Cingl in tow by way of four sturdy kick-drum thumps. "I dreamt that there was a movie called Blood and Sand - which I never knew actually existed." The 1941 film which Lorraine cosmically evoked stars Rita Hayworth and Tyrone Power. "I never saw it - not even accidentally. It was like this spooky thing that happened to me. So, back then, I went to a video store - and they had the film. It's amazing - Rita Hayworth seduces men with her guitar! I saw the movie and I began to write the song. When I finished it in Sicily - the window of my room opened and the breeze came through - that's the devil!"
And by way of Mr. Leroy's artistic vision, you can judge this album by its cover. "Billy did an amazing job on the cover. He came up with something folky and gothic which fits me. The image is both masculine and feminine - it's kind of like me and Hugh Pool together - if we were a singular being, that's what we would look like."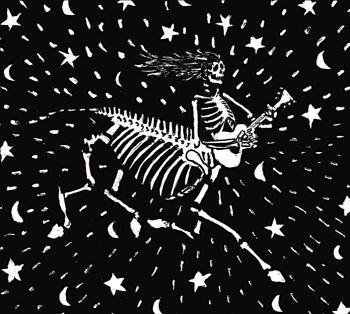 Calling all HuffPost superfans!
Sign up for membership to become a founding member and help shape HuffPost's next chapter