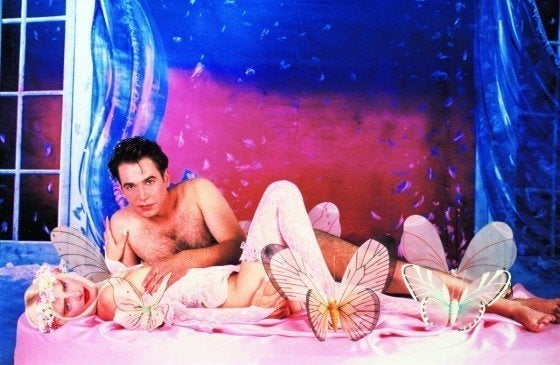 It has been twenty years since Jeff Koons' show Made in Heaven opened at Sonnabend to busloads of cruising tourists - unleashing endless debate, was it art, was it porn, and did it successfully titillate...the mind?
Made in Heaven has come back down to earth, to the Upper East side gallery, Luxembourg and Dayan where it is celebrating its 20th anniversary incarnation, and remains if not new, surprisingly timeless. The gallery has released a catalogue of the works with an informative essay by Alison Gingeras in which she posits that Koons' career can be dissected in terms of what came before and after the exhibition of these paintings. "With Made in Heaven he broke away from the aloof and ironic sphere of the art world 'brat pack' into a perilous zone of full exposure," she says. Although Koons' reputation for cheekiness was already established by such works as Michael Jackson and Bubbles, (1988), and his stainless steel Rabbit, (1986), he catapulted into celebrity after his collaboration with Illona Staller (better known by her porn-star moniker, Cicciolina) who was already at the time a championed porn-star member of parliament.
By weathering the controversy as well as he did, Koons solidified into his persona of invincibility. I recall Koons discussing his paintings years later at Columbia University over a slide show of Ilona Staller's parted bottom, when he silenced a hall full of snickering students by his deadpan remarks on the generosity of his then, ex-wife's rear-end. By the purported innocence of his biblical fantasies with its garish backgrounds along with his choice of medium, painting, and price (they are oil inks silkscreened on canvas, having sold for as much as $2-3million), Koons astutely distances himself on many levels from prosaic pornography. Still, so many years later we find ourselves unable to reproduce (definitely on the web) most of the works from this collection, which elevates timeless human lovemaking into celestial heights, both spiritual and kitsch.
Despite the high and lows of his relationship with Staller, and the custody battles over his son Ludwig, Koons remained faithful to his original, sinless vision. And one hopes that Ludwig, now nearly twenty years older, also celebrates his well-documented conception, having been so lavishly conceived out of a union made in heaven.
Jeff Koons' Made in Heaven, Paintings are on view at Luxembourg & Dayan October 6, 2010 - January 21, 2011 - Monday through Friday, from 11AM to 4PM - 212 452 4646
Text: Kisa Lala
Related
Popular in the Community