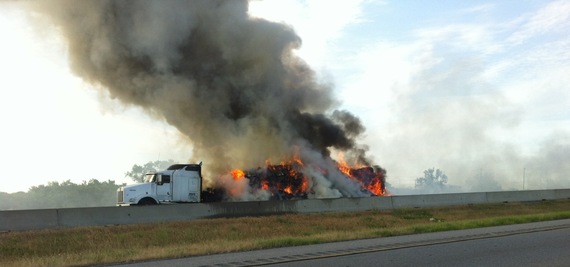 The quick and easy convenience of purchasing products on a smartphone has been responsible for creating a population that expects equally quick deliveries of those purchases.
These expectations may have some commercial and 18-wheeler drivers on the road longer than is legally allowed. As importantly, in an effort to keep trucks on the roads doing deliveries, it's possible that not enough routine maintenance is getting done on those vehicles to ensure safe travels.
Regardless of what the reason might be, here is the ugly and the dirty of the surge in the digital economy - a significant rise in catastrophic and often fatal motor vehicle accidents involving commercial vehicles and 18-wheelers.
The Federal Motor Carrier Safety Administration reports that nearly 4,000 people are killed each year in the United States due to fatal truck accidents. An additional 100,000 people are also injured every year as a result of these accidents.
According to Brad Bonilla, a prominent personal injury attorney with the Bonilla Law Firm in Austin, Texas, "A lot of these accidents are caused by driver distraction, driver fatigue, lack of proper driver training, and even lack of maintenance. Companies that are putting these vehicles out on the road don't have time to take them out of service because they have so much work to deal with. So they're sending out big trucks and 18-wheelers that have brakes that should have been serviced 100,000 miles ago."
Justifiably, the trucking industry and the Federal Government are working to address the many issues which have resulted in this serious impact on lives.
A specialist in accident cases involving commercial vehicles and 18-wheelers, Bonilla points out, however, that it's also important to recognize that when these accidents occur, the insurance companies for these commercial vehicles are looking to minimize their financial risks. Very often, the innocent victims of these tragedies are not informed properly about their rights and how the insurance companies may or may not be working in the victims' best interests.
"From the insurance perspective, their job is to get closure on a major case as quickly as possible. In so doing, they're only looking at the present. They're not going to look at the possibilities that might happen five, ten, fifteen years down the road - the type of medical care you may need in the future or what type of impact this will have on your ability to earn money for your family down the road," explains Bonilla.
As the digital economy continues to grow and the continuing need for deliveries rises accordingly, it would appear that the inherent dangers within the trucking industry will also continue to get worse. Overall freight tonnage is expected to jump 23.5% from 2013 to 2025, according to the American Trucking Associations.
We all know that while negative change can happen quickly, positive change very often takes much longer. It could take years before newer safety regulations and technologies become incorporated into the trucking industry. It therefore is likely that in the near future, more and more people will incur personal injuries (or worse) as a result of accidents with commercial trucks.
As a result, it's critical that the general population become educated and involved in knowing what to do should they become one of these victims.