It's an obstacle that so many working families can relate to: when my kids were younger, just getting them fed was a battle in and of itself -- nevermind actually getting everyone around the table at the same time for family dinner.
If I managed to put together a decent meal, it meant one of two things had occurred: I happened to get out of work early, or I managed to throw something in the crock pot before rushing out the door in the morning.
Those occasions were far and few in between. Like most working families, I didn't arrive home from work until 6:00 or 6:30 -- at the earliest. Throw rush hour traffic and picking up the kids from multiple locations into the mix, and I was lucky to walk in the door by 7:30pm.
There's only so many home-cooked meals that can be prepped, cooked, and ready to go on the table so that we can eat before the 11 o'clock news. But by the time I'm sitting down to eat, the last thing I want to hear is my kids complaining about having spaghetti...again.
And while I cringe at the thought of throwing some fish sticks in the oven or hastily heating up a pre-packaged lasagna, at the same time, I get it. I can remember the desperation I felt to immediately appease the hanger monster that took over my kids when dinner was served late -- morphing them from adorable little children into irate mini-tyrants, like the kind you see in Snickers commercials.
Yes -- in order to preserve law and order in the house and get the kids fed at a reasonable hour, many busy families have resigned themselves to sacrificing food quality and nutrition. Let's be real: how many times have we grossly underestimated the time it takes to prepare a meal, let alone cook it?
This didn't sit well with Mike McDevitt, the CEO and founder of Terra's Kitchen, a meal delivery service based in Baltimore, Maryland. McDevitt recalls the advice that his mother gave him when he was about to start a family of his own: "My mother told me that one of the most important things is getting the family around the dinner table."
For McDevitt, fish sticks simply wouldn't suffice: he knew that spending time with the family shouldn't have to come at the expense of quality and nutrition.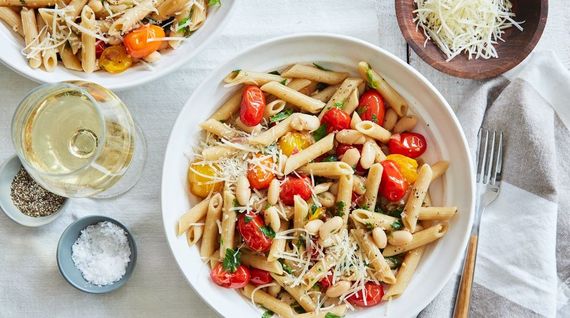 Image via Terra's Kitchen / Facebook
So, inspired by the advice from his mother, McDevitt partnered with co-founder Brendan Connors to launch Terra's Kitchen.
Founded in January of 2015 -- a time when food tech exploded to a record 5.7 billion in startup capital -- Terra's Kitchen certainly wasn't the first meal delivery service. But their mission to do things a little differently puts it in a league of its own.
"Two of the biggest complaints consumers had with the big-name delivery service," Connors says, "were the time it took to prep the meal and concern over unnecessary waste."
To that end, Terra's Kitchen provides two solutions. First, they created a special refrigerated vessel for delivering food, thus eliminating waste from shipping and packaging.
Second, they prepare as many ingredients as possible beforehand. "We prep a majority of the ingredients for you, bringing the preparation and cook time down to under 30 minutes," explains Connors.
Time will tell if the company's emphasis on time efficiency and waste reduction will be enough to distinguish itself from the competition in a saturated market. But its rapid growth is a good sign: Terra's Kitchen launched on the West coast in June of 2015, and expanded to serve the East coast just a few months later, in March of this year.
Even as Terra's Kitchen starts seeing more and more business, however, the wise words of McDevitt's mother remain crucial to the company's culture: every Wednesday, Terra's Kitchen employees cook and eat together, celebrating the week's victories.
When she talked to her son the importance of connecting friends and family around the dinner table, it's unlikely that McDevitt's mother anticipated that it would result in a multi-million dollar company.
But it's clearly a message that has resonated with the general public. As quick, convenient food delivery services like Terra's Kitchen continue to grow, getting the whole family around the dinner table for a nutritious meal may stop seeming like such a far-fetched dream and start becoming a reality -- even for the busiest of families.
Calling all HuffPost superfans!
Sign up for membership to become a founding member and help shape HuffPost's next chapter