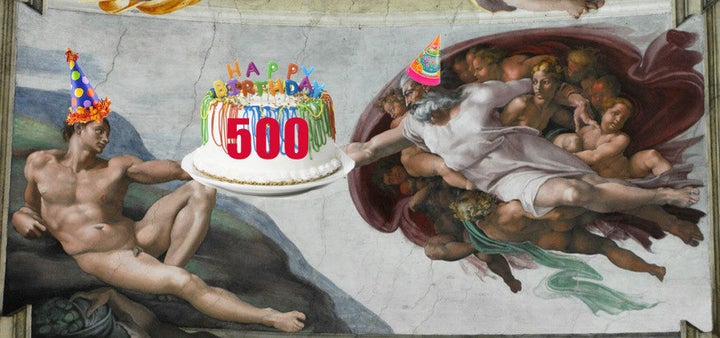 Five hundred years ago today every single fresco was put to shame when the painted ceiling of the Sistine Chapel was first revealed to the public. The painted work embodies the artistic lifeblood of the High Renaissance and serves as a living tapestry of spirituality, visual storytelling and bodies in motion. The Chapel also inaugurated the artistic tradition of luring in a gigantic amount of tourists, craning their necks, sweating profusely and jostling to get a prime position beneath a work of genius. We'd like to honor that tradition on this joyous anniversary.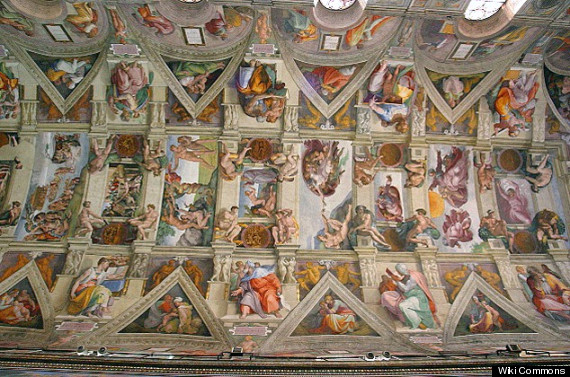 That only took four years?

Pope Julius II commissioned Michelangelo to create the Vatican's most prized work of eye-candy. After enlisting other big-name artists like Raphael, Botticelli and Ghirlandaio to paint other parts of the chapel, the Pope had particularly high hopes for the ceiling, wishing to imbue it with layers of complexity and multiple meanings, some of which are still being unpacked today. Although Michelangelo was foremost a sculptor before taking on what would become his most legendary accomplishment, his mastery of the male form seemed to translate effortlessly from marble to canvas.
Although the original plan was for Michelangelo to portray the 12 apostles, he upped the ante to over 300 figures, spending four years creating vivid, emotional scenes that strayed in style from traditional religious art. There was a human quality to the holy creator and a divine beauty to the human form, all inherent in Michelangelo's artistic touch. The artist reportedly turned to the "naked words of scripture" for inspiration, choosing to read the Old Testament and create his own visions than rely on the traditions of Renaissance art.
Michelangelo worked standing on wooden platforms projected from holes in the chapel walls, resulting in a prolonged uncomfortable working pose and, we can only imagine, devastating neck cramps. The multi-talented creative even wrote a sonnet about his uncomfortable working stance, making us wish Michelangelo were around in the days of Live Journal.
"...My beard turns up to heaven; my nape falls in,
Fixed on my spine: my breast-bone visibly
Grows like a harp: a rich embroidery
Bedews my face from brush-drops thick and thin.
My loins into my paunch like levers grind:
My buttock like a crupper bears my weight;
My feet unguided wander to and fro..."
All of Michelangelo's hard work and awkward body contortions paid off, however. The end result featured 343 figures depicting nine scenes from the Book of Genesis, combining religious theology with the spirit of humanism that characterized the High Renaissance. The lively tableau contains images that continue to grow and influence the visual imagination 500 years later, most famously via homages to "The Creation of Adam."
Happy Birthday, Sistine Chapel! You may be 500 but you don't look a day over 425, we swear. See images from the masterpiece below and leave your personal best wishes to the fresco magnifico in the comments.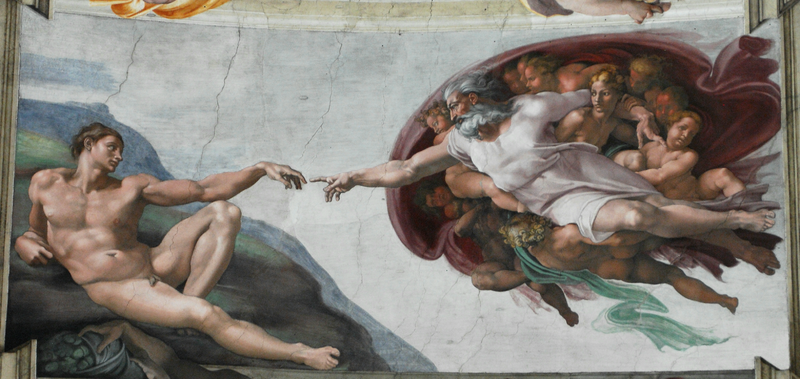 Sistine Chapel
Related
Popular in the Community