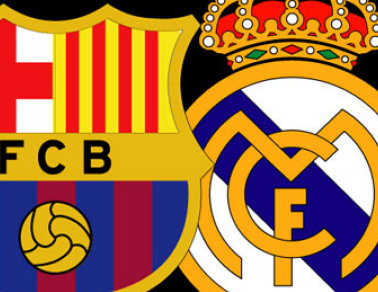 When a self-righteous man becomes obsessed with a powerful enemy, flames are almost a certainty. Real Madrid coach Jose Mourinho, self-described as "the special one," is setting fire to Spanish soccer with dangerous fireworks that some fear may spark a bigger conflagration on the parched tinder of that fractured entity called Spain.
In this Spanish soccer civil war the insurrectionist, Mourinho, who is not even Spanish, he is Portuguese, has morphed into the Madridista Generalissimo battling against the rival aspirations of Catalonia, Spain's restive eastern province, symbolically embossed in the spirit and institution of FC Barcelona, the world's greatest soccer team, pride of the Catalan nation. The most recent match up between the clubs ended in a punch up with players and coaches brawling. Mourinho was photographed lancing his finger in the eye of a Barcelona assistant during the melee. Three players were shown red cards. Post-game, Mourinho threw gasoline on the flames by belittling Barcelona, a chariot of fire he has ridden since being appointed coach of Real in 2010. Diplomacy seems to be dead. Peace impossible. As if the hurt of history never healed, seven decades after the last shot in the Spanish Civil War was fired.
Barcelona coach Josep Guardiola, a frequent target of Mourinho's abuse, fears the symbolic rage of the soccer contest could breach the stadium and hit the streets. Volatility is not only spewing from the soccer vent. The nation is in crisis: huge sovereign debt, mass unemployment, people getting poorer and facing grim austerity packages. As the pressure on the soccer gauge hits the exploding point, is it a forewarning that Spain itself may rupture?
Certainly in Catalonia, the moves towards self determination have been growing in recent years. FC Barcelona is a lightning rod in the drive for autonomy from Spain. In the past, the club has sponsored programs to expand the use of the Catalan language. Its foreign players are expected to know the local culture; the symbols and flag of the Catalan nation are visible at the Nou Camp, the club's stadium. Conservative Madrid and Spanish nationalists have been irked. With Barca dominating Real on the field, and Barca players comprising the core of the world champions Spanish national team, Catalonia is now pulling more strings than ever in Spain's destiny.
Many will be hoping wiser heads will prevail in this battle for dominance in Spanish soccer. The "special one" needs to become the "cooler one." Barcelona may have to search for its own hand of peace, hard for a club that was attacked and suppressed by Generalissimo Franco's fascist troops during the Civil War, harder still when Real Madrid were ostensibly Franco's team. Memory is long in Spain. And grudges continue to bake.