The sweet side of StarChefs.com International Chefs Congress brought the Second Annual International Pastry Competition, a pastry god, a cool new piece of kitchen equipment, and a dessert I shouldn't have liked but did.
Revered as "the god of pasty" and penned "the Picasso of pastry" by Jeffrey Steingarten, Pierre Hermé made his second appearance at StarChefs.com ICC, where he treated everyone to both a demo on the main stage and a macaron-making workshop. Reportedly, the macaron workshop was limited to thirty people, in reality, it packed in more than sixty, and I happily sat on the floor.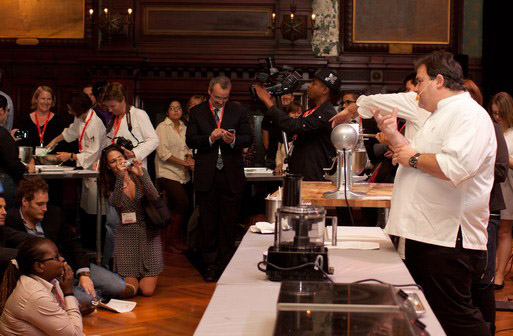 Pierre Hermé's Macaron Workshop (Courtesy StarChefs.com)
With macarons being such a hot item in NYC and a growing trend across the country, it was the perfect time for StarChefs.com to bring Hermé back to the ICC. At his workshop, Hermé graciously gave away all of his secrets to making the perfect macaron, demonstrating his techniques and sharing his tips while Michaël Marsollier, Head Chef in PH's Test Kitchen, made a batch of Hermé's green pea-pistachio macarons. Unlike the cakey macarons of Ladurée that lack texture, Hermé's macarons -- which I greatly prefer -- have a crisp, crackly exterior with a moist, chewy interior.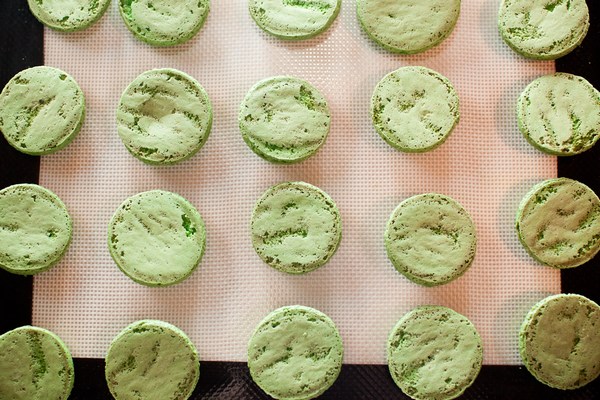 Hermé's Green Pea-Pistachio Macaron Shells (Courtesy StarChefs.com)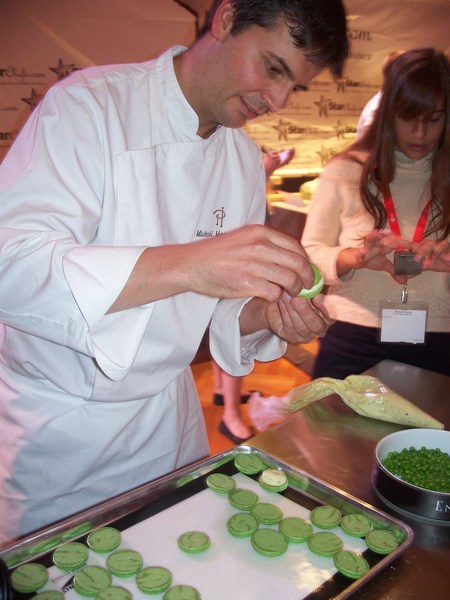 Michaël Marsollier making PH's Green Pea-Pistachio Macarons (Regina Varolli)
In Paris, there's Ladurée loyalists and Pierre Hermé loyalists. While Hermé did update the macarons at Ladurée during his tenure there, when he ventured off on his own, he changed his macaron style and began using eclectic flavors to distinguish himself from Ladurée. Fortunately for me, and for all New Yorkers who prefer Pierre Hermé's macarons over Ladurée, we can get macarons in the tradition of Pierre Hermé from four-year PH veteran pastry chef Damien Herrgott of Boise Tea Parlor in West Village. My absolute favorite macarons (and pastries) in town, Chef Herrgott brings not only Pierre Hermé's macaron tradition to NYC, but also three generations of his own family's pastry tradition as well.
Moving to the main stage, Pierre Hermé performed to a packed house, creating two desserts that showcased his creativity and his unique sense of flavor and texture combinations. The "Entre Revelation" combines a soft strawberry gelée, smooth mascarpone-olive oil cream, and crisp tomato puff pastry "matchsticks." The "Entre Delicieuse" is a surprising combination of candied grapefruit, wasabi gelée, and green tea marshmallows. Hermé calls them both "Entre" -- meaning 'between' -- because he sees them as being something in between a dessert and a pastry.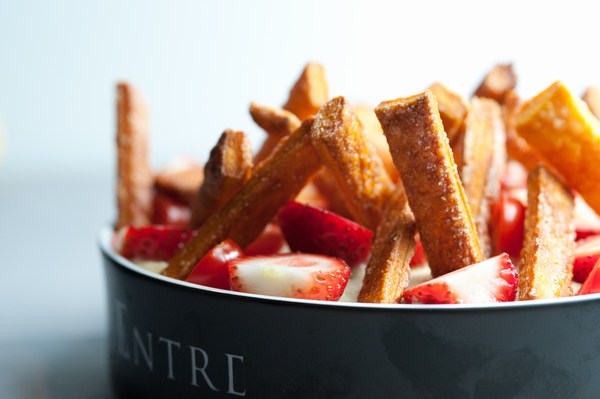 PH's "Entre Revelation" (Courtesy StarChefs.com)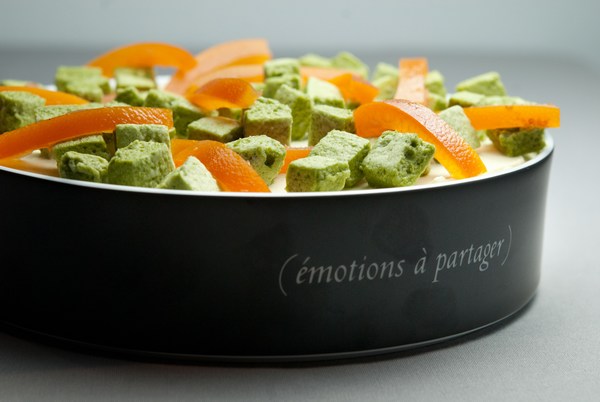 PH's "Entre Delicieuse" (Courtesy StarChefs.com)
Hermé's presence at the ICC no doubt made for some serious nerves when it came to the StarChefs.com International Pastry Competition, for he was on hand to judge all three days. Other stress-inducing judges were pastry perfectionists Elizabeth Falkner and Johnny Iuzzini, uber-critic Jeffrey Steingarten, M.O.F. and World Pastry Champion Stephane Treand, Le Bernardin Executive Pastry Chef Michael Laiskonis, and last year's winner Ron Paprocki of Gordon Ramsay at The London.
By the last day, the field of twenty competitors had been slashed to three -- Chris Ford, Antonio Bachour, and Ramon Perez. For the final round of competition, each pastry chef arrived early to the main stage, where they had to create an entremet and a chocolate showpiece incorporating chocolate bonbons, all while the judges peered over their shoulders, inspecting the cleanliness of their work and the difficulty of their technique. But the ability to focus despite the pressure of a crowd of onlookers, a ticking clock, and world-class judges watching your every move, is as important in a competition as the end products.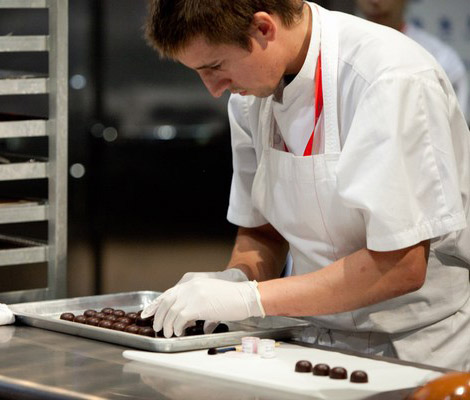 Ramon Perez in the final three (Courtesy StarChefs.com)
Each chef's entremet and showpiece faced serious scrutiny. Judges not only made assessments on flavor, but also on the appearance of the entremets, as well as how cleanly they were sliced and presented. The judges took their time with the inspection and tasting, conferring with each other, furrowing their brows, and making notes. In the end, Ramon Perez of Comme Ça in Los Angeles impressed them the most, and he walked off with a $5,000 check from PreGel, a $5,000 voucher for Bravo equipment, a free three days of training at the Cacao Barry Chocolate Academy, a Baxter Hybrid convection oven, and $2,000 worth of Waring commercial products. Plus, each year's winner dons the cover of the December issue Dessert Professional magazine.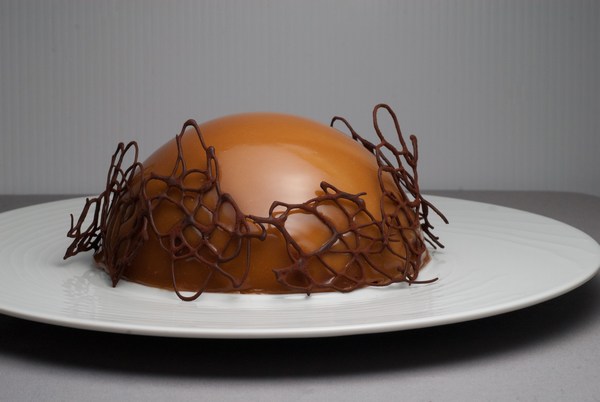 Sacher Sponge with Praline Mousse and Coffee Crémeux by winner Ramon Perez (Courtesy StarChefs.com)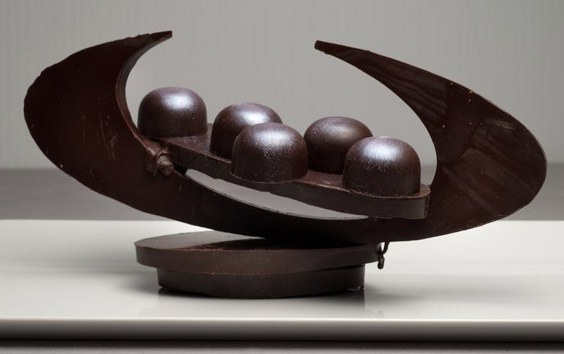 Chocolate showpiece with Thai basil-olive oil bonbons by winner Ramon Perez (Courtesy StarChefs.com)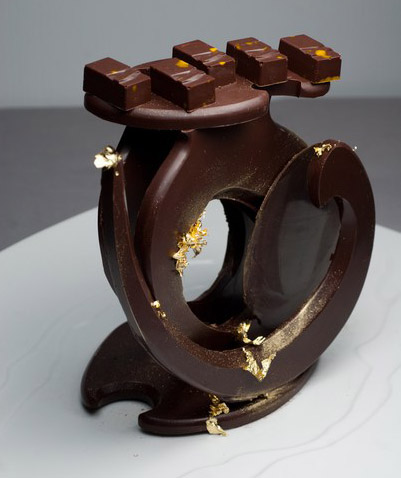 Chocolate showpiece with tropical fruit bonbons by pastry competitor Antonio Bachour (Courtesy StarChefs.com)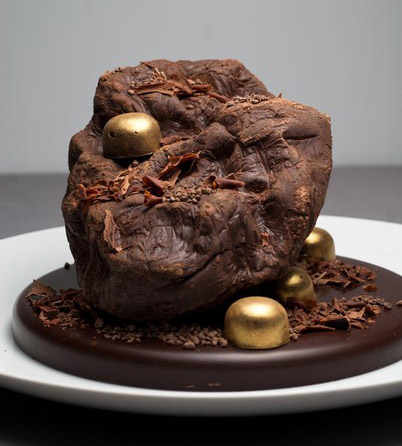 Chocolate showpiece with lavender-caramel bonbons by pastry competitor Chris Ford--my personal favorite showpiece of the three finalists (Courtesy StarChefs.com)
Besides being on hand to judge the competition, San Francisco pastry chef Elizabeth Falkner of Orson and Citizen Cake & Ice Cream Parlor, was found at the products fair showing off a wicked cool piece of equipment that she designed with Unified Brands. Falkner used the new Liquid Nitrogen Ice Cream Table to make chocolate ice cream sundaes in minutes, sharing sweet samples with the crowd. Not surprisingly, Unified Brands -- well known for working directly with chefs in the development of their kitchen equipment -- walked off again this year with the Award for Innovation.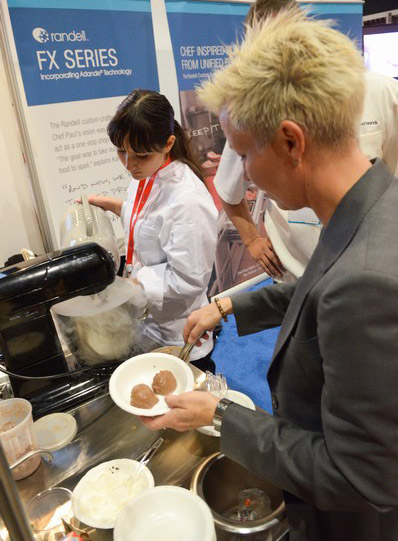 Pastry Chef Elizabeth Falkner prepares ice cream with the Liquid Nitrogen Ice Cream Table she developed with Unified Brands (Courtesy StarChefs.com)
At the StarChefs.com New York Rising Stars Gala, after tasting my way through all of the savory dishes, I doubled back -- took on the crowd once again -- and hit up all the pastry chefs. One very creative and complex dish was the multidimensional Black Sesame Royale with Concord Grape-Yuzu Granité and Cocoa Nib-Sesame Crumble by Shawn Gawle of Corton.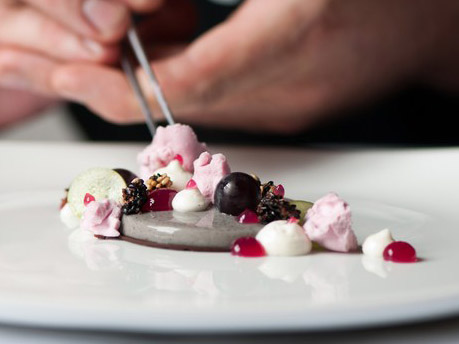 Shawn Gawle's Black Sesame Royale (Courtesy StarChefs.com)
Again moving from complexity to comfort food, my favorite dessert at the Rising Stars Gala was the "3 in 1 Cream Pie" from Shuna Lydon of Peels. A combination of roasted bananas, chocolate cream, coconut custard and chantilly, I really shouldn't have liked this dessert because I don't like banana desserts. A friend at the event just fed me one of the pies before I knew what it was. Then he teased me, saying "I thought you didn't like anything with banana?" when I reached out for a second helping.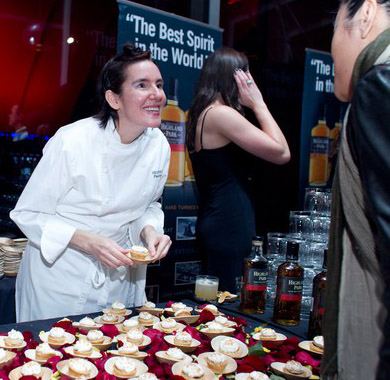 Shuna Lydon presiding over her pretty little pies (Courtesy StarChefs.com)
Like I mentioned in my article on the savory side of StarChefs.com ICC, you can find the recipes for all the Rising Stars' dishes, including these desserts, on StarChefs.com. Just click on the chef's name and you'll see the name of their dish next to their bio.
That wraps up the savory and sweet highlights of the 6th Annual StarChefs.com International Chefs Congress, or at least the highlights I could cover with a word limit. Fact is there's so much that happens every year at the ICC that you could write a book about it, and indeed StarChefs.com does. So until next year when the ICC returns again to NYC in the fall, I'll return again and again to their beautiful program book to pass the time.

Calling all HuffPost superfans!
Sign up for membership to become a founding member and help shape HuffPost's next chapter