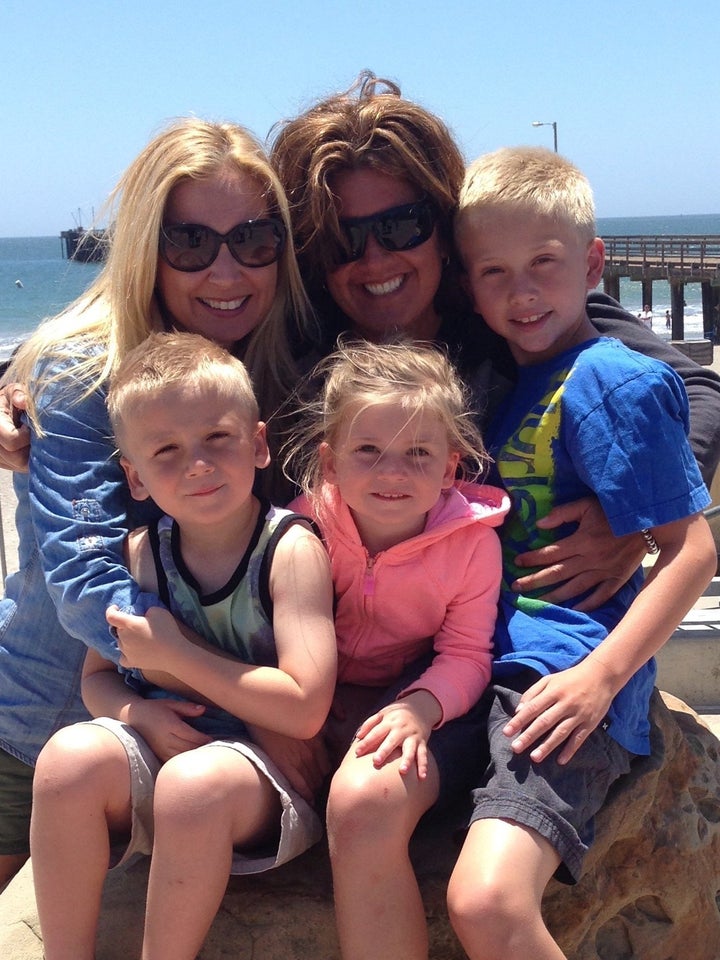 Michelle C. of Toluca Lake, California is living her dream. The happiness she found by balancing work and family life is so immense that she and her partner, Christin are engaged to be married in the spring.
Michelle, 43, who co-parents three children with Christin credits her felicity to her two families, at home and the office. 
"We are so happy because there is so much love in our house. I love Christin so much and she tells me that she loves me because I'm beautiful inside and out. We put each other and the children first and that's what makes our life so special," Michelle said.
"And I love my work, too," says Michelle. "The company is supportive and encouraging and really goes to bat for its LGBT employees. It helps that they are considerate and flexible about my role as a parent, too. Hands down, it's the best place I've ever worked." 
Michelle and Christin have been together for two years. "We hung out and talked at first. Christin soon knew everything about my life. Then, she invited me to dinner and we've been together ever since. It really is a story of two people meeting their soul mates. I fell in love with her and she fell in love with me," Michelle explained.
"She is very open about our relationship and came out to her family as gay. In fact, she has always been more open about us, like when we go out, she always wants to hold hands with me and I'm the shy one," she noted.
Their kids, eight-year old Colin, Jake, who is four, and Catherine, the youngest at three, are very supportive and comfortable with having two Moms too.
"I think it's because we have such a loving home. It's really the power of love and what makes it all so incredible is that they spend half their time with their other parent, who is very conservative," Michelle said. 
She explained, "It's amazing how well adjusted the kids are. We believe it's our job to teach them our values and, of course, when they're adults they can make up their own minds. But, we teach them that love is love and family members support each other no matter what. That's the power of two people completely committed to one another and their kids. Our love is so strong and our kids are just amazing," she continued. 
The children adjusted to their mother's relationship with Michelle with aplomb because, she believes, the two moms focus on their family and place a premium on communication.
"Every night the kids are with us, we have dinner together and talk about our day. We talk about what was good and bad, what we're thinking about, what concerns us and what makes us happy.
"I always make homemade pizza the first night they're back," she continued, "and we have a s'mores party around the fire ring every week. We go camping a lot, too -- all the normal, fun things families do."
In regards to being in a same-sex relationship, "It's just not an issue for us and I think it's becoming less and less of an issue for society. We are raising our children to be tolerant and accepting and I believe the world will continue to change for the better because of their generation," she said. 
The future is full, Michelle said, as she and Christin recently became engaged and set their wedding date for May 14, 2016, a move completely supported -- even driven -- by the kids.
"Our eight-year old was constantly asking me when I was going to propose. The kids will, of course, play a big role in the wedding and sometimes, I think they're more excited about it than we are," she noted, laughing. 
After the ceremony, Michelle said she and Christin are going to seriously explore adding to their family through or adoption.
"We've talked about it. It would be a nice thing to bring another child in to our family and have that child be both of ours. I've never had a child, but I love that these three kids are in my life. They aren't mine biologically, but they are still mine," she said. 
Recently, Michelle has made time to volunteer for RaiseAChild and is getting to know the organization. She told Christin that she likes what she sees. Michelle and Christin plan to attend one of RaiseAChild's upcoming events to learn more about the adoption journey. 
"It sounds cliche, but our life is perfect," said Michelle. "Our love is strong and our kids are amazing and the future is limitless. It's natural that we want to share that with another child and we think adoption is the perfect way to make life better for someone else, too." 
Have you considered building a family through fostering, adopting or weekend hosting? RaiseAChild.US would like to help you. Visit us at www.RaiseAChild.US and RSVP to join us for free, fun and educational RaiseAChild.US events throughout Southern California:
            Tues., Dec. 1st            6:30PM to 8:30PM      Andaz West Hollywood Hotel
            Wed., Dec. 2nd       6:30PM to 8:30PM      The Prado at Balboa Park, San Diego
            Thur., Dec. 3rd             6:30PM to 8:30PM      The Art Theatre of Long Beach  Sun., Dec. 13th        2:00PM to 4:00PM    Museum of Art History in Lancaster, CA      
RaiseAChild.US is the nationwide leader in the recruitment and support of LGBT and all prospective parents interested in building families through fostering and adoption to meet the needs of the 415,000 children in the foster care system. RaiseAChild.US recruits, educates, and nurtures supportive relationships equally with all prospective foster and adoptive parents while partnering with agencies to improve the process of advancing foster children to safe, loving and permanent homes. Take the next step to parenthood at www.RaiseAChild.US.   
NOTE: This article has been edited for clarity.
REAL LIFE. REAL NEWS. REAL VOICES.
Help us tell more of the stories that matter from voices that too often remain unheard.