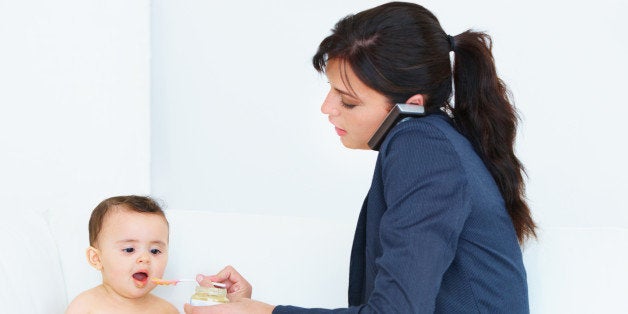 Thousands of highly talented, motivated individuals are unemployed. They have JDs from Harvard, MBAs from Wharton and PhDs from Stanford. They built careers, and then one day, they stopped. Why?
Because they are mothers.
They are women who chose to sacrifice their careers in order to be a part of their children's daily lives. Or perhaps more aptly, their offices chose to sacrifice them in favor of something more conventional.
I was honored to speak recently at a working families summit, where world leading entrepreneurs, nonprofit leaders, artists, scientists, athletes and changemakers came together to re-imagine how we can balance our work lives with our family lives.
There is no exaggeration: This demographic represents a highly qualified and untapped workforce.
That is why services like Inkwell, a flexible staffing innovator focused on helping startups, small to mid-sized businesses and nonprofits thrive, are an important step towards providing unique access to this talented and untapped workforce of mothers
The startup boom struck the business world because highly qualified people were taking a hit in compensation in order to pursue what they loved. It quickly became evident to me that working mothers would do the same. By making flexibility part of the compensation package, more mothers would stay in the workforce.
This model is an incredible resource for startups and nonprofits. They are the exact clients who necessitate highly-skilled individuals, but may not have the coffers to provide competitive cash compensation. A total compensation package is made up of base salary, short and long term incentives, benefits and perquisites. Mothers who crave flexible work schedules are willing to receive less in base compensation if their benefits/perquisites portion increases. One example of this is providing more flexible work hours as a major career perk. Even Fortune 500 companies can see the benefits of recruiting top-tier talent for a reduced dollar amount by increasing flexibility.
So instead of offering a cash bonus as part of a compensation package, why not offer flexibility? This simple innovation opens the doors to a deep pool of untapped talent. It only requires that businesses be willing to think outside the box.
Innovation, in fact, is what the market depends upon. If we cannot constantly reinvent ourselves, we are doomed to redundancy.
I've watched countless companies thrive based on this flexible model. I even built and ran a successful international nonprofit with the help of part-time and telecommuting contractors.
More and more, businesses are no longer seeing mothers as a liability, and instead they are recognizing them as assets that must be protected. They are highly accomplished women who are motivated to not only raise a family but to also continue their careers.
Flexibility, innovation, and unbridled motivation are characteristics any company would envy. Recognizing the players that can bring these traits at a discounted price - now that's sound business.
Calling all HuffPost superfans!
Sign up for membership to become a founding member and help shape HuffPost's next chapter