Theme park food is a really big deal these days (And when I say "big," I'm not just talking about those ginormous turkey legs that the Mouse sells at Disneyland and Walt Disney World. Which – according to what Zachary Levi told Conan O'Brien this past Thursday [one hopes, in jest] -- might actually be emu legs. Anyway …).
Ever since WDW managers first learned 20+ years that they could boost Epcot attendance levels every Fall by staging a food & wine festival around World Showcase Lagoon, theme parks have been using seasonal cuisine-driven events as a way to bring in customers.
Of course, in some cases – like Knott's Boysenberry Festival (which runs at this Buena Park favorite from April 1st – 23rd) – this seasonal food-based event actually honors that theme park's past. After all, it was only because he needed a way to entertain all of those people who were waiting in line to eat at Mrs. Knott's Chicken Dinner Restaurant that Walter Knott decided to build his Ghost Town back in 1940. Which is what eventually led to the creation of America's first theme park, Knott's Berry Farm.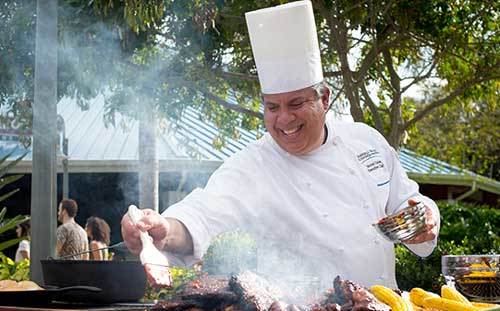 Conversely -- when it comes to the Seven Seas Food Festival (which SeaWorld Orlando will be staging on Saturdays now through May 13th) – this was more about adding something new to that theme park's menu. The thinking here is that the more-than-60 unique Asian, European, Polynesian, Latin & North Atlantic dishes which are being served up at this seasonal cuisine-driven event won't just appeal to people who are vacationing in Central Florida but also to Orlando-area foodies. Who, it is hoped – because SeaWorld's Seven Seas Food Festival is only being presented on weekends – will then be able to make a special trip over to this theme park. Just so they can then tour the 11 global marketplaces which SeaWorld has set up. Not to mention sample the over 55 local & international craft brews that will be on tap there.
Now please note the term that I used in the above paragraph, "global marketplaces." This is theme park parlance for those temporary kiosks that you see set up at these seasonal cuisine-driven events which serve food.
What's kind of intriguing is that Walt Disney World – because Epcot now presents four festivals each year that feature a cuisine-driven component … Well, they then had to come with a number of different names to describe these "global marketplaces" / temporary kiosks.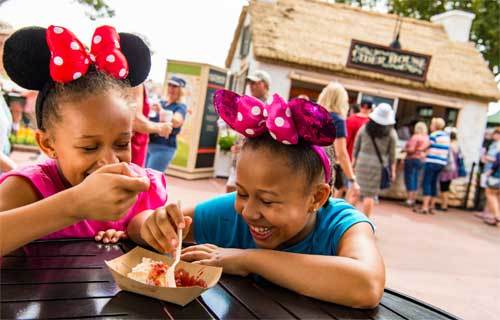 When it comes to Epcot's International Flower & Garden Festival (which is running now through May 29th), food is dispensed from that seasonal event's 15 outdoors kitchens. Whereas if you wanted to purchase a snack at Epcot's International Festival of the Arts (which – having just completed its inaugural run back on February 20th – will be returning to WDW's science & discovery park in early 2018), you had to go to one of the eight food studios that were set up around World Showcase Lagoon.
Now when it comes to Epcot's International Food & Wine Festival (which gets underway on August 31st this year and then runs for a record 75 days. Which – given that the 2016 edition of Food & Wine ran for 62 days [which was already 9 days longer than the 2105 version of Food & Wine ran] … Well, that gives you some idea of how hugely popular this seasonal cuisine-driven event has become), if you're hungry, you then have to seek out one of its 30 global marketplaces.
The same term is used for the seasonal event that opens just 11 days after the 2017 edition of Food & Wine closes on November 13th … Sort of. By that I mean: The 5 kiosks that serve food at Epcot's Holidays Around the World celebration are called "Marketplaces offering Seasonal Tastes."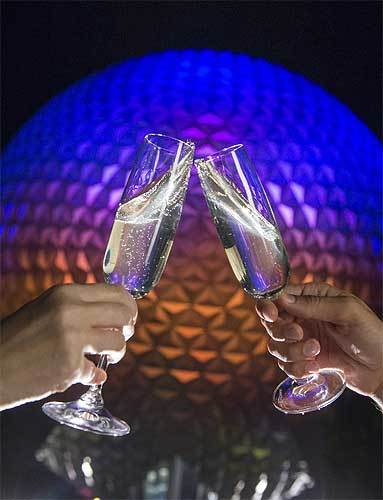 That last name is – admittedly – a mouthful. But as far as Mouse House managers are concerned, they don't care what these global marketplaces / unique kiosks are called. Just so long as WDW visitors continue to be willing to pay $4 - $8 for each appetizer-size portion that they consume. Not mention shelling out anywhere from $3.50 (that's what a glass of Tsingtao lager will cost you at Epcot's China pavilion) to $32 (for that price, you can snag a flute full of Dom Perignon) for each beverage they quaff.
And given the steady stream of cash that these four seasonal cuisine-based events generate for The Walt Disney World Resort, is it any wonder that the Disneyland Resort recently revived its own Food & Wine Festival? The 2017 edition just got underway this past Friday and will run at Disney California Adventure Park through April 16th.
Mind you, the Universal Orlando Resort also stages events at its theme parks that do feature a food component. Take – for example – Universal Studios Florida's annual Mardi Gras celebration (which continues through March 24th). Given that this seasonal event is hyped as "Florida's Biggest Party" … Well, what's a party without food? Which is why – as you wander through that theme park's French Quarter -- you can then sample authentic Cajun cuisine. Everything from spicy jambalaya & shrimp po'boys right through to king cake & sugary-sweet beignets.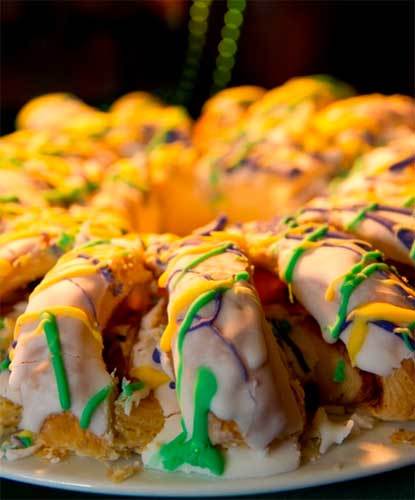 But when you get right down to it, the Universal Orlando Resort doesn't really do "global marketplaces," temporary kiosks that it then uses to dispense seasonal cuisine. If anything, Universal Creative prefers to bury the needle in the opposite direction. Building highly themed permanent structures like The Three Broomsticks (which can be found in the Hogsmeade portion of The Wizarding World of Harry Potter over at Universal's Islands of Adventure), Moe's Tavern (which is located along Fast Food Boulevard in Springfield USA in Universal Studios Florida) and the Toothsome Chocolate Emporium & Savory Kitchen Feast (that steam punk-inspired restaurant which opened at Universal CityWalk this past September) that then offer truly immersive dining experiences.
Universal Orlando seems to think that these large, elaborately-themed eateries are a smarter long term investment than all those "global marketplaces" that you'll find at Epcot and SeaWorld Orlando. Which isn't to say that the Universal Orlando Resort entirely steers clear of seasonal cuisine. In addition to that Mardi Gras-themed menu which is available to people who visit Universal Studios Florida this time of year, if you find yourself in The Wizarding World of Harry Potter during the holiday season and then need something warm to ward off a chill, they will (exclusively during those colder times of year) sell you a big steaming glass of hot Butter Beer.
Which – come to think of it – sounds like a perfect pairing with a roasted Emu leg.
Related
Popular in the Community