After I wrote about my collaboration with Michelin-starred chef Daniel Corey, I got lots of requests for the recipes we created. By popular demand, here they are. (They're also available on InterContinental's new Kitchen Cookbook app.)

STARTER:
Warm Potato and Mushroom Tartlet, Winter Truffle, Crème Fraiche (serves 4)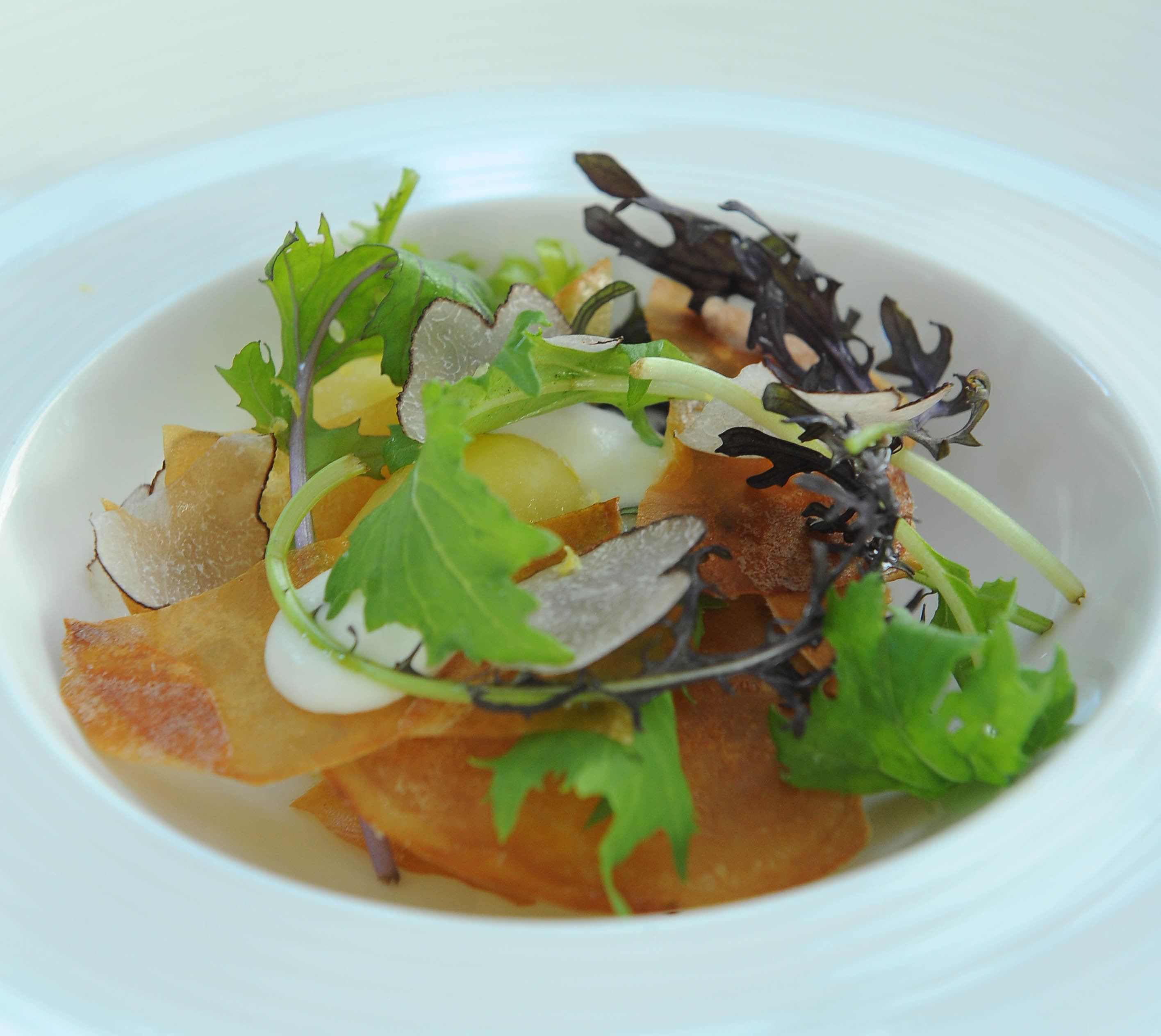 16 baby new potatoes
5 Yukon gold potatoes
2 pounds, local, wild, or farmed mushrooms
1 ounce, black winter truffle
3 ounces Kendall Farms crème fraiche
4 ounces dry white wine
1 lemon
20 watercress sprigs or mustard leaves
3 cups half and half
1 pound whole unsalted butter
Kosher salt
Pre-heat oven to 375° F. Place baby potatoes (skin on) in pot and cover with cold water, add a quarter pound of the butter and a large pinch of salt. Bring to a simmer over medium heat, then turn down to medium-low and poach the potatoes until tender. Do not overcook. Once cooked, strain from the liquid and while still warm, use a kitchen rag and gently rub potatoes to remove skin, leaving potato intact. Set aside.
Peel Yukon gold potatoes, then cut three of them into eight pieces each and place them in a pot, cover with cold water, and bring to a boil. Reduce heat to a simmer and cook until tender. While potatoes are cooking, place half and half in a sauce pot along with a half pound of butter and bring to a simmer, then remove from heat. Once the potatoes are cooked, strain them from the water and pass them through a food mill. Fold in the butter/half and half mixture to make a smooth puree. Adjust seasoning with salt. Puree should be velvety smooth with no lumps. Keep warm.
Take remaining potatoes and slice them paper-thin on a mandoline. Overlap slices on a baking sheet and brush with two tablespoons melted butter. Place in oven and bake until slightly caramelized and crispy. Let cool. Break into four two-by-two potato "shards." Set aside.
Place one tablespoon of butter into a sauté pan and gently sauté mushrooms with a pinch of salt until the butter begins to brown. Add the white wine and turn up the heat up to reduce and glaze the mushrooms. Transfer to a paper towel and adjust seasoning if necessary.
Add zest and juice of one lemon to the crème fraiche, and adjust seasoning with salt if necessary.
To assemble the tartlet: Place a small dollop of crème fraiche in the center of the plate. Place potato "shard" on the crème fraiche. Re-warm new potatoes and slowly add ingredients on the potato "shard," layering new potatoes and mushrooms, potato puree, crème fraiche, and watercress. Garnish with remaining watercress and thin slices of the winter truffle.
MAIN COURSE:
Hand-Cut Pappardelle, Fall Squash, Lacinato Kale, Hazelnuts, Brown Butter (serves 4)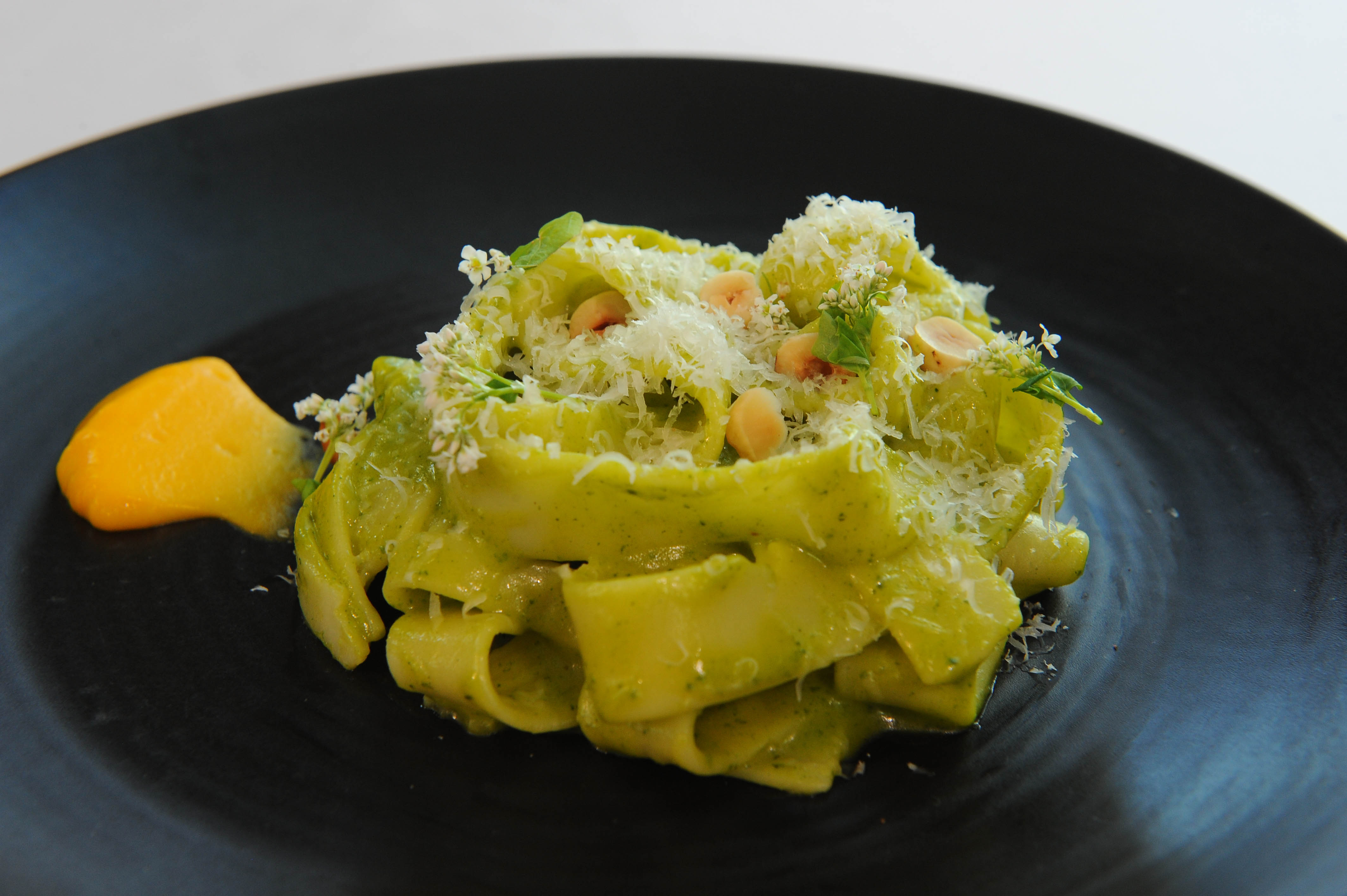 Pasta dough:
16 egg yolks
2 cups flour
Using a large mixing bowl, add flour and make a well in the center. Place yolks in the well, and, using your fingers, moving in a clockwise circle, slowly drag the flour into the yolk a little at a time. Once the dough begins to come together (it will look messy but don't fret), turn all ingredients out onto a lightly floured work surface. Using both hands now, press all the flour into dough. Using the heel of your palm, gently knead the dough until it becomes elastic and shiny. Form it into a ball, press it into a flat disk, and cut it in half. Wrap tightly in plastic wrap and let it rest at room temperature for at least 30 minutes.
Sauce:
2 butternut squash
2 bunches, Lacinato kale
1 pound hazelnuts, toasted
1 pound whole unsalted butter
¼ cup extra-virgin olive oil
¼ cup canola oil
1 garlic clove
¼ cup grated Grana Padano (or Parmesan)
Split the butternut squash in half and scoop out the seeds. Place in a roasting pan along with a half pound of butter, cover bottom of roasting pan with water and cover everything with foil. Place in the oven and roast until soft, about one hour. Using a spoon, remove the flesh from the skin and place in a blender. Puree on high speed until completely smooth. Pass through a strainer and set aside.
Blanch Kale in a large pot of boiling, salted water until tender. Strain and place in an ice bath to preserve color. Place kale in a blender with garlic, Grana Padano, one pound of the hazelnuts and both oils. Puree on high until completely smooth. Adjust seasoning with salt.
Roll pasta out on pasta crank, starting at zero, finishing on six. Fold the pasta sheet over itself and cut into ¾-inch strips.
Warm ¼ cup of the butternut puree in a sauté pan large enough to hold the pasta as well. Blanch the pappardelle in a large pot of salted, boiling water for three minutes. Transfer to sauté pan. Over medium heat, add two tablespoons of butter to glaze the pasta. Just before removing pasta from the pan, add ¼ cup of the kale pesto and gently toss to coat. Place a small dollop of butternut puree in four medium bowls. Twirl pappardelle and rest on top of the puree. Sprinkle remaining toasted hazelnuts on top to garnish and finish with additional Grana Padano.
DESSERT:
Chocolate Pot de Crème (serves 6 to 8)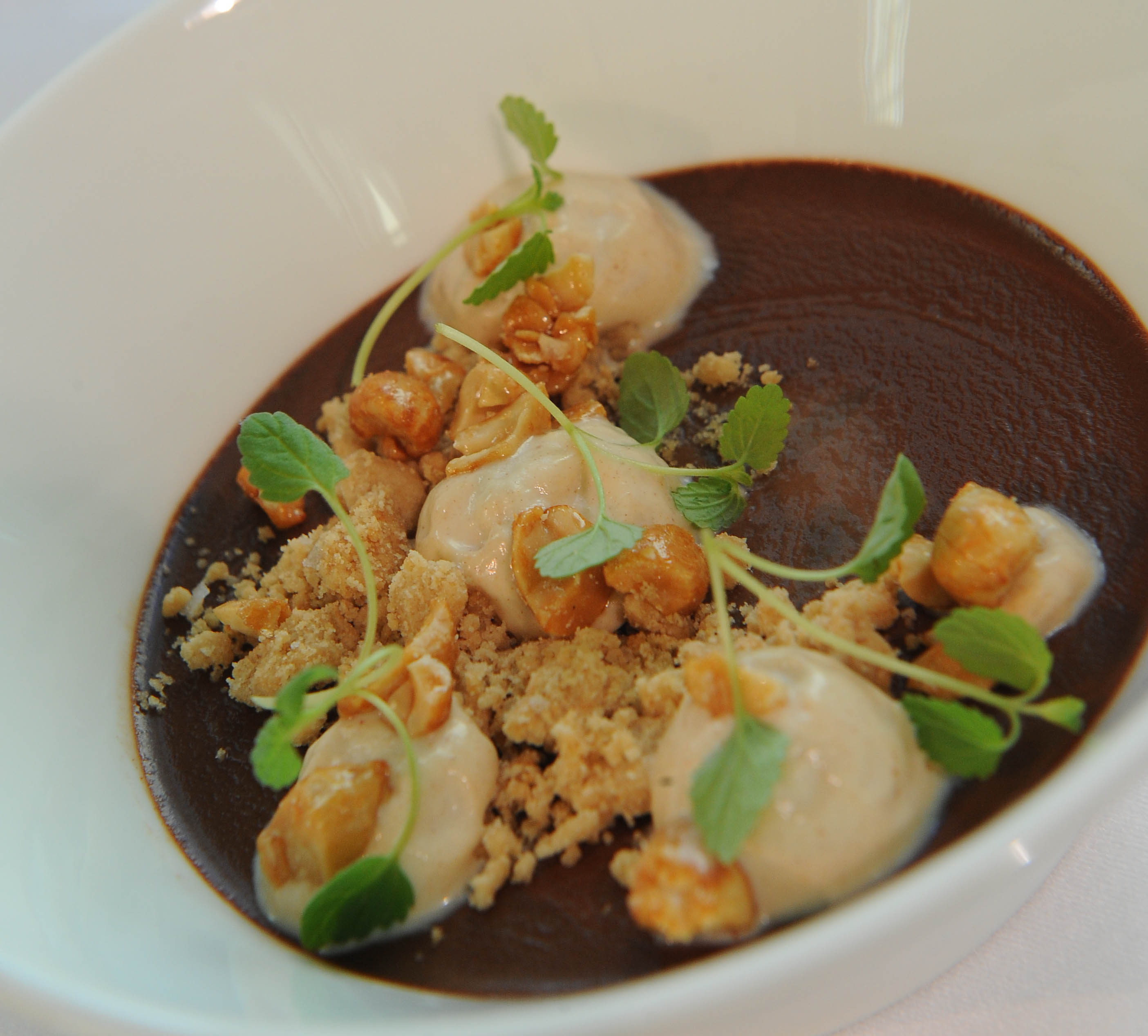 2 cups whole milk
1 tablespoon cocoa powder
5 ounces dark chocolate (preferably 70 percent)
4 egg yolks
1 whole egg
⅓ cup sugar
Pinch salt
Bring milk and cocoa powder to a boil. Dissolve chocolate into hot milk, blend with an immersion, being careful not to incorporate too much air. In a separate bowl, combine remaining ingredients, temper in to hot milk/chocolate mixture. Strain through a fine mesh sieve. Distribute into individual oven-safe ramekins or bowls. Bake in a covered water bath in a preheated 300° F oven for 30 minutes or until set.
Peanut butter crumble (this yields a lot, but can also be used to form cookies):
¾ cups butter, room temperature
½ cup peanut butter
½ cup brown sugar
¼ cup teaspoon vanilla extract
2¼ cup all-purpose flour
¼ teaspoon salt
In a mixer using the paddle attachment, cream together first four ingredients until fluffy. Add remaining ingredients and mix only until combined (mixture should be crumbly). Crumble mixture onto sheet pan and bake at 300° F for 15 minutes.
Peanut butter cream (yields 1 half-pint siphon):
½ cup peanut butter
½ cup water
2 teaspoons sugar
1 cup heavy cream
Whisk together all ingredients until smooth. Fill siphon with mixture and add one charge, then shake. Dispense cream just before serving, quenelle if desired.
Frosted peanuts:
1 cup sugar
½ cup water
1 tablespoon salt
1 cup peanuts
Bring sugar and water ingredients to a boil. Add peanuts, stir and bring to a boil. Strain out liquid and discard. Roast coated peanuts in a 325° F oven for 10 to 15 minutes. Peanuts should look slightly caramelized.
Photos courtesy of InterContinental Hotels
Related