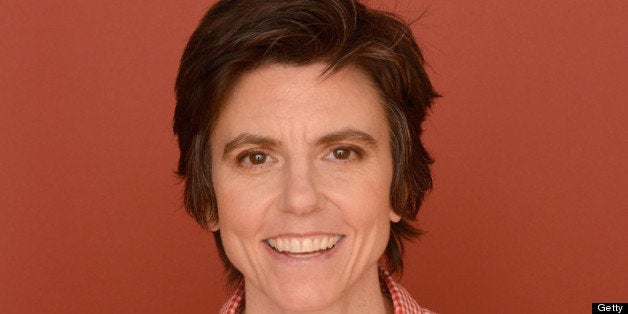 It's always inspiring to come across successful and outspoken female performers. Comedian Tig Notaro, who is best known for making waves last summer with a stand-up performance that Louis C.K. called a "truly great, masterful" set and SheWired deemed "groundbreaking," can easily be described as both.
I don't think about [the state of women in comedy] until somebody asks me. People would say when I started doing stand-up, that it's a guys' world, and guys are jerks out there, and the road's tough. And I just didn't have a problem. I just did stand-up and focused on it and it got better. And I got on the road and people were really friendly—audiences, other comedians, club owners. I don't want to do it again, but I really don't have a complaint in the world about being a woman or how I've been treated. If people didn't like me I never blamed it on any particular thing. I just figured they didn't like me.
In fact, Notaro rose to prominence by fearlessly exploring her darker life experiences. The comedian opened her famous August show, with the line: "Good evening! Hello. I have cancer! How are you?" Notaro told Time Magazine more about this time in her life, remembering:
I was just a wreck, and I was in a relationship, which ended -- I just couldn't imagine that I would ever be attractive to anybody again. Or that I would be alive, really. It oddly didn't skip a beat. My health turned around and I've had a very busy dating ... -- I was going to say dating career, but I'm actually not making any money.
While Notaro may claim to have avoided sexist treatment, it's undeniable that she's paving the way for female comedians -- perhaps because she doesn't explicitly focus on her gender in her comedy. By focusing on her own experiences, Notaro proves women's ability to be funny has nothing to do with their gender and everything to do with their humanity. In a May/June 2013 interview with Mother Jones, Notaro described her approach to comedy as free from any preconceived notions:
I am wanting to kind of clear the slate and start over. I'm always going to do whatever I think is funniest. If something's dark, I'll do it. If it's a sock puppet, if it's a stool, I'll do it. There's no preconceived idea of who I think I might be now.
By shirking stereotypes Tig Notaro is not only paving the way not only for other female comedians, but is breaking ground for all comedians.

REAL LIFE. REAL NEWS. REAL VOICES.
Help us tell more of the stories that matter from voices that too often remain unheard.
BEFORE YOU GO
PHOTO GALLERY
Funny Women - Past And Present