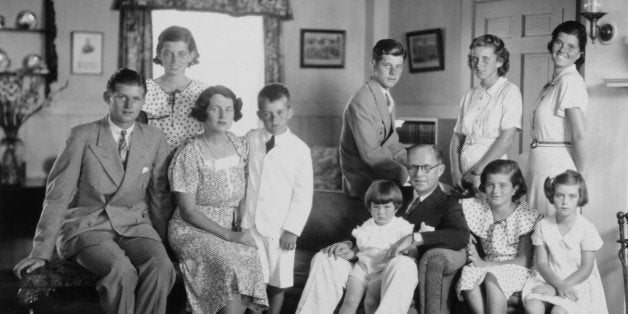 There was no shortage of distinguished politicians, journalists and dignitaries traipsing through Tim Shriver's Maryland home when he was growing up. But the person who inspired John F. Kennedy's nephew the most wasn't in the limelight.
Shriver was most moved by his lesser-known Aunt Rosemary. She was the "family secret" who spoke just a handful of words, but could swim a mean backstroke.
The activist opens up about his relationship with the Kennedy who didn't fit the political family's mold, but still managed to help shape the clan's future, in his new book, Fully Alive: Discovering What Matters Most.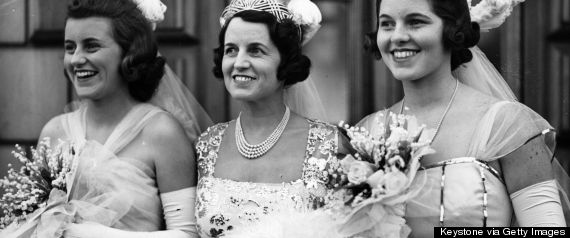 May 11, 1938: Rose Kennedy (center), wife of multi-millionaire and US ambassador to Britain Joseph Kennedy, and two of her daughters, Kathleen Kennedy (Marchioness of Hartington) and Rosemary Kennedy (right), leaving to be presented at Court.
In his intimate memoir, released on Tuesday, Shriver pulls back the curtain on his aunt who was shunned by some of her closest relatives. He also delves deeply into the meaningful relationships he's cultivated over the past 16 years through the Special Olympics, the inclusive sports program, where he serves as chairman. Founded by his mother, Eunice, the nonprofit engages millions of adults and children with intellectual disabilities around the world in rigorous sporting events.
"It's a thank-you letter to the community -- the Special Olympics athletes," Shriver told The Huffington Post of his book. "For all the ways they inspired me, they made me feel like I mattered."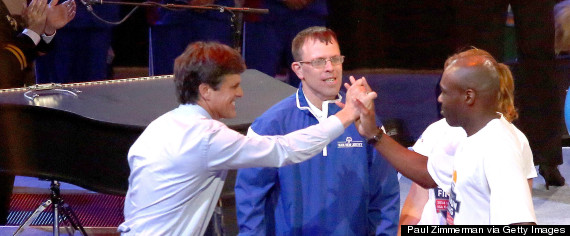 Tim Shriver attends the Special Olympics USA Games Opening Ceremony at Prudential Center on June 15, 2014 in Newark, New Jersey. (Photo by Paul Zimmerman/Getty Images)
While nothing brings Shriver more pride than working with this underserved community, his family's groundbreaking foundation actually first emerged from shame.
Born in 1918, Rosemary Kennedy, the third of Joseph P. and Rose's nine children, developed more slowly than her siblings, struggled in school, but still participated fully in family events and activities.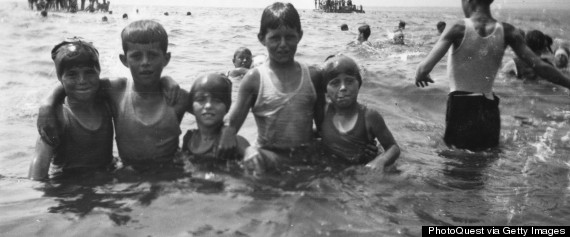 Rosemary, John, Eunice, Joseph Jr, and Kathleen Kennedy, Hyannisport, Massachusetts, Summer 1925. (Photo by PhotoQuest/Getty Images)
But, at 23, when Rosemary started displaying aggressive mood swings and grew increasingly difficult, her father secretly scheduled her a lobotomy, a relatively new procedure at the time that he was told would calm down his daughter, according to People.
The botched brain surgery left her only able to say a handful of words and incapable of taking care of herself.
"The struggle to help 'fix' her, ended up being a tragic choice," Shriver said.
Rosemary was sent to live in a Catholic institution in Wisconsin where her father never visited and she eventually died in 2005, at age 86.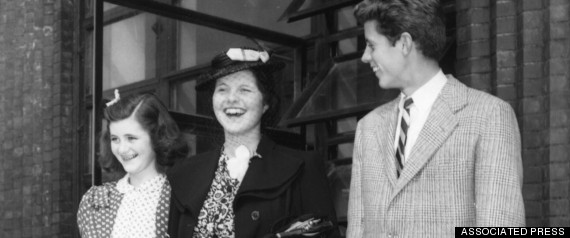 Rosemary Kennedy (center) is shown with her brother, John F. Kennedy, the late president, and her sister, Jean, in this 1940 photo. Mrs. Joseph P. Kennedy said Rosemary was placed in a home when it became obvious her daughter was "a great deal happier with youngsters like herself." (AP-Photo)
But Shriver's mom remained fond of, and attached to, her older sister. Eunice simply refused to keep Rosemary hidden from view.
Starting from the time Shriver was about 7, Rosemary would visit about a handful of times a year, he told HuffPost.
And though this was still a period when a tremendous taboo surrounded disabilities, Rosemary was included in every aspect of family life when she came around. They took walks, played games and ate meals together.
Shriver remembers Rosemary being a particularly "terrific" swimmer. She would "just get into the deep end and float, effortlessly … up and back without stopping."
When Shriver was ready to get out of the pool, his mother would tell him he had to stay put as long as Rosemary did.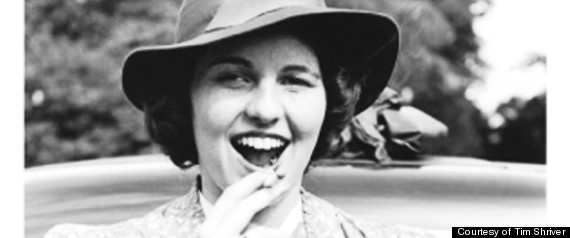 "To this day, I don't know how she did it," Shriver said. "She would embarrass us with her endurance."
And though Rosemary couldn't communicate traditionally, she taught them about compassion in a way they otherwise never would've learned.
"She lived with simplicity. She didn't fit in. But she was included -- her brothers and sisters loved her," Shriver said. "She taught a lesson no book, no military service could teach -- the experience of feeling that you matter, that you are loved unconditionally."
It was these activity-filled and emotionally rife moments that inspired Eunice to change the world for people with disabilities and to start her revolution in her very own backyard.
In the '60s, the Shrivers would host about 100 campers with disabilities who were bussed in from schools and institutions -- "grim and lonely places" -- to spend their days playing sports, swimming and riding ponies.
Though Shriver was too young at the time to articulate completely what he felt when he played with these campers, he says he was well aware that these kids came from difficult backgrounds. Yet, they arrived to his Maryland home with openness and trust that helped them heal and separate from their isolation.
"This wasn't about deficit, it was about gift," he said of those days.
In 1968, Eunice's grassroots project turned into a full-blown mission when she established the Special Olympics.
The group held its first international competition that year at Soldier Field in Chicago for 1,000 individuals with disabilities who competed in track and field and swimming races.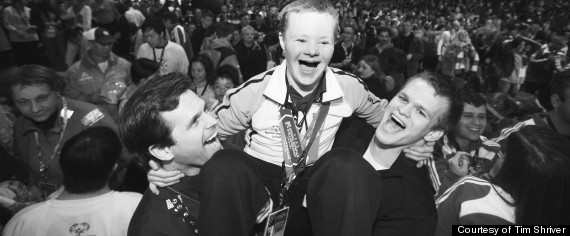 The Shrivers' initial goal to create an inclusive environment has evolved to help breed world-class athletes and give participants the confidence and life skills to get jobs and live independently.
One such athlete Shriver discusses at length in his book is Loretta Claiborne, whom he considers a "role model and hero."
Claiborne, who was born partially blind and has intellectual disabilities, was unable to walk until age 4. She lived on state assistance and endured an enormous amount of discrimination, but remained undeterred.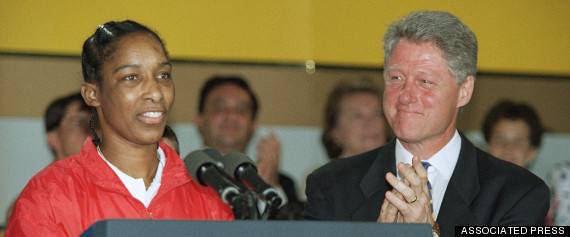 President Bill Clinton smiles as he is introduced to speak by Special Olympian Loretta Claiborne during opening ceremonies at the Special Olympics World Games at Yale Bowl in New Haven, Connecticut on Saturday, June 1, 1995. (AP Photo/Dennis Paquin)
"She took in all that rejection, all that stigma and emerged on the other side," Shriver said. "This is a woman who can see through anybody and anything and … is completely unimpressed by superficial bullshit we chase in life."
While Shriver's celebration is weighted by Rosemary's painful fate, the author said there simply wouldn't have been a story to tell without his aunt's incalculable role.
"We all have challenges, things we secretly hide," Shriver said. "But as long as we hide our weaknesses, we won't be fully alive."
Calling all HuffPost superfans!
Sign up for membership to become a founding member and help shape HuffPost's next chapter
BEFORE YOU GO
PHOTO GALLERY
Jackie Kennedy Onassis Style (PHOTOS)