As a parent of two boys aged 4 and 7 years, bringing up young kids in the age of mobile apps, I, like many parents, was adversely affected by in-app purchases appearing on my credit card that I did not authorize. When my son was 6-years-old he niftily learned my password while peering over my shoulder and downloaded the pocket version of Minecraft for €5.99 from the App Store without me knowing. When it appeared on my credit card statement I was furious with Apple for not adequately protecting us from this risk. I followed with great interest the class action brought against Apple in the U.S. by angry parents regarding In-App purchases by minors and I welcomed the 2013 revisions to COPPA (Children's Online Privacy Protection Act of 1998) in the US.
Based on COPPA's 2013 revisions, the App Store started obliging all app developers targeting children under 13 to build a parent gate into their app. The objective of the parent gate was not only to prevent kids making in-app purchases without parental approval but also to put all external links to potentially harmful sites such as Facebook in one protected place.
In practice this means that on the homepage of apps for kids under 13 there is a "for parents" link which, when selected, asks the user to perform an action that kids of the target age group are not able to do. For example, in the case of our apps targeted at 1-5-year-olds who cannot read, when users select the "for parents" button a pop-up box with the written command "swipe RIGHT with one finger to continue" appears and users have to perform this action before the parent page will open. The command changes each time you re-enter teg. swipe up or down or left with one finger. All external links in our game to Facebook or the App Store are protected in the parent page.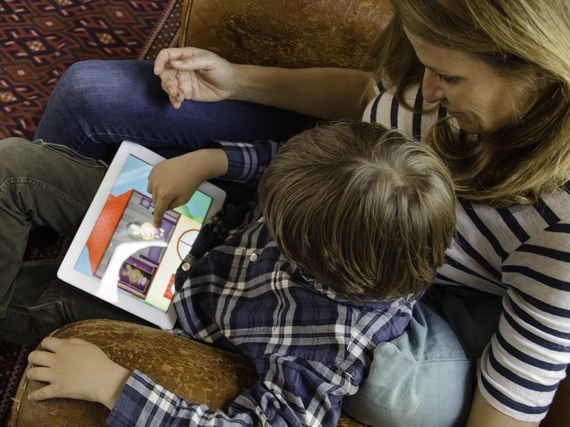 As the founder of a startup developing kids educational mobile apps, the controversy surrounding in-app purchases validated my dislike of in-app purchases and made me determined to choose a clean and safe revenue model for our apps. We have chosen the premium paid model which means that users pay for the app up-front (in our case either 0.99c or $1.99) and are not asked again to spend more while using the app. This creates a safe environment free from in-app purchases.
If parents want to go one step further with safety, Apple has introduced a new feature called Guided Access on all their mobile devices from iOS 6 onwards which enables a parent to block the user from exiting the App in which the feature is enabled. For example, if you want your child to play a safe kids game only or you want them to continue playing an educational game, you can enable guided access for that game. To enable Guided Access on your device go to Settings-General-Accessibility-Guided Access on your iPad, iPhone or iPod then enable the feature and set-up a passcode. You then need to open an app then press the home button three times quickly and start the Guided Access. Your child will not be able to exit from that game until you click the home button three times again to disable it.
Related