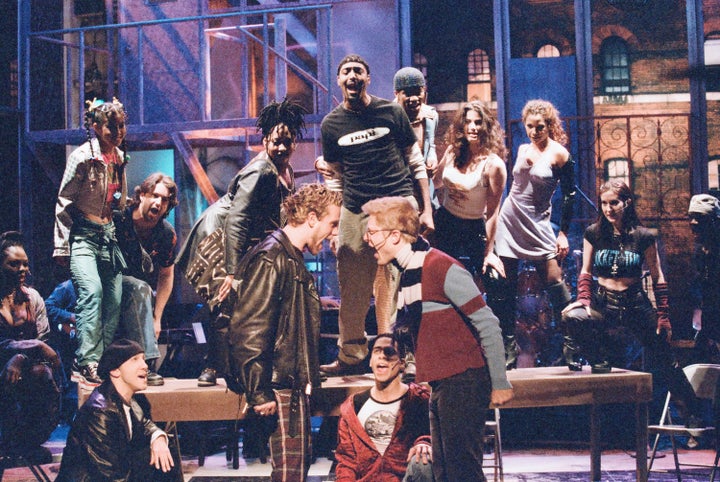 The New York City-centric musical "Rent" premiered in Broadway's Nederlander Theatre on April 29, 1996. It's been 10,512,000 minutes since then. 
And still, as the best musicals do, the story of a bunch of ragtag artists grappling with a changing urban landscape amid drug addiction, the AIDS crisis, creative urges and falling in love lingers in my mind. I was only 8 when Mark, Mimi, Maureen and co. took the stage that first night, but it felt like I came of age as the production (loosely based on "La Bohème") gained its notoriety over the years. Jump forward to 2004, where I sat in a cheap-seat row, studying the playbill in my hands before the curtain rose, ready for Jonathan Larson's creation to allow me to imagine a life bigger and more interesting than my own.
The opening numbers serve as a cheery entry point into the sometimes dangerous East Village of the late 20th century -- indeed, the same neighborhood whose alphabetical avenues were once given dubious nicknames like Alright, Bad, Crazy and Death, that now boasts tony residents and minimally decorated coffee shops. Then, the neighborhood was still a haven for artists willing to squat in old buildings and subsist on little more than inspiration. Broke filmmaker Mark sets the scene in his apartment: "December 24, 9 p.m., Eastern Standard Time, from here on in, I shoot without a script."
What results, as anyone who's been even half-paying attention to Broadway for the past two decades, is a romp through a year (a year!) of unpaid rent, moon-mooing performance art, and a tour de force number at the Life Cafe (R.I.P.) that, in years since, every theater major worth his chops could readily belt regardless of blood alcohol level.
Larson's script was unabashed for its time, featuring a cast of characters diverse in race, sexuality, health status and income level. Some of the more "shocking" threads -- Mark's ex, Maureen, left him for ... a woman! -- thankfully feel pat today, but at the time, they offered a window into what a more inclusive future might look like. 
Growing up in suburban Long Island meant New York was always tantalizingly close, yet just out of reach. The Long Island Railroad reaches its arms down the length of the fish-shaped land, collecting commuters and daylong tourists for its city-bound trains, then pushing them back into modestly sized homes with yard space by night. This push-and-pull between the suburbs and the city spawned two types of people, it seemed: those who did everything they could to get to NYC and those who did everything they could to avoid it. 
As a weird, shy teenager still years away from any taste of the "real world" I had been warned about, the original "Rent" soundtrack (which came in a 2-CD set, much like the pioneers) filled the hours in my bedroom, still bright pink and covered in posters from childhood. It represented everything a life in New York City could be: an exciting, emotional adventure; even better if I skipped through the scarier parts. I listened to Mimi, a drug addict who falls in love with HIV-positive guitar-player Roger, mournfully explain the specific pain of a world that moves on in spite of one's own broken heart in "Without You," imagining that I might feel so strongly about someone of my own one day. "Rent" allowed me to safely access a world where, yes, struggle and heartbreak existed, but so did acceptance, joy, creativity and romance. 
I listened to the soundtrack again recently, sitting in my new, supposedly more grown-up bedroom in Brooklyn (a borough that, fittingly, gets no mention in the musical). I realize that "Rent" wasn't the definitive New York Musical I had once believed it was, but rather a chapter for both myself and the place I now call home, mere miles -- and yet worlds -- away from that teenage bedroom. The lyrics hold up, but don't have the same emotional resonance they once did, a revelation I'd felt coming since my lackluster reception to the play's on-screen adaptation in 2005. Even with most of the original Broadway cast, this version felt glossed over, too distant, like someone making a movie of a movie. There was no breathless anticipation of what the rest of the night might have held, as I used to feel the few times I left Nederlander Theatre to reenter Times Square, with the sky dark but the town still buzzing and alive like nothing I'd ever seen before.
The show's opening electric guitar strumming stirs an earnestness that had mostly gone away with the handful of years in the city I've notched in my belt, and the inevitable stress, hustle, and vomit-stained subway cars the reality entails. Times Square, I now know, is the worst, and the city's rising rents are exiling former residents and new-to-town hopefuls into the farthest reaches of the aging subway system. Roger, Mark, Maureen, and co. might be able to snag a Bushwick share on Craigslist these days, but even that seems beyond their pay grade.
"Rent" is a relic of a different New York, as is anything about New York: how do you tie down any city, any place that's overflowing with millions and millions of stories? The best you can do, it seems, is capture your own story as truthfully as you can tell it, and that is where "Rent" succeeds. 
Calling all HuffPost superfans!
Sign up for membership to become a founding member and help shape HuffPost's next chapter
BEFORE YOU GO
PHOTO GALLERY
Peeps Re-create Hamilton Because We'll Never Get Tickets