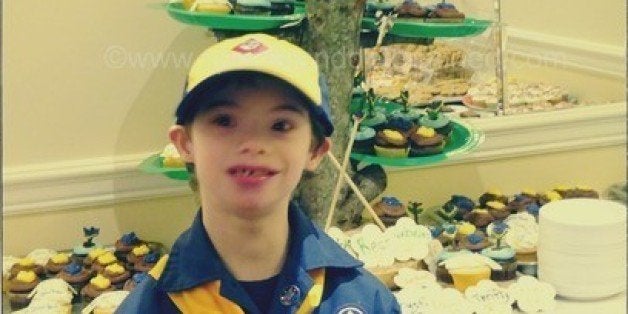 Every parent wants their child to feel like they are a part of something. Whether it be in school, their community or on a sports team, being a part of "something" for a child is so important. It's important for their growth, development, self-esteem, socialization and more. But for a parent of a child with special needs, it doesn't happen so easily. We are afraid of rejection or other parents who don't agree with our children being there.
That is why I want to say "thank you" to the compassionate, supportive Cub Scout leaders that encouraged and inspired my son these past few months as he joined Cub Scouts. It truly has been such a wonderful experience.
Cub Scouts has 12 core values: Citizenship, Compassion, Cooperation, Courage, Faith, Health and Fitness, Honesty, Perseverance, Positive Attitude, Resourcefulness, Respect and Responsibility. Not many organizations teach our children all of these values, and this was important to me. Important that my son be a part of this type of an organization. But whether he walks away fully understanding these values, the fact that he was a member of the "den", a Wolf Cub Scout, made him feel awesome and us, as his parents, so proud.
He gained wonderful friendships, and learned that he can do certain things like ride a bike, build a car or rocket, speak in front of others and learn responsibility. This experience helped him build self-esteem and determination. We couldn't be more proud of his experience in Cub Scouts and want to say a personal thank you to his Cub Master Rich and Den Leader Steve for their compassion, understanding and yes patience at times!
Here is a quick video of the Blue and Gold Ceremony where my son had a little part in the skit and got his Bobcat and Wolf Badge:
So, to all my fellow special needs parents, don't be afraid to ask organizations like the Cub Scouts or Girl Scouts if your child and take part. You will never know their potential unless you give them an opportunity to try, and you will also be opening up the door for others to accept children with special needs into their community and their lives.
I only hope that my son has the ability to stick with this and grow and learn to the best of his potential.