With all the letters coming in for the Big Guy, I wanted to send you a quick note --- on behalf of all the mothers in the universe who have ever celebrated Christmas.
Every single one of us is tired. We can't stop thinking about what we need to do and our list keeps growing and growing. For years our kids were too young for us to even think straight and we rushed from Halloween to the New Year, overbuying and overstressed. All the while, we've been watching you.
Because who does Christmas better than Mrs. Claus?
You've always seemed so sweet and kind. Calm. Quiet. And smiling. We wanted to be like you.
But now that we have a decent amount of "Yes, the kids are invited" Ugly Sweater Parties under our belt, we're highly suspicious that you're demureness is actually due to exhaustion.
Maybe it was all the peppermint bark you ate last year or the quick glass of eggnog you drank before our preschoolers came that tipped us off. It could have been the relieved/annoyed smile we saw (the one we've done ourselves) when Santa finally came, after you'd done all the preparations, for the kids to sit on his lap.
I'm not sure why it took us this long to realize it.
Saint Nick gets all the credit at Christmas with his big laugh and white beard and red-nosed reindeer schtick.
You, my dear, are the real brains of Christmas.
(And we don't even know you're first name! If I had to guess, you strike me as an Evelyn.)
Mrs. Claus. You don't get enough credit.
You're the one making a mental note every time anyone says "I wish I had..." or "I really want..." the whole year through.
You've been stockpiling stamps, wrapping paper, and scotch tape since October and you write down each time one of the elves says something funny (just in case it can be used for the yearly update letter you casually slip in with each triple-thick double-sided foil-pressed acid-free greeting card with the picture you thought about taking since the minute you came back from the beach in August).
You're the one keeping the elves on task, in between feeding them every two hours, baking those snowball cookies, decorating the village, and getting getting every Elf Jr. to their age appropriate holiday activities all over the North Pole.
"Just buy some gifts and wrap them," Santa says. Yes. We know it sounds easy. And we share in your frustration that even after all these years, he just doesn't get it.
But we get it. We get you.
Christmas doesn't just happen.
Christmas is on momma's shoulders.
We know you retired your Christmas Binder to the shelf a few years ago and now use Google Docs to keep yourself organized. Naughty and Nice is a spreadsheet. BAM!
We know you scout out prices, shop online, and take multiple trips to Target and Costco (with and without the littlest elves begging you for every blessed thing they see) for months on end.
We know you plan the distribution (take the gifts to Grandma's house or leave some at home?), pack the sleigh, program the GPS, and make sure Rudolph gets to bed early before the big event.
I mean, Santa just shows up for the big Sit On My Knee and Tell Me What You Want and HoHoHo Jolly Good fun routine. Sure, he's the frontman, but you're the one who is really in charge.
You, our bifocaled muse, are the Saint.
(Do you ever get mad when Old Saint Nick says things like, "Did we happen to pick up anything for my gift exchange down at the workshop?" or "Do we have a bottle of wine to take to Mary and Joseph's?")
Sadly, I can't make it through one year without freaking out about Decking the Halls, bringing Joy to the World, or Harking out a threat to cancel Christmas completely.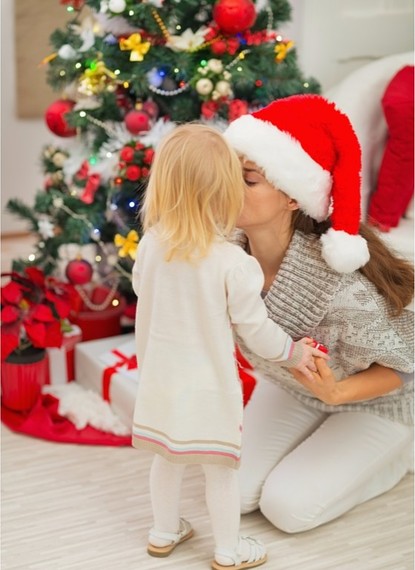 As December 25th approaches, all of us mothers will think of you while we wrap gifts late into the night and pay extra for express shipping (for that one gift we forgot or when a certain child changes his/her mind at the very last minute). We will think of you as we walk the very fine line between love, joy, and complete resentment of all our obligations and expectations for this season.
If you see us wink or raise our glass to you at a party, know it's a silent salute to you and our Christmas motherhood solidarity.
On December 24th, the milk and cookies will be left out for St. Nick.
The dark chocolate and glass of Red-Nosed Punch is for you.
This essay was originally published on Sonya's blog, SpillingOver. You can also find her on Facebook and Twitter, sharing her heart with a cup of coffee in her hand (or a glass of wine, depending on the hour).