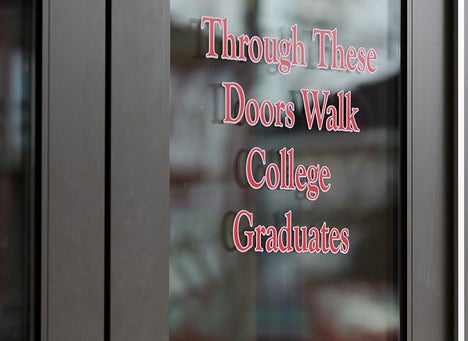 Politicians talk about free college as it if it does not already exist, but it does. In Gary, Indiana, a public charter school offers free college to its students, and students are graduating with an associate degree, even before earning their high school diploma. And the first student to earn her bachelor's degree while earning her high school diploma, will do so in May 2017.
At the 21st Century Charter School in Gary, Indiana, as it is everywhere else in the country, budgets are extremely tight. So, achieving the mission—to graduate from high school on time, then attend and complete college—requires consistent focus to make that available, and completely financially possible for our students. And we have to focus far more than others because the stakes are higher for us. Among the local population in Gary only 5% have an associates degree, 6% have earned a bachelor's degree, and a full 28% do not have a high school diploma. In addition, 100% of 21st Century's student population is qualified for the federal lunch program and minority. Focus or forget about it.
21st Century Charter School is built on a model of realizing dreams now. Our students don't just dream about college but they embrace their dreams by actually attending college, on a college campus, while attending high school. This free college opportunity is a life changing necessity for some that breaks the cycle of generations of poverty. Some of our students, and many of their parents, feel like they don't have the luxury of time, to spend four additional years in college before they can earn a significant salary. While others are anxious to begin medical or law school sooner, which will equal high paying salaries and essentially, new lives.
The 21st Century Charter School model is not only for minority or underserved students. Any student of any socioeconomic background who is interested in engaging in an accredited high school experience, which includes the opportunity to earn a free, accredited college degree, should be provided a place to do just that. But it only begins with us and this model is the game changer that can be rolled out around the country. It is what the US needs to compete with and surpass other countries, academically and professionally.
In the past four years, 21st Century Charter School has graduated most of its students with an average of 13 college credits (and that number grows each year), and seven students earned their associates degree (60 college credits). Another eight students will graduate with their associates degree in May 2017, even before they receive their high school diploma. The school's goal is to have 100% of its 2020 graduates earn an associates degree, before earning their high school diploma. And today, 100 of the school's 200 high school students are already enrolled in college classes. All of this is free of charge to our students. All of them. Now.
Here are the Top 3 Reasons Why Free College is a Must and Not a Myth. Tuition free degrees are possible and they are being offered now:
Addresses the college debt crisis: In colleges and universities around the country, the first two years of college coursework involve electives and core classes that can easily be earned while in high school, at no cost to students. With 71% of all college graduates having significant college debt, we can't afford NOT to make college an affordable reality for students at every income level.
Nyesha Canady graduated in 2014 after she earned her associates degree while attending 21st Century in Gary. Beginning college as an entering third year student, she received scholarships from Ball State and will graduate with her bachelor's degree in December of 2016—just two years after leaving high school—with only $1500 of college debt. She has a younger brother and sister currently at the school, following in her financially responsible footsteps.
Raven Osborne will graduate from high school in May 2017 with her bachelor's degree from Purdue Northwest in hand. She will be the first to have earned her associate degree and bachelor's degree free of charge, while attending 21st Century Charter School. And all of it will happen with Raven being 100% college debt free.
Introduces students to the unique structure of a college schedule sooner and removes freshman culture and sticker shock: Many schools simply choose to provide their own college coursework programs—it's easier, but not good enough. This wastes taxpayer dollars by duplicating programs already available at local colleges and limits student exposure to college, which is an important step for students from non-college degree homes to take. Many high schools offer dual credit opportunities to their students but they don't structure the school schedules to mimic college schedules, so college is unfamiliar and often overwhelming to students when they eventually experience the process of taking college classes on a college campus. 21st Century sends their students to the college campuses to earn their credits.
It is worth noting also that few schools, if any, provide transportation to and from college campuses. And even fewer schools offer to pay for the large expense of college books or tuition. Public school tuition and books are free around the US as it should be, and at 21st Century, college is not mandatory, but if students decide to take advantage of our free college offering, it is also free. College expenses can cause sticker-shock, which can be tremendous barriers to participation, and even more so in low-income communities. So 21st Century Charter School addresses all of these barriers—tuition, transportation, books, schedule structure and even more—all in an effort to make the transition to college and future success happen seamlessly for students.
Creates Real ROI for Schools and School Districts: Of course, there is no such thing as "free college" to 21st Century Charter School. College costs are free to the student, but not the school. The school uses its traditional K12 state funds to pay the college tuition and cover the cost of the books and transportation, too. Last year, the school spent more than $85,000 on their program but that is a little bit of money, producing a big return. Instead of spending money on one staff member who may teach one subject, the school provided each student the chance to take a college course (and in some cases more than one course), so long as it counted toward an associate degree and was fully transferrable to any state university in Indiana.
The students earned more than 700 college credits in one school year and took more than 30 different courses. And, just as importantly, the school didn't have one dropout and boasts a near 100% high school graduation rate in each of the last five years. That is astounding when you consider that Gary, Indiana has been called a high school "drop out factory". Our program teaches students to believe they are college-capable, thus, they don't drop out, and they fully understand that high school graduation is the first step to college entrance and completion.
Nothing prevents other traditional schools—both public and private—from doing the same as 21st Century Charter School in Gary, Indiana. However, implementing our unique model does require a shift in mindset at the school administrator level. Free college isn't really the goal. Completing college with a real degree and with little or no debt is the goal. We are efficient financial stewards of our education budget and use every dollar and make every financial decision, with our students in mind. By using the state dollars provided for high school in a focused manner, to meaningfully empower students to accomplish the goal, 21st Century Charter School is making the dream of a college education an affordable reality in Gary, Indiana. But it can be a reality anywhere else in the US. This is not a far off myth. It is a present reality that is transforming lives, shaping futures and in many cases, reversing negative circumstances for impoverished students, who hunger for a better quality of life, now. Politicians should take note!