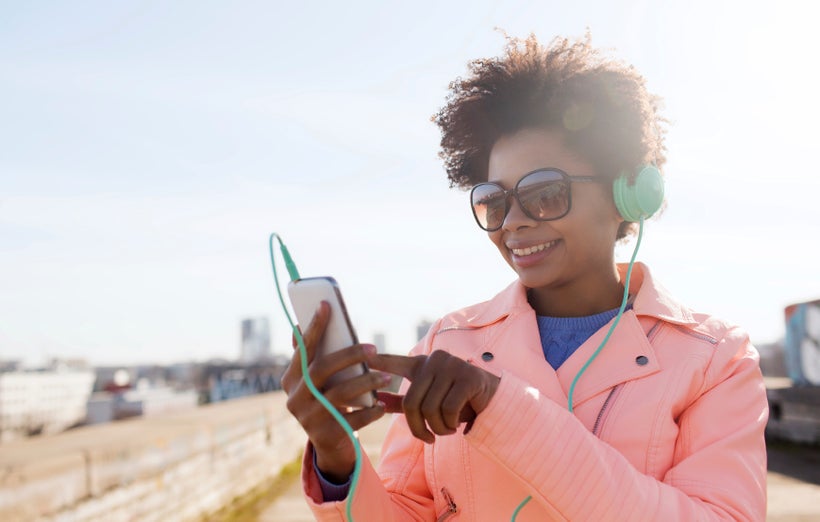 Personal and professional development are extremely important for women business owners. There are so many ways we can uplevel our lives and businesses. We can invest in coaches, mentors, conferences, courses, programs, workshops, webinars, and books. However, I also believe we can learn and grow by listening to podcasts.
But, with so many podcasts online today, it can be difficult and time-consuming to find the best podcast for you and your business. As a woman entrepreneur, I am mostly interested in hearing and learning from other women in business. It's refreshing to learn how women started their businesses, the strategies, and statics they used to overcome setbacks and challenges.
I've made it a habit to feed my mind and entrepreneurial spirit daily with podcasts from women entrepreneurs. Below are my top five favorite podcasts every woman in business should not miss.
Top 5 Podcasts Every Entrepreneur Should Follow:
With mindset being 80% of success, there's no surprise Melissa Clough is in the # 1 position on my top five list. Moving past fears and having a positive mindset is one of my top priorities. Melissa's podcast is a great reminder to let go of my fears and move forward to achieving my dreams.
Did you know that success is 20% technical skill and 80% mindset? High-performance coach and motivational speaker, Melissa Clough, of www.melissaclough.com, shares tools to empower women entrepreneurs to let go of fears, negativity, procrastination, burn-out, and anxiety, to gain more confidence, clarity, and focus for a powerhouse mindset to increase your earning potential, while also living a balanced life.
We all know there's no getting around online marketing if you want to succeed in business. Amy's podcast makes it really easy. She takes the time to break the information down and keeps it super simple. I have learned how to market my online business using Facebook and Facebook Ads minus the costly mistakes I hear so much about. Online Marketing Made Easy Podcast is definitely a must for all women entrepreneurs.
"Facebook Marketing All in One for Dummies" co-author and online entrepreneur Amy Porterfield shows you exactly how to monetize your online marketing and blogging efforts using her own tested, ACTIONABLE lead generation strategies -- so you can successfully launch and promote a new program, grow your email list, get more leads, build your authority, turn your customers into raving advocates OR simply find the time (and mindset!) to rock your social media and content marketing.
From creating an online course to video marketing, webinar recording, Facebook, Twitter, Pinterest, YouTube, new content creation (including eBooks, guides and cheat sheets) and email marketing, Amy is going to reveal what works (and what doesn't) once and for all. Why? Because after an awesome, inspiring stint with Harley Davidson and Tony Robbins, Amy figured out what she really loves: helping small business owners like you break down BIG, powerful strategies into step-by-step actions…so you can see BIG, powerful results, fast.
Kate is my best friend in my head. She's smart, down to earth and makes me feel like I can accomplish anything I set my mind to. The resources and tactics she share's are plentiful! Kate is one of my inspirations and reasons I have started my own podcast. You will not go wrong subscribing to her podcast.
Kate's Take: The EOFire Audio Blog is a podcast where Kate shares a behind-the-scenes look at how to run a 7-figure business. Looking for step-by-step, in-depth and actionable lessons that will help you start creating, growing and monetizing your business? Then you're in the right place! Ditch overwhelm and start taking action today.
I love Natalie's interviews on The Biz Chix Podcast. She has some of the top names in business on her show. I love that they're from all different industries which provides for much variety. Lots to learn from Natalie and her guests another must have for ladies business owners.
Hear interviews with amazing female entrepreneurs and a few cool dudes. Each entrepreneur shares work-life balance and productivity tips as well as their startup journey! These successful women in business run the gamut from tech, product, service and brick and mortar businesses. Host Natalie Eckdahl has an MBA and a diverse business background which allows her to understand each guest business and instinctively asks the questions you want to be answered. She is a busy working Mom of three who launched a software startup with her husband and now offers 1/1 coaching and hosts paid masterminds for her community sharing her 20 years of business and consulting expertise. Guests include fellow podcasters and online entrepreneurs Amy Porterfield, John Lee Dumas and Michael Stelzner as well as Shark Tank Entrepreneurs and Silicon Valley Women in Tech!
Laura's Money Girl's Quick and Dirty Tips for a Richer Life podcast has some really awesome investment and money saving tips and strategies. I have incorporated a few of them including the advice to get rid of cable TV! My family is now saving $2400 per year by opting out of cable and we don't even miss it. We're having more family time outside of the house and very interesting conversations when home. Making money is great, but saving and investing the money you make is even better! Ladies, if you want to take control of your finances Laura is the girl to help you do it.
Money Girl provides short and friendly business, personal finance, and investing tips to help you live a richer life. Whether you're just starting out or are already a savvy investor, Money Girl's advice will point you in the right direction. From the creators of Grammar Girl at QuickandDirtyTips.com.
Do you have a top five? I would love to know what podcasts you listen to and why. Share yours below.
Lakisha Sarbah is an online visibility business strategist, skilled small business trainer and Producer / Host of Launch & Conquer Podcast for Women Entrepreneurs. She supports passionate tech challenged women entrepreneurs by helping them reduce their learning curve, boost confidence and stand in their power as business owners. Lakisha's hands on approach helps women envision, define, plan and execute smart and simple strategies to help them show up and stand out online.
Calling all HuffPost superfans!
Sign up for membership to become a founding member and help shape HuffPost's next chapter
This post was published on the now-closed HuffPost Contributor platform. Contributors control their own work and posted freely to our site. If you need to flag this entry as abusive,
send us an email
.