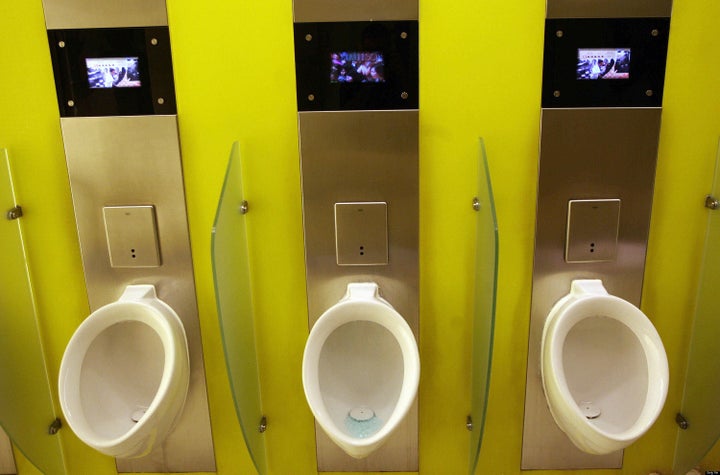 Video games are already a ubiquitous component in the lives of young boys and grown men alike, but a new Japanese game is literally making a splash all its own.
The AFP reports that Sega has debuted four types of "Toylets," or urine-controlled games, in Toyko men's rooms in pubs and game arcades. Urinals are fitted with special pressure sensors, with eye-level LCD screens displaying the action.
According to the Guardian, the games feature ample amounts of potty humor, and appropriately so. Titled "Manneken Pis" after the famed Belgium statue, one game measures the volume of the player's urine stream, while "Splashing Battle" challenges users to produce a more powerful stream than the previous visitor.
A more cheeky game, "The North Wind and the Sun and Me," reportedly features sensors that control a digital wind blowing up a young woman's skirt, Marilyn Monroe-style. The greater the urine stream's intensity, the higher the skirt travels. And for those who want to brag about their bladder-relieving skills, the scores are also available for download.
Though one childcare blog has already touted the "Toylet" games as an ingenious method of potty training for youngsters, Sega said the Toylet games would be widely available only until the end of the month, and have no current plans to market them commercially.
Watch a "Toylet" demo video here:
Calling all HuffPost superfans!
Sign up for membership to become a founding member and help shape HuffPost's next chapter