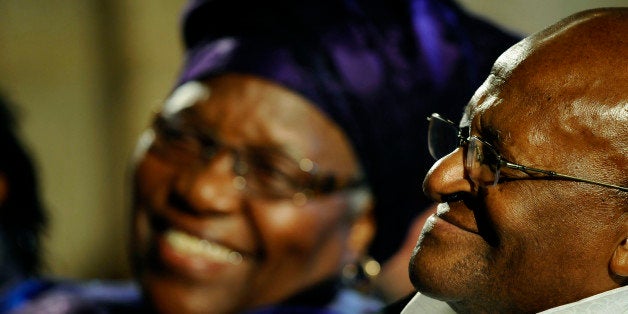 Desmond Tutu's 80th birthday has come and gone. But still, he does not stop. He continues to speak out, and he continues to make headlines, all around the world. One day he is standing up against the oil sands deal in Canada; next he is calling for human rights for the people of Palestine; then he is stating that he cannot worship a homophobic god. At 82 years old, this moral icon and father of modern day South Africa continues to fight on, a tireless advocate for human rights and dignity for every single human being, no matter who they are.
I am writing this on an airplane, as I fly home after spending six incredible days with this very special man. I watched Desmond Tutu being honored by royalty, becoming a Knight for the second time in his life. I watched him as he hugged and held hands with patients at an HIV/AIDS center, offering them warmth and hope. I watched him being celebrated by the international media as he stood on the Red Carpet at a Monte Carlo Film Festival with a Prince. I watched him spend joyful hours working side by side with young people who are trying to become real agents of change in their own country.
And I sat next to him as he laughed, and fought back tears, as he watched his life story being told for the very first time on film. When the entire crowd of 800 rose in a thunderous standing ovation as a testament to his greatness and the life that he has lived, he sat quietly, looking down. And then he said, "OK, that's enough," humbled by it all.
He started each day deep in prayer. He stopped me at key moments every single day, to pray once again. He stayed up late every night finishing the first six chapters of yet another book about God, faith and inspiration. He had hot chocolate with his fruit and cereal for breakfast every morning. And he was radiant, full of laughter and joy, a true blessing to everyone who encountered him along the way.
So I am sitting here on this airplane, thinking about all that I have learned from him. I am thinking about a life well lived. I am thinking about how big of a difference this diminutive, moral giant of a man has been able to make in this world.
How has he been able to achieve so much in one lifetime? The words that come to mind are tenacity, courage, faith, patience and community. He stays on the path of nonviolence and he just keeps on walking his own talk.
Desmond Tutu has been a part of my life for 20 years now -- as a mentor and a role model; as a member of our non-profit's board; as the priest who married me and my husband; as the man who always challenges me to give the very best that I have to give. It has been an incredible honor to be able to capture his spirit, essence, and cutting edge work in the world in our new film, "Children of the Light." I hope that millions of people around the world will now be able to get to know this great man, as a result.
As Father's Day was recently celebrated around the world, I want to pay tribute to Father Desmond Tutu, and to offer him my most profound thanks for showing me what a life well lived truly looks like.
"Children of the Light," the first film to capture the life story of Desmond Tutu, is now available to view in 70 countries around the world as a Google Play Exclusive offering here.
REAL LIFE. REAL NEWS. REAL VOICES.
Help us tell more of the stories that matter from voices that too often remain unheard.